Psychiatric Hospitalization - 3 Things Families Need to Know
I was admitted to a psychiatric hospital for the first time in college. Because I went to an out-of-state university, my family was unable to help, so a friend took me to a psychiatric hospital. Both my family and my friend had concerns: How long was I going to be there? What was going to be done to keep me from committing suicide? What exactly could I expect? Here are three things families and friends need to know about psychiatric hospitalization.
Psychiatric Hospitalization Tip #1: No Long Commitments
My friend was concerned that my stay would not be mere days, but weeks or months. The admitting nurse told her, "The era of long commitments is over." I've heard that the average length of stay is four days. If you don't count the time I spent in the state hospital, the longest psychiatric hospitalization I've had was two weeks.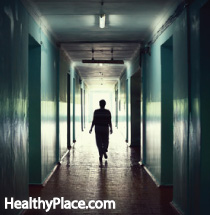 There's a joke that the unofficial policy is "Evaluate, Medicate, Vacate." As Homer Simpson once observed, "It's funny 'cause it's true!" The psychiatric hospitalization will probably not last long--just long enough for any danger to self or others to pass. While psychiatric medication takes weeks to get to the full effect, it usually starts making a difference within a couple of days.
Most hospital psychiatric wards are designed for short stays--one here in Indianapolis is designed to allow people to stay for up to 30 days. That's on the long end of the spectrum. So unless your loved one is going to a state facility, the stay will most likely be short. The era of long commitments is over.
Psychiatric Hospitalization Tip #2: Medication Management Is an Art and a Science
Your loved one may very well be dazed at first. Psychotropic medication is very powerful and takes some time to get used to. Because there is no blood test for which medication might be the most effective--yet--there's a lot of educated guessing that goes on. Medication management is as much art as science.
I've had some interesting experiences on medication during psychiatric hospitalization. One had me sleeping most of the time. Another caused wild mood swings and depression so severe that I was unable to move from the floor. That's why it's vital the patient be part of the treatment team--the staff need to know how the medication is causing the patient to feel so they can adjust it accordingly.
Because of confidentiality laws, staff will not be able to tell a family member how the patient is doing without his/her permission. That said, in a good hospital, they will listen to family feedback on how visits with your loved one are going. They will let you advocate for your loved one, to a certain extent. Families should seek to be informed about their loved one's mental illness, including how the medication makes them feel.
During one crisis, I was admitted to the psychiatric emergency room for three days. My mother complained that I was "just in a holding tank." Staff assured her that I was being treated and said, "Sometimes that happens." Families should be patient and flexible and consider the patient's well-being the highest priority--even when things seem to be going badly. Give it time--this process is as much art as science.
Psychiatric Hospitalization Tip #3: Your Loved One Will Probably Hate Psychiatric Hospitalization
My brother Dan's DUI (driving under the influence of a substance) lawyer, said that a DUI is like a spear wound to the stomach: you can't pull it out, you've got to go through it. Psychiatric hospitalization is much the same way. And going through it is not fun, even if it does save your life. So prepare for complaints from your loved one, especially if they're on suicide precautions (no one is a big fan of having staff watch them go to the bathroom).
I spent four of the worst months of my life in the dual diagnosis unit at a psychiatric hospital. But it kept me sober for three years. Psychiatric hospitalization is difficult, but it works. That's why we still do it.
Your loved one will probably hate it at first, and that's okay. Reassure him or her that while this is difficult, the rewards are worth it. Who wants to live with voices and suicidal ideation when medical treatment can improve things? Acknowledge his or her concerns, but keep telling the person that treatment works. There is hope, even in the midst of painful circumstances. As the old hymn says, "Where there's a shadow, there's a light."
You can also find Becky Oberg on Google+, Facebook and Twitter and Linkedin.
APA Reference
Oberg, B. (2015, April 6). Psychiatric Hospitalization - 3 Things Families Need to Know, HealthyPlace. Retrieved on 2019, July 20 from https://www.healthyplace.com/blogs/recoveringfrommentalillness/2015/04/three-things-families-need-to-know-about-psychiatric-hospitalization
Author: Becky Oberg