Recovery from PTSD and Resilience
I sit in my home by myself because my family left. I don't blame them. They just couldn't take it anymore. What they couldn't take was me and my posttraumatic stress disorder (PTSD). I have come to refer to it as "the PTSD me," because it often feels there's two completely different people within me.
The real me is a very flawed person. I've made a lot of mistakes in life. But I have always had a good heart, a kind heart that would never want to hurt anyone or anything purposefully. I have other good qualities, but I'd say the good heart is chief among them.
PTSD Symptoms Out Of Control and Mental Health Recovery
However, PTSD me is a raging individual who is constantly ready to fight at a moment's notice. I've screamed at total strangers because I felt like they were a threat to me. I made a poor lady nearly drop a gallon of milk at the grocery store because she surprised me from behind, which caused me to jump as though someone had zapped me with a taser. This was quite embarrassing. This is why I don't usually go to the grocery store.
And then there's my family, my poor family. I've a wife and four grown kids. My wife has been a loyal and true friend to me. She's gone through it all with me, the substance abuse, the legal problems, lost sleep, rages and depression. For her to say she can't take it anymore is a pretty big deal.
PTSD me has become too dangerous and toxic to be around. And I understand it, I really do. But it still hurts when your whole family bails on you, even if it is the best thing for everyone.
Mental Health Recovery Doesn't Mean "All Better"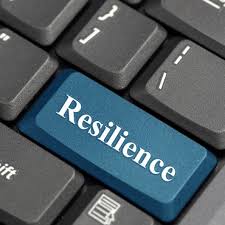 Out of control symptoms and the trouble they can bring may sound like the opposite of recovery. When one thinks of recovery, we usually think "all better." But mental health recovery isn't like that. Most of the time, those with mental illness will never be "all better."
Mental health recovery is a process whereby the mentally ill person strives to not allow their symptoms to control them. Substance Abuse and Mental Health Services Administration (SAMHSA), a government agency specializing in mental health recovery says:
The process of recovery is highly personal and occurs via many pathways. It may include clinical treatment, medications, faith-based approaches, peer support, family support, self-care, and other approaches . . . Recovery is characterized by continual growth and improvement in one's health and wellness that may involve setbacks. Because setbacks are a natural part of life, resilience becomes a key component of recovery.
Resilience a Key Factor in PTSD and Mental Illness Recovery
Resilience refers to an individual's ability to cope with adversity and adapt to challenges or change . . . optimism and the ability to remain hopeful are essential to resilience and the process of recovery.
You see, even though my symptoms are out of control and I'm experiencing hardship as a result, I am still in PTSD recovery. Why? Because through the years I've learned to be resilient. That's why in the midst of my challenges, I made it to my doctor appointment. I worked with her on a new medication regimen we hope will help me. I also practiced assertiveness instead of aggressiveness, and it actually worked.
The point here is that your recovery doesn't have to be completely derailed because you're out of control in some ways and you fell back into old behaviors and attitudes.
We must cultivate resilience in our mental health recovery, so when the hardships come as they always do, we aren't "knocked off our horse." And if we do get knocked off, we will continue to get back in the saddle because we are resilient.
You can find Mike Ehrmantrout on Google+, Twitter and Facebook.
APA Reference
Ehrmantrout, M. (2014, November 12). Recovery from PTSD and Resilience, HealthyPlace. Retrieved on 2019, August 18 from https://www.healthyplace.com/blogs/recoveringfrommentalillness/2014/11/mental-health-recovery-requires-resilience
Author: Mike Ehrmantrout
This might help a little. You might be able to meet some folks over there that suffer the same disorders as you. Good Luck! http://www.healthyplace.com/personality-disorders/
Leave a reply