Rocketing Mania vs Bone-Crushing Depression: Bipolar Moods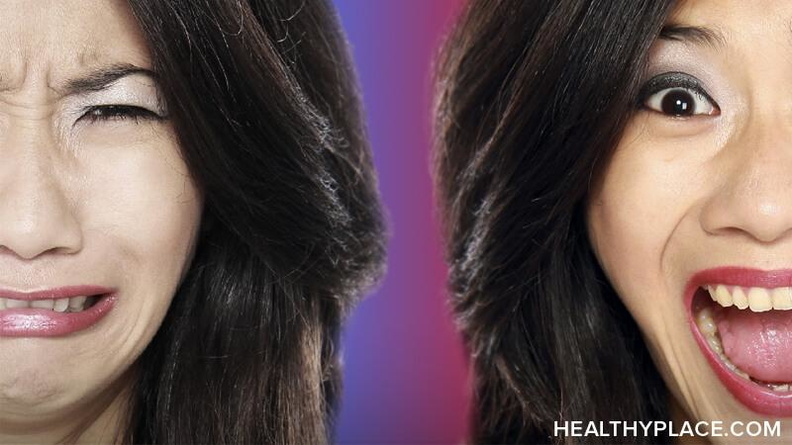 Life doesn't halt simply because a mental illness exists, as much as I might wish the world would occasionally stop and let me off. How can you maximize the highs and offset the lows of bipolar disorder?

Those living with bipolar disorder know these ends of the spectrum well. The high comes and projects, ideas and life seem to come together. When I am on a high (Bipolar Mania and the Impact of Manic Symptoms), I can bang out blog posts in 20 minutes or less, do a video in one take, finish a piece of art in a couple of hours or process a 250+ series of photos from a shoot in 2 hours. Joyous and glorious!
Then comes the crash: body aches, low grade fever, bone-crushing exhaustion and disinterest in anything but sleep and relaxation - things that don't require energy - followed closely by guilt. Guilt for this disorder. Guilt for not having the energy or motivation to do the things that beg for attention - a workout, cooking, cleaning, homework, outings with friends. . .The list goes on and on. (Many Moods of Bipolar Disorder.)
Kay Redfield Jamison describes bipolar highs and lows this way in An Unquiet Mind: A Memoir of Moods and Madness:
There is a particular kind of pain, elation, loneliness, and terror involved in this kind of madness. When you're high it's tremendous. The ideas and feelings are fast and frequent like shooting stars.... Shyness goes, the right words and gestures are suddenly there, the power to captivate others a felt certainty.... Sensuality is pervasive and the desire to seduce and be seduced irresistible. Feelings of ease, intensity, power, well-being, financial omnipotence, and euphoria pervade one's marrow.

But, somewhere, this changes. The fast ideas are far too fast, and there are far too many; overwhelming confusion replaces clarity. Memory goes. Humor and absorption on friends' faces are replaced by fear and concern. Everything previously moving with the grain is now against-- you are irritable, angry, frightened, uncontrollable, and enmeshed totally in the blackest caves of the mind. It will never end, for madness carves its own reality.
Managing Bipolar Moods: Maximize the Highs and Offset the Lows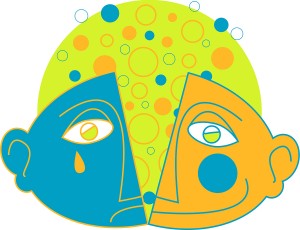 How does one navigate the minefield that is bipolar disorder to maximize the highs and offset the lows? Here are a few things I have found helpful:
Schedule tasks for the time of day that you are most alert. The low times will lack energy, but most of us are aware of when we are the most alert. Schedule your MUST-DOs during this period.
Make the most of your highs to prep for the lows. Make some crockpot meals and freeze the leftovers so you can build up some freezer meals that only have to be reheated when your energy levels are low.
Enlist the help of others. Allow others to assist with meal prep, straightening up, etc. You don't have to do it all. Break up large tasks into 10 minute intervals: dust for 10 minutes, vacuum for 10 minutes, put things away in a room for 10 minutes and eventually it will all come together.
Say NO. Whether you are on a high or a low, over-extending yourself can lead to a lack of self-care and eventual exhaustion.
Work within your limitations. The swings can be frustrating but they can be accommodated for with a little planning and self-care. What do you do to plan for the lows? Do you wish for a high?
You can also connect with Paulissa Kipp on Google+, Facebook, Twitter, Linkedin, Pinterest and her website, Paulissakippisms.
APA Reference
Kipp, P. (2013, November 29). Rocketing Mania vs Bone-Crushing Depression: Bipolar Moods, HealthyPlace. Retrieved on 2019, August 23 from https://www.healthyplace.com/blogs/recoveringfrommentalillness/2013/11/wishing-for-a-high-bipolar-disorder-and-energy-levels
Author: Paulissa Kipp
Have you thought of trying some akternatuve treatments ..eg acuipuncture...strong vutamin B compkex..start taking mire orotein on yoyr diet. Even a protein shake in am ..try some swimming shirt spells gradually increase as energy levels increase ..
Leave a reply