Five Mental Health Disorders We Don't Talk About Enough!
I write a lot about depression and bipolar disorder in this blog. I also write other serious mental illnesses. Despite this, I don't believe I devote enough time---enough words---to other mental illnesses.
Counting Down: Five Mental Health Disorders Not Given Enough Attention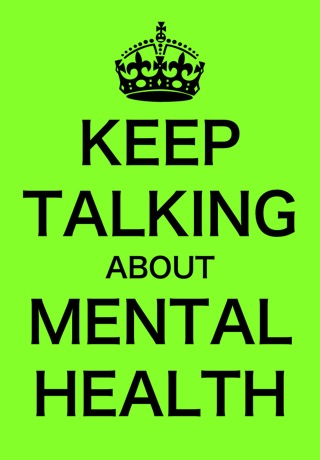 First, I want to note that there are many more than five and all mental illness should be discussed, but I only have so many words.
That being said, one of the curious things about all of the five disorders is that they are amongst the most commonly diagnosed, but they are not, in my humble opinion, talked about enough.
Schizophrenia. Schizophrenia is talked about much more now than it was a decade ago--even a few years ago---but it still carries a huge amount of stigma. If we can initiate dialogue on schizophrenia than we can, in turn, lessen the stigma and understand the illness more. More importantly, understand those who live with it.

Panic Disorder. We hear a lot more about anxiety disorders than panic disorders. Yes, they share common symptoms and often occur together as a concurrent diagnosis, but panic disorder is often different on both a physical and mental level. It affects a person in many ways and often makes life very difficult. If you have ever, as I have, had a panic attack, you understand how frightening it is.
Phobias. Phobias are directly related to anxiety but they differ in both symptoms and treatment. A person might be so afraid of something--maybe something you might think of as harmless--they cannot leave their home. It can be completely debilitating.
An example from my life: I used to be afraid of the bus, more specifically, having to sit among people. But I needed to get to college--an hour away. I had panic attacks and anxiety and, yes, this was a phobia. Anxiety and phobias come in many forms. Some are uglier than others.
Personality Disorders. This is a tough one, and it is becoming more prominent, primarily in the mental health care field. Diagnosing someone with a personality disorder is difficult and this is why the disorder is categorized: borderline, antisocial, and avoidant. Amongst other diagnosis--such as a person not meeting the "full criteria." The diagnosis is not "cut and dry" and is hard to make. It is very much based on a person's past history of trauma, which leads us to...
Post-Traumatic Stress Disorder. Yes, this one is more well-known and accepted. A person with PTSD suffers, often on a daily basis; there symptoms are also connected to anxiety. PTSD responds well to treatment but it isn't an easy road.
Opening Dialogue About Mental Illness
You know those commercials on television selling you "new" antidepressants? How many do you see, in relation, that focus on the above disorders? I cannot recall ever watching a commercial connected to the treatment of personality disorders. We need to put faces and names to mental illness. We need to make it human and less clinical.
Now, I'm throwing the question out to you: What mental health disorders do you believe are not talked about enough? How can we work towards opening dialogue?
APA Reference
Champagne, N. (2013, April 29). Five Mental Health Disorders We Don't Talk About Enough!, HealthyPlace. Retrieved on 2019, September 20 from https://www.healthyplace.com/blogs/recoveringfrommentalillness/2013/04/five-mental-health-disorders-we-dont-talk-about-enough
Author: Natalie Jeanne Champagne
Hi, Emily:
I agree. Yes, unfortunately, the name "Sybil" does come to mind. I agree, the portrayal in both the book and movie, left little to be desired. This contributes to stigma. The more we talk about it the better this will get. We don't need to hide; we need to educate people.
Thanks for your comment,
Natalie
Hi, Kathleen:
Self-harm is connected to both BPD and BPD. I have self-harmed in the past, too. And I agree the term "personality disorder" increases stigma. Thank you for the insightful comment!
Sincerely,
Natalie
Hi, Zhiv:
I am sorry you struggle with these things and that they are not as widely recognized as most mental illness---they should be. If they were I believe people would be more open to talk about it. Hang in there!
Natalie
Leave a reply