How to Report Abuse of an Adult with Mental Illness
Do you know how to report abuse of an adult with mental illness? Sadly, I'm currently in this situation. I am living in a short-term group home for disabled adults, and, recently, I heard a staff member yell, "I'm going to punch the next person who says [expletive]." Under Indiana law, I'm obligated to report that. This made me research how to report abuse of an adult with mental illness.
What Is Abuse of an Adult with Mental Illness?
Each state has an Adult Protective Services. Typically they work out of the county prosecutor's office. Like Child Protective Services (CPS), Adult Protective Services investigates complaints when they have reason to believe an individual has been harmed or is in danger of coming to harm from abuse, neglect, or exploitation. Like CPS, your report is confidential and not subject to the Open Records Act. The law protects you from civil or criminal retaliation as long as your report is made in good faith.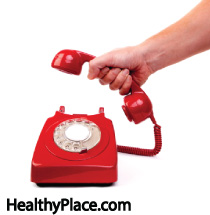 If you are in doubt that what you have witnessed is abuse, these are the people to call. They can tell you whether or not you have witnessed abuse. They also work with law enforcement to hold abusers accountable. Sadly, the definition of abuse varies by state--in Indiana, it has to be physical abuse, financial, or sexual, while in Texas it can be physical, emotional abuse, mental, financial, or sexual. Check with the Adult Protective Services office in your county.
According to the National Adult Protective Services Association, there are different types of abuse, but as a general rule:
Physical abuse: may include slapping, hitting, beating, bruising or causing someone physical pain, injury or suffering. This also could include confining an adult against his/her will, such as locking someone in a room or tying him/her to furniture.

Emotional abuse: involves creating emotional pain, distress or anguish through the use of threats, intimidation or humiliation. This includes insults, yelling or threats of harm and/or isolation, or non-verbal actions such as throwing objects or glaring to project fear and/or intimidation.

Neglect: includes failures by individuals to support the physical, emotional and social needs of adults dependent on others for their primary care. Neglect can take the form of withholding food, medications or access to health care professionals.

Isolation: involves restricting visits from family and friends or preventing contact via telephone or mail correspondence.
Financial or material exploitation: includes the misuse, mishandling or exploitation of property, possessions or assets of adults. Also includes using another's assets without consent, under false pretense, or through coercion and/or manipulation.

Abandonment: involves desertion by anyone who assumed caregiving responsibilities for an adult.

Sexual abuse: includes physical force, threats or coercion to facilitate non-consensual touching, fondling, intercourse or other sexual activities. This is particularly true with vulnerable adults who are unable to give consent or comprehend the nature of these actions.
How To Report Abuse of an Adult with Mental Illness
This varies by zip code. Texas has an option to make the report online, while Indiana requires a phone call. The first step is to gather information, such as the names of people involved, current status of the individuals involved (especially if there is injury), the address the abuse occurred at, and names and contact information of witnesses.
The second step is to find out who to make the report to. You have several options: Adult Protective Services, your state's Protection and Advocacy Services, local law enforcement, the Health Department (if it happened in a facility) or, if your state has one, the Department of Mental Health and Addictions.
Remember, better to make a report and be wrong than to stay quiet and have something happen. You may be the only advocate the victim has. There is very little more noble than speaking up for someone who can not speak for themselves. Making a report requires great courage, and you should be proud of yourself for doing so.
Protecting Against Retaliation When Reporting Mental Illness Abuse
Sadly, this is likely. An abuser wants nothing more to keep the abuse secret. While your identity is protected, sometimes the abuser can figure out who made the complaint (as is my situation). The best way to prevent against retaliation is to be sure you or your loved one are in a safe place before filing the complaint.
If retaliation occurs, the abuser will dig him/herself deeper into the metaphorical hole. Document what you can and report it. Let the abuser know you are not afraid. More often than not, they'll back down. Retaliation against an individual for filing a complaint is illegal--make sure the abuser knows it.
Abuse of any person is despicable, unacceptable, and wrong. Don't let the abuser get away with it. Know how to report abuse of an adult with mental illness.
You can also find Becky Oberg on Google+, Facebook, Twitter and Linkedin.
APA Reference
Oberg, B. (2015, July 27). How to Report Abuse of an Adult with Mental Illness, HealthyPlace. Retrieved on 2019, September 19 from https://www.healthyplace.com/blogs/recoveringfrommentalillness/2015/07/how-to-report-abuse-of-an-adult-with-mental-illness
Author: Becky Oberg