Can You Understand Mental Illness If You Don't Live With It?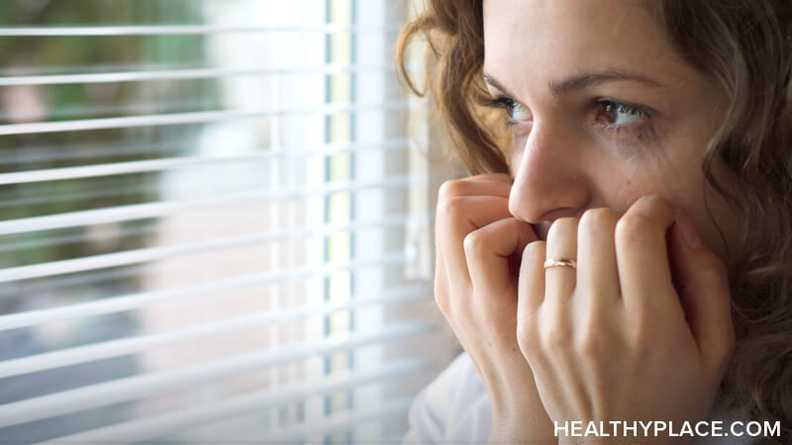 This post was derived from a couple of different sources. One, a few insightful comments readers made on why living with a mental illness makes us exhausted. This post focused on a few of the reasons why mental illness can cause exhaustion in those who live with, and experience it, on a daily basis. These readers stressed that they struggled with exhaustion and pain living with, and supporting, those who struggle with mental health.
Two, comments from people living with mental illness that could relate to my post, could relate to the feelings surrounding mental illness and the coinciding exhaustion (Can People Without a Mental Illness Understand Us?). I started thinking and decided that this topic should be explored--both sides of it.
No, You Can't Understand Mental Illness If You Don't Live With It
This is how I feel and I cannot tell you that I apologize for feeling this way. When I can't get the hell out of bed and my mother tells me she understands, bright eyed and happy to be alive, I am certain she does not understand. I am certain she has no idea what mental illness feels like. This is why many people with mental illness isolate when they are struggling. They feel alone.
Yes, one might argue, we all feel down from time to time, but people who struggle with serious mental illnesses like bipolar disorder often experience mania, psychosis and mixed states (What Is Bipolar Psychosis?). Among other things. Terrifying. Absolutely terrifying.
So my mother can try to give me a hug, though my body will likely stiffen when she does, and tell me I'll feel better if I have a hot bath and I can love her for her support but I cannot, not for a minute, believe she understands. And it's not for lack of trying. And it's not because I do not care about her feelings, it is because when I am sick I am bloody well sick, and all I really want to do is turn of all the lights and hide. Sometimes I, we, do just that. Sometimes, we feel like aliens. Defined by our illness and unable to explain it to people, to understand it ourselves, and just cheer up.
Now, let's flip to the other side.
Yes, You Can Understand Mental Illness if You Don't Live With It
What about the other side of a complicated discussion? What about the parents, the friends, who watch those with mental illness spiral out of control? What about the affect this has on their lives? It's not all about those of us who live with mental illness--Sometimes we forget this. The problem is as simple as it is complicated: I cannot speak for these people just as they cannot speak for me. For us. But we can try.
One reader pointed out that, well, I was pretty much focusing on the topic from my experience and directed toward those who live with mental illness. She provided some examples of how difficult it was raising a child with mental illness. I can understand on some level: being diagnosed at age twelve. My illness disrupted the entire family; it made us all sick.
When I was in an episode of mania, depression or psychosis, the entire family suffered. When I began abusing drugs the entire family suffered. I can tell you that I understand a little bit but my parents. . . will live with these memories forever. It hurts me to know this, just as it hurts them to know I will live with bipolar disorder for the rest of my life.
Of course I wish they could understand me more, my illness, and they too wish I could understand how my bipolar disorder affects the family. Mental illness is a painful disease and it's painful for all involved.
What's The Bottom Line?
The bottom line is that there is no bottom line. There is perspective, open dialogue, and working to understand each other. If you try to put it in perspective and throw away the entire topic of mental health---Nobody really understands anybody. Yes, we can live and we can love, but we cannot understand the entirety of a person. That would be boring. That would be lacking in luster. Romantic relationships would fizzle out before the honeymoon period even got going.
I work very hard to understand my family, recognize their pain and not just my own, and they do the same. It's a compromise: I love and care for them and they do the same. We give each other space when needed.
I guess, now that this post has come to the close, that's the bottom line. It's my bottom line anyway. We each define our own, and for our own reasons, and all of them are important.
APA Reference
Champagne, N. (2013, February 18). Can You Understand Mental Illness If You Don't Live With It?, HealthyPlace. Retrieved on 2019, September 23 from https://www.healthyplace.com/blogs/recoveringfrommentalillness/2013/02/can-you-understand-mental-illness-if-you-dont-live-with-it
Author: Natalie Jeanne Champagne
Hi, Jay:
You are right NAMI is an excellent resource and have branches in many areas and/or support. I encourage people to visit the main page for more information @ <a href="http://www.nami.org/" rel="nofollow">www.nami.org </a>

I agree that when you live with a mental illness you need to understand that your view of the world, while not being a negative thing, may be different. Having said this, we all view the world differently.
Thanks for the comment,
Natalie
Hey, Mark!
We tend to keep things to ourselves, isolate our feelings, when we struggle. And yes, your sister witnessing your pain caused her pain as well and, of course, commonalities exist. I always look forward to your comments!
Natalie
Leave a reply