Living With Chronic Depression
Once a person has been diagnosed with a mental illness--is being treated for it--and moving forward in their recovery, life is not suddenly peaches and cream. For many of us, myself included, we still often live with depression on a daily basis.
Living With Depression Despite Being Treated for Mental Illness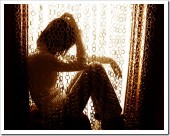 Is much more common than people may think--if they do not experience it. I'm writing on this topic because it is something I live with. It's not the sort of depression that takes over your entire life, no, it sort of sneaks up on you for various reasons, such as:
>The changing of the seasons. In the fall and winter months many people struggle with seasonal affective disorder (SAD).
>Sudden or consistent life stress.
>A sudden event such as the end of a relationship, the death of a loved, or loss of job.
Other life changes, such as grief over the diagnosis of mental illness and financial problems for example, can also contribute to chronic depression.
How Can You Treat Chronic Depression?
First, always check in with your mental health team. Depression comes in all shapes and sizes and is treated as such. My experience with chronic depression is much different than yours and vice versa. Mental illness exhibits itself uniquely in everyone and treatment is different for all of us.
Having said that, once you are being medically treated for depression you may still live with lingering, chronic, depression. Throughout my journey with mental illness I have found a few things helpful when medication cannot "cure" my depression.
>Talking to people I trust.
>Keeping an open and honest dialogue with my psychiatrist.
>Keeping track of my moods and being honest with myself. Ask yourself: "How am I feeling? Do I need to talk to my mental health care team or can I manage my symptoms with self-care?"
Take a few minutes and think about what might work if you feel low--write your ideas down and practice them. Practice, in the case of mental illness, certainly does not make perfect but it can make for an easier ride.
APA Reference
Champagne, N. (2012, December 4). Living With Chronic Depression, HealthyPlace. Retrieved on 2019, July 18 from https://www.healthyplace.com/blogs/recoveringfrommentalillness/2012/12/living-with-chronic-depression
Author: Natalie Jeanne Champagne