2 Techniques for Dialoguing with Alter Personalities
I've lived virtually my whole life with a vague but pervasive sense that somewhere there were people I couldn't see who knew things about me I didn't. When I was diagnosed with dissociative identity disorder, I finally understood that the information I wasn't privy to existed in my own head, guarded by alter personalities. I naively thought I could simply ask and all would be revealed to me. I quickly learned that developing internal communication isn't nearly that easy. But there are dialoguing techniques that can help.
Write Letters to Alter Personalities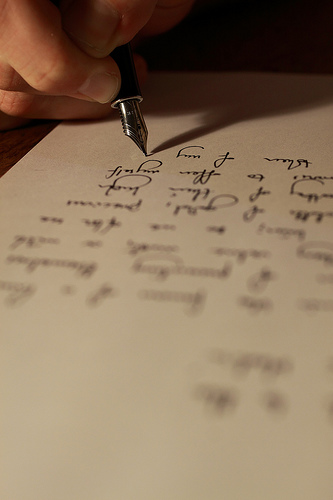 This is perhaps the most oft recommended way of dialoguing within the dissociative identity disorder system. In my experience the suggestion is accompanied with the directive to offer comfort, acceptance, and gratitude to the alter personalities you're addressing. But it's also been my experience that faking it won't help.
The most dramatic shift I've had to date began with a letter in which I expressed my genuine feelings of anger and powerlessness. I felt no gratitude at the time. I had no comfort to offer, and I certainly didn't claim to accept things as they were. What ensued was a series of mutually honest letters that culminated in an agreement that quite literally changed everything for my system. I firmly believe no lasting change can happen without gratitude. But you have to start somewhere. And forcing yourself to express feelings that aren't sincere isn't the place.
Dialogue with Alter Personalities Through Art
I'm nothing short of amazed at the enormous potential for healing in any artistic endeavor. What's most impressive to me is the dialoguing that can take place without any conscious effort. If I create - through any medium - simply by following what attracts me without attempting to make sense of my choices, I am communicating with my system. I think this works so well partly because it bypasses cognitive reasoning, and partly because it creates a mild hypnotic effect, which can open a door into the dissociative identity disorder system.
While it's important not to impose any hard and fast rules, I get the most out of dialoguing through art when I:
Avoid judgment. If I feel the inclination to paint a red lollipop on the side of a house, I do it regardless of whether or not it makes sense.
Talk about it when I'm done. Even if I have to pretend my listener exists, I explain my artwork and creative choices to someone. Just by talking about the red lollipops their meaning becomes clear.
Dialoguing with Alter Personalities Gets Easier
I've discovered that utilizing these and other techniques regularly pays off in more ways than one. Not only am I more knowledgeable about my system, I also feel more connected to others in it and, therefore, myself. This increased awareness creates opportunities to learn and connect more, which makes communication easier and more efficient. It's a cumulative process and one that's essential to treating dissociative identity disorder.
Follow me on Twitter!
APA Reference
Gray, H. (2010, November 29). 2 Techniques for Dialoguing with Alter Personalities, HealthyPlace. Retrieved on 2019, August 17 from https://www.healthyplace.com/blogs/dissociativeliving/2010/11/2-techniques-for-dialoguing-with-alter-personalities
Author: Holly Gray