What Is Depersonalization in Dissociative Identity Disorder?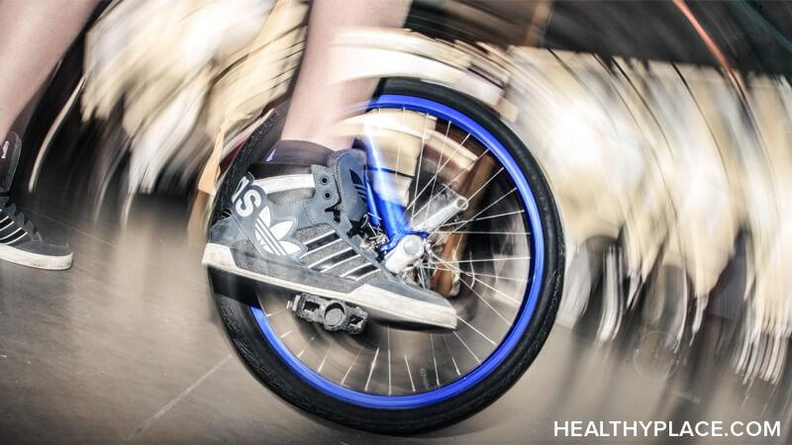 What's it like to live with depersonalization in dissociative identity disorder ? Articulating the answer is challenging for me. Partly because I don't know what it's like to live without DID; partly because describing it requires a base-line level of awareness that dissociation by nature impedes. And partly because the question is so large, sort of like asking what it's like to be female. Breaking dissociation down into the five primary ways it manifests makes illuminating the experience of living with dissociative identity disorder easier. Depersonalization - the feeling that you're separate from your body - is the first.
Defining Depersonalization
From the Dissociation FAQs at the International Society for the Study of Trauma and Dissociation online:
Depersonalization is the sense of being detached from, or "not in" one's body. This is what is often referred to as an "out-of-body" experience. However, some people report rather profound alienation from their bodies, a sense that they do not recognize themselves in the mirror, recognize their face, or simply feel not "connected" to their bodies in ways which are challenging to articulate.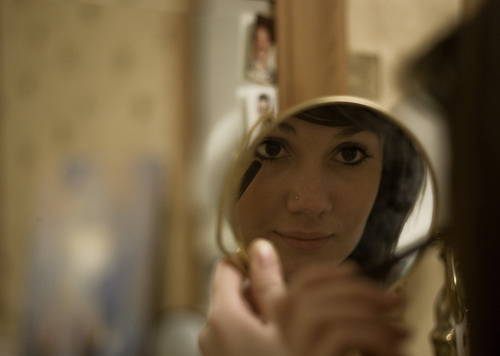 I used to take meditation classes. One of the exercises was to imagine yourself outside your body. The idea was to learn to recognize when we lose touch with ourselves and the present moment so we can re-engage. To achieve that, the instructor encouraged us to shift conscious awareness to other parts of the room and look back on our bodies sitting in the chairs. It sounds like depersonalization.
But as someone with dissociative identity disorder, I've been experiencing depersonalization for as long as I can remember. Those exercises in meditation class never produced it or any other form of dissociation. I felt detached, yes. Even so, I can drift up to the ceiling and look down on my body all I want. As long as I recognize that body as mine, it doesn't feel like depersonalization.
What Does Depersonalization Feel Like?
I frequently become suddenly aware that I'm speaking but have no idea what I'm talking about or why I'm talking about it.
Parts of my body often don't look like mine. I'm capable of realizing that my hand, for instance, is attached to me and therefore mine. But during these moments, my hand looks like it belongs to someone else.
Sometimes I don't recognize my reflection. In television and movie depictions this always looks very dramatic. The person looking into the mirror is obviously not the person in the reflection. In real life the experience is not the same. I see the same body, the same face I see every day. Still, it doesn't look like me at all.
What distinguishes the detachment I felt in meditation class from true depersonalization is the sense that my body is foreign, belonging to someone else. When dissociation manifests as depersonalization, the effect is that you feel not just detached from your body, but like it's not your body at all.
Follow me on Twitter!
Photo of woman in mirror by michaelmelrose
Photo of woman with hands in front of face by Klearchos Kapoutsis
APA Reference
Gray, H. (2010, September 20). What Is Depersonalization in Dissociative Identity Disorder?, HealthyPlace. Retrieved on 2021, July 26 from https://www.healthyplace.com/blogs/dissociativeliving/2010/09/what-is-dissociation-part-1-depersonalization
Author: Holly Gray
I think that sometimes I will feel this, but normally I only feel this way when I remember that this exists. I know its kind of confusing, but basically, when I'm distracted, I forget that I might feel out of my body somedays. It can get really annoying though because as an example: I was minding my business in math class when I remembered about this and it just hit me. I stopped what I was doing, and just sat there, thinking for probably only a minute but it felt like longer. I'm still aware of my surroundings, I can hear the noise of people talking, but I still don't feel like I exist or am in my body. As you said, I'm aware that I'm speaking and that it would have to do with the subject and stuff like that, but at the same time, I feel like I have no idea what I'm saying.
Does this apply to seeing your own name written down? I admit when I look in the mirror sometimes I don't recognize myself as me but this feeling of not being me really hits home when I see my name.
Thanks Holly,
I'd been wondering about this for some time now and stupidly thought "ah i'm just a bit mental i guess"... yet even today I spent 5minutes looking in the mirror to remind myself that this is the face people see when i talk.
It was fantastic to read that this an actual thing. Even though I don't really worry about it, reading your article somehow made me feel a lot more comfortable.
...so thank you Holly! Nice one
I have a much different theory.. But cool.
I am not in pain but I have never felt that , that face belonged to me. even when I was young. I feel like I am a different soul in a body I don't recognise. I'm not suffering, I live well.
How does one look at dealing with this, everything described rings an absolute truth to me and how i feel whenever i try to view myself... if that makes sense. The feeling of out of body is so complete... ive even punched walls... mirrors.... myself , if it is actually me. Ive always wondered what this was. Reading everything rinfs so true! Ive never seen myself , this is something that can be worked on? I dont like most therapists as i tend to out psycho analyzes hem. Ideas?
This disease feels awful to me. It makes my body hurt but I feel like I'm not in it. It's really confusing. I wish I knew how to control it. Does anyone have any advice?
i suffered from this after being with a toxic friend my only friend i put up with her abuse for years! after i broke free i saw her looking at me in my mirror - i grew out of it by praying and going out and interacting with people - i think i had a codependent relationship with MRS, who turned out to be a total b****. i was 14 at the time.
I have this thing that I suddenly feel like my arms and legs are needle thin or just like really swollen but like if I had to define it is would used the word marshmallow, this is had since kid I remember falling asleep and waking up with this feeling and I'm 21 it's 1:36 pm about to go to sleep and I had it again. _. Help
Hi everyone, I've never experienced things like this before but today when I've looked in the mirror I see my face and I know it's mine but it's like I'm looking at it in a funhouse mirror like there's something's not right about it, is this depersonlisation or just a weird feeling I'm having?
Hey everyone.
Sometimes when I look at pictures that are suppose to be me, I never think they are me. Like, it feels like I'm looking a completely different person. Is that a normal symptom of depersonalization? Maybe I'm just seeing a bad angle of me, haha.
I understand about feeling your memories. For a long time my dr and I plunged into my memories. It took several mo. seeing him every week. Finally I didn't need to. It's not that I in anyway own my memories. I find now that if I think or talk about my past I feel very bad. Then anxiety stays with me for days. I believe I'm done with looking back. Sometimes I can't look forward only try to deal with the day, the hour, the minute. I do have good days.
I don't know what I'd do if not for the depersonalization aspect of DID. I have some horrid memories. Am still getting details of some memories but have no emotional or physical connection to them. I see the images of my art therapy and have the narrative. I did abreact some in therapy awhile ago. I just know it was so beyond what others would view as trauma. Living a Freddie Kruger (?) nightmare. I don't want to feel THAT terrified and THAT horrified and THAT scared. So it is a blessing in healing.
My therapist keeps telling me I am not completely healed until I feel that I own the memories. I don't know if that's true. I'm substantially healed without having that painful connection. Thanks for your explanation. It obviously got my mind reeling.
for more on the experience of depersonalization, check out Mathew Perry in the autobiographical movie "Numb", yes, it's on netflix
Leave a reply