Money Worries and Bipolar Disorder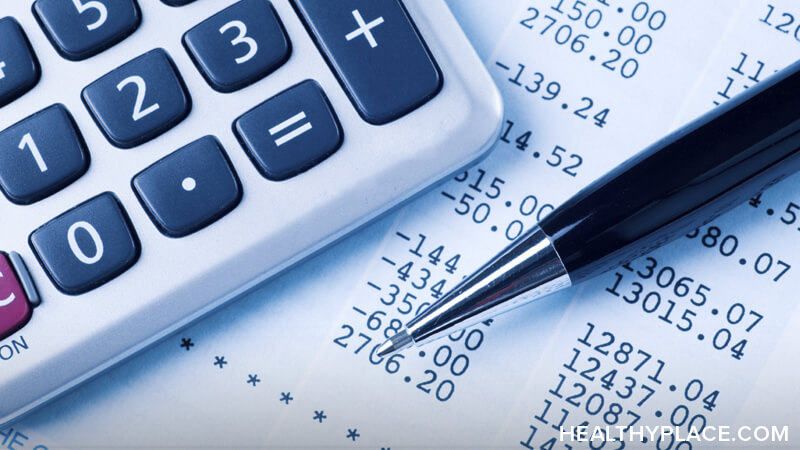 People with bipolar disorder often have money worries. This isn't limited to those with bipolar disorder, of course, money worries are something that many people can identify with, but worrying about money happens more for those with bipolar disorder and I think there are two main reasons why.
Money Worries Come Up Because of Anxiety in Bipolar Disorder
While anxiety, per se, is not a bipolar disorder symptom, most people with bipolar disorder also have a comorbid (co-occurring) anxiety disorder.1 This includes generalized anxiety disorder (GAD), social phobia and others. And if you have an anxiety disorder, your brain is often frantically looking for things to feel anxious about, and, boy, are money worries an easy target for anxiety.
So then, while many of us experience money worries, those worries are often amplified in those with bipolar disorder because of comorbid anxiety. 
Money Worries Thanks to Bipolar Disorder
And to make matters worse, there actually are a lot of justified worries about money in bipolar disorder.
Bipolar disorder (and, again, any serious, particularly chronic, illness) is expensive.
Now, I live in Canada, so my money worries are more limited than they would be in the US. But recently, the plan that had been covering my bipolar medications was cut off because it needed to be renewed. I went to the drug store and, suddenly, I owed hundreds of dollars. And I know how lucky I am. In the United States, people pay exponentially more for the same drugs.
But I had that moment. That moment where I sort of choked and realized what that kind of payment would do to me -- especially every month.
Money worries in bipolar disorder can include:
Monthly insurance payments (or getting insurance at all)
Providers accepting a person's specific insurance
Co-pays or the cost of out-of-network healthcare providers
Medication costs
Therapy costs
Transportation costs
Hospital stays
Income loss due to having to take time off due to bipolar disorder (this can sometimes even be job loss)
Childcare costs (so you can get to appointments or rest when needed)
Paying off debts thanks to hypomania/mania overspending
And I'm sure there are many more money worries associated with bipolar disorder that I'm not even thinking of.
When I think about all the above and factor in the anxiety disorders of most of the people with bipolar disorder, it makes my head whiz.
And what everyone really needs to acknowledge is that for some people, they can either eat (or feed their children) or meet their mental health care costs. That's the reality of it: the choice is mental wellness or life-sustaining necessities.
But, all that being said, all hope is not lost. Money worries in bipolar don't have to haunt your every moment. See my next post for ways of fighting money stress with bipolar disorder.
Sources
Lohano, Kavital M.D., El- mallakh, Rif S M.D, "The Anxious Bipolar Patient", Psychiatric Times. Sep. 6, 2011. 
APA Reference
Tracy, N. (2018, August 16). Money Worries and Bipolar Disorder, HealthyPlace. Retrieved on 2023, January 29 from https://www.healthyplace.com/blogs/breakingbipolar/2018/8/money-worries-and-bipolar-disorder
Author: Natasha Tracy