Is There a Miracle Medication for Bipolar Disorder?
Would it surprise you to know that I think there is a miracle medication in bipolar disorder? I've taken it. And yes, it was a miracle for me. I remember going from suicidal ever day of my life to wanting to do a life-affirming skydive.
The problem is, the "miracle" medication is different for each person.
What is a Miracle Medication, Anyway?
So, in my mind, once you have become sick with bipolar disorder, a miracle bipolar medication is anything that allows you to get back to the life that you were living before the bipolar disorder attacked you. You may still have to live with some bipolar symptoms but they will be minor enough that you can handle them without too much bother.
Another way to think about it is that the medication creates a life such that you no longer qualify for the diagnosis of bipolar disorder – maybe a couple of symptoms, but not enough to justify a diagnosis.
And, of course, you might find that rather than a miracle medication, you have a miracle cocktail, or psychotherapy, or other type of therapy (like electroconvulsive therapy (ECT)).
How Do I Find My Miracle Medication?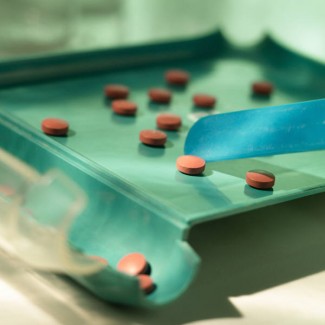 Ah, yes, that's the $1 million question, isn't it? The basic answer is: guess and check.
You and your doctor need to get together and make the most intelligent "guess" that you can, you need to take the medication as prescribed at a therapeutic dose for a reasonable period of time, and then you need to evaluate its success or failure. It tends to be a long, painful process and, yes, it can take years. (And, by the way, not taking your medication as prescribed will just lengthen this process.)
There is a bit of good news here though, and the good news is you can make it easier to find your miracle medication by narrowing it down a bit. There is now a blood test that can help point your doctor in the right direction. Cytochrome P450 tests actually narrow down which antidepressants and antipsychotics are best for you based on certain gene variations.
(Read more about the test at the Mayo Clinic.)
And while I can't promise you'll find your miracle medication in a day, week, month or even year, what I can tell you is that it, or something very much like it, is out there for you.
What Happens After You Find the Miracle Medication?
There is good news and bad news about finding that miracle medication. Watch the video below to learn about what happens after the miracle medication.
The Moral of the Story
The moral of the story on miracle medications is this: they're out there. I admit that they take time to find and I admit that they tend not to work forever (although, in some cases they do) but they exist. And what I recommend for people suffering from severe bipolar disorder symptoms is that you keep looking. Because you deserve your miracle.
You can find Natasha Tracy on Facebook or Google+ or @Natasha_Tracy on Twitter or at the Bipolar Burble, her blog.
APA Reference
Tracy, N. (2014, April 1). Is There a Miracle Medication for Bipolar Disorder?, HealthyPlace. Retrieved on 2023, December 5 from https://www.healthyplace.com/blogs/breakingbipolar/2014/04/miracle-medication-bipolar-disorder
Author: Natasha Tracy
I wouldn't be so quick to eliminate the ECT option. I can't even tell you how many meds I've tried. I still take a lot. It's not easy to find the right combo and I feel like it's a full time job. Still, I'd rather be working on finding the correct combo and keeping up with ECT matinence than have to live with the pain. I was in a hospital a while back for 44 days. I was done. On day 39 I started ECT and I was out in just a few days. ECT is my magic cure. It's not the 1960s anymore.
Thank you for this insight! I have been so afraid of the scary stories about losing memories and other brain damage. I pray and hope you are well!
my wife from Kolkata got it when reaching 60 years and after the first negative episode of about 3 years, which was just terrible, she had the opposite with an episode of 1 year. Now she is again in the negative and for one year she takes all sorts of medicine without any progress. I wonder what had been used in the past. Is there a history on treating bipolar disturbance ?
Well, this illness is so incredible mysterious and nobody has any knowledge about the causes and why there are these episodes.
Myself, being German moved with her from Berlin to Spain with its abundance of sunlight. The only progress she shows is that she learns Spanish 100 x faster than I do. A sign of progress is also that she starts giving orders or making satiric remarks on me and our grown up children.
I take care of my wife and listen to Mozart with her on YouTube. She is doing some Indian breathing exercises (pranayama).
I find it very positive on this platform that a few report how they succeeded to find a way out of this disgusting situation.
Georg Blomeyer
Disclaimer: This is just my experience; I am in no way endorsing my "wonder drug" for anyone else. I began to show mood disturbance (and had my first attempted suicide) at age 13. I am now 28 and was finally diagnosed with Bipolar disorder in 2008. In the time in between, I was put on Paxil, Dexedrine (for ADHD), the benzodiazepine Propanolol (for anxiety/panic attacks), Wellbutrin XR, Risperdal, Seroquel, Depakote, Effexor XR... My wonder drug is Lithium (carbonate). I am on a pretty low dose, and it absolutely made a difference within a few days. I went off it last year and regret it – had a suicidal depression that lasted about 5 months. I'm back on it now and appreciate the life it allows me to lead. There's no way I will ever let anyone convince me to go off my meds again. If you are still struggling, don't give up! Keep trying new meds or treatments until you find one that works... it's out there! And keep smiling... "Blessed are the cracked, for they let in the light."
I am bi polar have been for years according to my doctor.. I have tried so many medications but my panic attacks and bi polar plus depressions shifts rob me of a normal life and the meds make me numb . I was desperate enough to try weed yes I would try anything and YES it does work but for It to worked right you must be high all day.. and the stress of having to break the law to feel better ends up being burden really.. So I also treat my self with exercise and running that helps with rest. The fact is doctors cant even explain where or how this happens they have theories and explanations that they come up with but what is real is nobody can't come up with a cure because no one knows where it comes from or what causes it. and to me I call it an IT because it makes me sick to even say it. I battle this every day of my life if anyone ever comes with a cure someone please let me know..
Long term side effects of lithium...Kidney issues..! 10 yrs on lithium for me, put me in chronic renal definicy. Do what you can to change your living environment and the people, places, things you are around and change your thoughts. Read and educate yourself. Good Luck its a rough world out there.
In reference to Donna's recommendation of lithium. It is wonderful that your husband and daughter have had success with lithium as I am sure many others have had. It has been around forever and is a tried and true mood stabilizer. However, it is not for everyone. For me, it left me flat, I felt shrink wrapped. I was on it for over a year and will never use it again, was just awful, again, just my experience, and that is the point.
I think it was Kay red field Jamison that wrote or quoted in her book: "lithium saved my life, lithium robbed my soul".
The illness is individual, affects us differently, and no one treatment is effective for all.
Happy to hear that most of you are happy with there meds. I've heard warnings on TV about Depakote and maybe abilify to not sure. I liked abilify, but they were to expensive. Lexapro works best for me.
For now I have my cocktail of freedom. Depakote, seroquel and remeron. I will enjoy my stable life till a tune up is needed. I celebrate my good days, and hang
On through the bad. All I can say for sure is today I'm good!
My husband and my daughter take lithium and they are both vibrant, enthusiastic fun-loving people...my husband has taken it for 42 years, and my daughter for 10 years. It has not changed their personality at all. It allows them to be who they are without the symptoms of their illness. They both highly recommend it.
It also helps to have good people around you and haver the strenght to dump the toxic ones.
It helps to have strenght to drive you forward. It helps to have goals. It helps to have tool to help yourself and that largerly depends.
The miraclest of the miracle medications (do miracles really fail? I would say if it's miracle it doesn't fail...) will do nothing to you if you don't have the other things in check.
Yes, don't give up hope, I agree. But don't narrow to miracles and miracle medicines. Eventhough I DO joke that "I don't believe in miracles, I count on them", it's good to have back up. Life saving even.
There are no simple or straight answers to this complicated affliction. I think that the illness and how it affects each one of us is as unique as each one of us is and no one treatment is going to be effective for all. My miracle medicine did arrive 3 years ago and touch wood I am still well, but I don't take it for granted, that's for sure.
I guess what I am saying is that mental illness has got to be one of the toughest things to treat and medicate, what will work for me is completely unique and will not necessarily work for someone else. Yes, they say mood stabiliZer and antipsychotic are the way to go, but which one and what dose? The combinations are endless.
It is very worrying and very discouraging, but on the other hand, many have found success and hope, so we must all do what we can to support and help each other. I am glad that blogs are written, information shared, it can only help, thanks Natasha for writing and speaking out.
It doesn't always take years to find a medication that will aid in stabilizing mind and moods. The environment that makes you feel most comfortable will help you find suitable medication. The more demanding your life the harder it will be to find comfort - assuming that is what your really after.
What if you're done trying meds? I've had so many now + they wear off. Lithium has been discussed, but so many ppl say it robs them of all feeling + slows them down. I already feel like I'm wading through treacle. Here in the UK its standard to slowly phase one med out completely over a period of months, then introduce the new one gradually until you're on an effective dosage. That then has to be left for 6 months or so to see if it works. It can be up to a year + a half to change meds. I'm nearly 37. Diagnosed 2 yrs ago, but my symptoms go back to childhood. One way or another this illness has already robbed about 10 years out of my life. I'm not giving it another one + I refuse to even think about ECT. Thoughts?
It's been a few years since I exhaustively (exhaustively!!) looked up about those cytochrome p450 enzymes, and my understanding was that ALL antidepressants and antipsychotics are primarily metabolized by the cytochrome 2d6 enzyme in the liver, which many people do not have, or reduced amounts of that (I'm in the latter category)or for some people, vastly increased amounts of enzyme in their liver, so they blaze thru the drugs and break them down before they can do anything. So this test would tell about dosing, mostly. If a person was a poor metabolizer, that means their liver would break down the drug via an alternate pathway (a poor metabolizer does not have the cytochrome 2d6 enzyme in their liver). Lithium is metabolized in the kidneys. Some of those anticonvulstants may not be metabolized thru the same pathway as antidepressants and antipsychotics. Again, it has been YEARS since I read on this topic, and maybe I got a couple details wrong. The gist of it should be about right, though.
My psychiatrist says he did run the test on some of his patients who had trouble with drugs, and it wasn't all that informative. The test was more hyped up than useful, he thought.
I really think there are probably many causes of bipolar and this is why the drugs help some people and others never find a drug to help.
Leave a reply