Accepting Weight Gain in Bipolar Disorder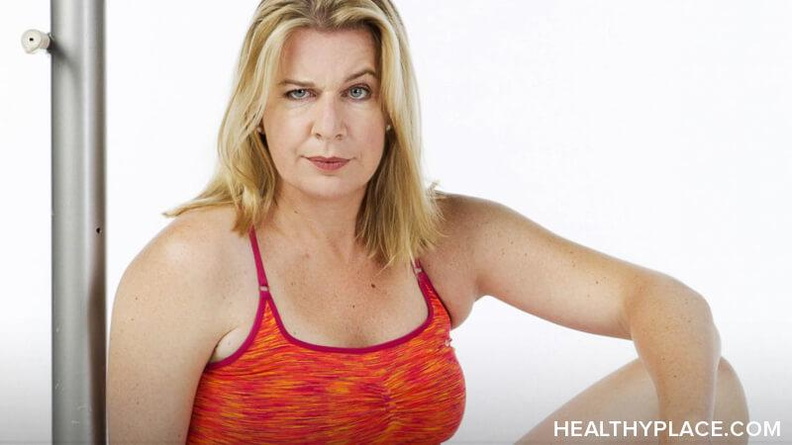 People with bipolar disorder, regardless of medication, are, on average, heavier than the average person. This is likely due to sedentary lifestyles and poor dietary choices due, in part, to reduced income. I suspect it's also because of untreated and undertreated people exhibiting major depression and never getting off the couch (something I know a lot about).
But then, of course, there are the side effects from medication and one of the big ones that effects people drastically is weight gain. Antipsychotics, in particular, can make a person put on a lot of weight and fast. (Tip: the antipsychotic that was newly approved in bipolar disorder, lurasidone, has been shown to be weight-neutral.)
And while many people work very hard to try to lose it, the fact of the matter is, most can't. Losing weight is something that is tough in the average population let alone in a medicated one. So sometimes, acceptance is the only answer.
Battling Weight Gain
Now, don't get me wrong, if you're determined to battle your weight then I'd recommend seeing your doctor and working out a diet and exercise plan that works for you. That's your call and with enough work and persistence, I suspect you'll experience some success.
But to everyone else who just can't win the battle or doesn't want to wage it, then I think acceptance is key.
Weight Gain and Self-Worth
Now I know that people judge themselves (especially women) by the number seen on the scale. It's not like I haven't done this or don't understand this. But this is patently ridiculous. Letting a number that you only partially control run your life is like letting the type of car you drive run your life. Not everyone can afford a Lamborghini.
And I know that this type of judgement tends to feed right into feelings of depression, which is a double whammy for people with bipolar disorder.
And while it's true that just saying that this judgement is illogical doesn't make the feeling go away, especially after years of judgement, if we want to feel better, it's a feeling we have to stand up to and fight.
Other People Accept Our Weight Gain Just Fine
The thing is, most of the people around us accept our shape just fine. I've been through many dress sizes and I don't remember a friend remarking on it even once. In fact, I don't recall a lover commenting on it either. (Well, except one person who was concerned I was losing too much weight. Different thing.) While, in our heads, we think everyone is judging us for our weight, the fact of the matter is that is a self-centered view. Other people just don't give it that much thought.
Accept the Weight Gain Already!
So, knowing that there's only so much of the number on the scale that we control, understanding that judging ourselves for it is illogical and admitting that other people just don't care about it, the only thing left is acceptance. Acceptance of a body change isn't easy, it's a process, but it's one that we can do and that we must do for our own happiness.
And if nothing else, remember this: sanity before vanity. I'd rather be fat and happy than skinny and depressed any day of the week.
You can find Natasha Tracy on Facebook or GooglePlus or @Natasha_Tracy on Twitter or at the Bipolar Burble, her blog.
APA Reference
Tracy, N. (2013, October 22). Accepting Weight Gain in Bipolar Disorder, HealthyPlace. Retrieved on 2019, August 19 from https://www.healthyplace.com/blogs/breakingbipolar/2013/10/accepting-weight-gain-bipolar-disorder
Author: Natasha Tracy
Hi Jennifer,

Bipolar disorder is related to lower income and socioeconomic status. I wasn't making that up, nor it is stereotyping.

See here: https://www.ncbi.nlm.nih.gov/pubmed/21220061
And here: https://www.ncbi.nlm.nih.gov/pubmed/20832866

And many, many other studies.

- Natasha Tracy
Yes losing weight is 80% diet. It's the diet that will determine your weight but exercise will tone the body and help things along. For general health and muscle toning, weight training is important to do 3 times a week
Hi Martha,

I'm really happy to help on this one because I know how hard it is. I'm sorry you've been going through that "rat race" with no success. Acceptance is likely a better road :)

- Natasha Tracy
Leave a reply