I'm So Tired – Bipolar Disorder and Fatigue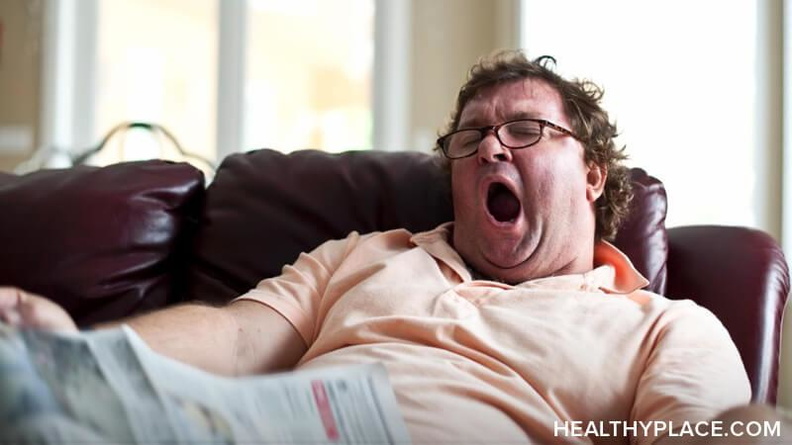 For me, fatigue is not just a symptom of an illness listed in a giant encyclopedia of diagnoses; for me, fatigue is practically a way of life. If I didn't have a day where I was so tired I wanted to curl up in a ball with my cats, I'd be downright shocked.
Fatigue and Bipolar Depression
Of course, "loss of energy or fatigue" is specifically listed in the Diagnostic and Statistical Manual of Mental Disorders (DSM-5) as a symptom of bipolar (and unipolar) depression. In my view, it's one of the more disabling, ongoing bipolar symptoms, but that's just how it presents in me. Because whether I feel acutely depressed or not, the fatigue is almost omnipresent. It's just one symptom that the medication doesn't seem to squelch. I'm kind of famous for my naps.
Fatigue and Bipolar Medication
Of course, if you have bipolar disorder and you're feeling fatigued and you're also on medication, the fatigue you're experiencing could be a side effect. Fatigue is a side effect of the following common bipolar medications:
And so on. You'll find similar side effects noted for most, if not all, antipsychotics for bipolar as well.
How Do I Know if My Fatigue is Bipolar- or Medication-Related?
Determining if something is a side effect generally goes like this:
Did the symptom start just after you started a specific medication? Then it's likely a side effect.
Was the symptom there before you started the medication? Then it's likely a bipolar symptom.
Did the symptom get worse when you started a medication? Then it's likely both.
And if you really want to know whether something is a side effect you can always switch medication but there are oodles of downsides to doing that.
What to Do about Bipolar Fatigue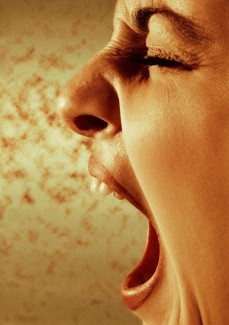 Of course, no matter why you're feeling fatigued, really, all the matters is that it be treated. If it's related to a medication side effect, then handling it usually involves decreasing or switching medications. If the fatigue is mood-related, though, what you really want to do is better treat all the mood symptoms. In other words, if you have significant fatigue often, you're experiencing a bipolar depression symptom often, and we know that partial treatment of bipolar depression is less than ideal and tends to lead to less favorable outcomes. (People in complete remission with no lingering symptoms tend to have better long-term outcomes.)
Common strategies for dealing with fatigue include:
Treating the bipolar with a more "activating" medication. For example, while almost all antipsychotics are associated with fatigue, some are more so than others. Aripiprazole, for example, is often considered a more "activating" medication and may have an energizing effect for some people.
Treating the fatigue/bipolar depression with a stimulant. One stimulant that has some data behind it is modafinil (as an adjunct) for treating bipolar/unipolar depression, and fatigue specifically. (See: Modafinil Augmentation Therapy in Unipolar and Bipolar Depression: a Systematic Review and Meta-analysis of Randomized Controlled Trials)
Exercise. I'm including this one because people swear they get more energy when they exercise. I don't; I just get tired; but other people swear it's the opposite.
So, the short story on bipolar and fatigue is this: you don't have to live with it. Certainly, with the strategies I've employed, I'm a lot less fatigued than I was before. The solutions might not be perfect (When are they ever?) but they are available and something you should discuss with your doctor if fatigue is an issue for you.
Please note: no treatment is right for everyone and trying to beat fatigue with something stimulating could increase your risk of switching to hypomania/mania or a mixed mood which means that working with your doctor on something like this is extremely important.
You can find Natasha Tracy on Facebook or Google+ or @Natasha_Tracy on Twitter or at Bipolar Burble, her blog.
APA Reference
Tracy, N. (2014, December 8). I'm So Tired – Bipolar Disorder and Fatigue, HealthyPlace. Retrieved on 2019, September 22 from https://www.healthyplace.com/blogs/breakingbipolar/2014/12/im-tired-bipolar-disorder-fatigue
Author: Natasha Tracy
Hi Elizabeth,

Congratulations on coming so far and doing so well. You should be very proud of yourself.

It can be hard for other people to understand how hard treatment can be, no question about that. You're right, there is an impression that meds just fix everything. We, of course, know they are challenging, to say the least.

What I would say is that your dad needs some additional information about the illness. He can't know how hard it is for you unless you tell him. You are an individual and while learning about the illness, in general, will help your dad, nothing will help as much as the words coming from you.

If you don't feel like you can speak those words, maybe write a letter. Take your time and fully explain the situation as best you can. It sounds like your dad will listen if you just explain.

Also, suggest that your dad read more about the illness from others. Try memoirs or books/websites that speak to you, personally.

I hope you find a better cocktail. Don't give up. It's out there.

- Natasha Tracy
I agree with Natasha. And don't give up on finding the right mix or right doctor. It took me 10 years and a relocation to find mine. Therapy also helps. I would also suggest bringing Dad with you to one of your doc or therapy appointments. There are also family support groups out there. Hang in there. You're on the right path. Try praying and going to church too. Just a thought.
I really like what Natasha and the others have given as suggestions, Elizabeth. Congratulations on your recovery day by day! That's all any of us has, after all, isn't it? One day , then one more... you will do great, Elizabeth! You have already reached out here and been proactive in your recovery in other ways. You're not feeling sorry for you and you are willing to do whatever it takes to stay sober and clean. Simple. You will gain strength with each victory. Hold your head up, Elizabeth! You ARE making it, RIGHT NOW. Way to go, girl!
I have gained weight while on Latuda. I hate when doctors tell us to loose weight when we are on a medication that makes loosing weight almost impossible. I had a baby recently while taking Latuda and it caused my weight gain to be more rapid and they were always onto me about my weight. It seems almost impossible for me to loose weight now though. Seems no matter how hard I try even before the baby I couldn't loose weight while on the medication. At one time I lost weight taking diet pills while on Latuda but they make me feel bad so I hate taking them.....glad I'm not the only one tired all the time
Hi I read your comment about having a baby recently. I am thinking about having a second child but scared out common outcomes with bipolar 2 with birth defects etc. Did you come off your medication?
Nothing irritates me more than when people refer to these medications as Satan and 'God got me threw it' great for you. Maybe you were never bipolar to begin with, hence why you were able to get off the 'Satan drugs'. It's a chemical imbalance. My brain doesn't work the same as someone without bipolar. So why don't you do me a favor and keep your comments to yourself. Possibly the only reason I'm here writing this post is because of the 'Satan drug'
Well said! Tell somebody without a leg to walk? The blind to drive? Not Sarah drugs.
I'm so sorry that response was posted, Kimberly! There are many I'll-informed and ego-driven people out there. Please be encouraged that there are more of us who are compassionate, caring, informed, and educated about this disorder. If anything, God has given us resources to deal the best we can with something He never intended for us to suffer with. ♥️
I agree that the body is a temple. But our bodies are not holy for we all have sinned. And I believe that God can heal us and allow us to come off medications. And great that he healed you. But there are some people that have to take these medications for life. Please don't go around calling them a Satan Drug. There really are some people that can't function normally without the medications. I absolutely hate having to take medication but thankfully God has allowed me to function on the lowest dose of 1 pill Latuda. I still feel very extremely fatigue everyday. I was able to come off my medications several times but stress made me need it again. Without the medication I can't handle extremely high stressful situations. I am thankful I was able to have a baby while on Latuda and he turned out healthy no problems. No birth defects perfectly healthy. I'm thankful I have a medication that works and I will not change it.
Please be kind in your responses. People are clinging to life here. Maybe something encouraging and uplifting would be more helpful than a dehumanizing lecture, not at all based upon "much love." Please be considerate to those who hurt.
That's right.i feel like I'm dying sometimes My fatigue is so bad I can barely get out of my bed and when I do I just go and sit down and curl up I get so tired I have to clean my house in sections some times I can't do anything for weeks. With out my medication I am destructive and totally crazy. I can't live with it an can't live with out it. It's so sad reading all these comments. Each to there own but there isn't a cure to this illness. I think anyone cured by god didn't have the illness to begin with. Sending love to you all 💗
Leave a reply