Supporting the Mentally Ill: Best Things to Say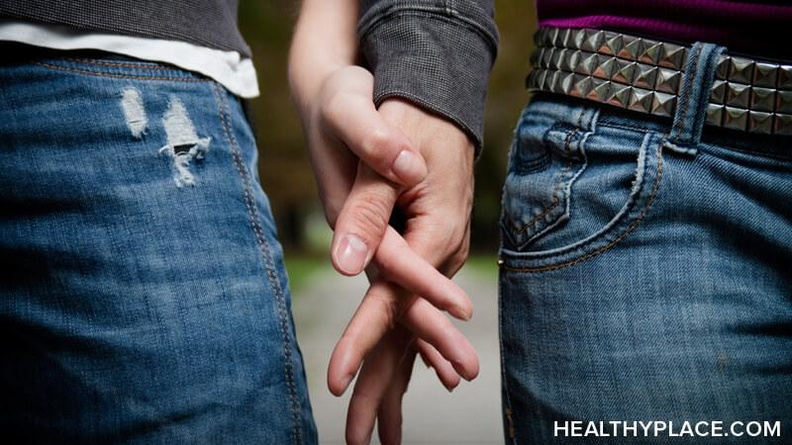 A few weeks ago I wrote an article on the worst things to say to a person with a mental illness. This ended up becoming a very popular article. I think that's because most of us have heard some or all of these dismissive things from people in our lives.
But a commenter posed an excellent question: What are the best things to say to someone with a mental illness?
Here are some of the best things you can say to a person with mental illness:
I love you
What can I do to help?
This must be very hard for you
I am there for you, I will always be there for you
You are amazing, beautiful and strong and you can get through this
Have you seen your doctor/therapist?
You never have to apologize for your illness or for feeling this way
I'm not scared of you
Why These Are Great Things to Say to Support Someone With a Mental Illness
These statements show that you recognize that the person is sick; you recognize that they're in pain you don't understand, and that you will be there for them. These are great things no matter what the illness is and really, no matter whom the person is.
What you are really saying, or implying:
The three best words in the English language. It shows that you care about the person in spite of their illness. We need reminding.
This shows that you really want to help in a way that works for the person.
You're validating their feelings and illness. As we often get the opposite, this is a gift.
You're showing the person that you really are there for them and that you're not going anywhere. Every human has a fear of abandonment and we perhaps more than most as we often see people leave us due to our mental illness.
These compliments very person-to-person but basically our brain is attacking who we are and skewing our self-perception. If you can bring some reality to the table it's appreciated. And honestly, we might not seem to believe you, but it helps to hear it anyway.
This is a tricky one but I do think it's important to encourage professional help in whatever form that takes. We get so sick we don't do this and by saying this to us you're reinforcing that we need to do it and you're saying it in a loving way. You could offer to make, drive to or come to an appointment.
We feel bad about being sick. Really. Guilty. And guilty and scared about being sick around you. By saying that we don't have to apologize, you're telling us that you accept us and our illness and we don't have to apologize for something outside of our control. (This isn't to suggest that we shouldn't apologize for behaving badly, that everyone should do.)
You're reinforcing that you love us and we're not driving you away. Everyone's scared of our illness, including us. We need to know that you're not terrified that we'll suddenly explode like TNT lit by Wile E. Coyote.
It's Hard to Say the Right Thing
I admit, these are hard things to say. They're hard things to say to anyone and they're certainly hard things to say to someone suicidal. I recognize that. Everyone's human. We don't always pick the right box.
So every conversation doesn't contain all eight items. No one could expect it would. If you just feel comfortable saying one, that's perfectly OK. But if the basic ideas of love, acceptance, support, acknowledgment and help can be remembered, the conversations can go better whatever their flow.
And hey, if you've had these things said to you, say thanks. We should all appreciate such kindness.
You can find Natasha Tracy on Facebook or GooglePlus or @Natasha_Tracy on Twitter or at the Bipolar Burble, her blog.
APA Reference
Tracy, N. (2010, October 12). Supporting the Mentally Ill: Best Things to Say, HealthyPlace. Retrieved on 2019, September 21 from https://www.healthyplace.com/blogs/breakingbipolar/2010/10/supporting-the-mentally-ill-best-things-to-say
Author: Natasha Tracy
Hi Toby,

It can really hard to maintain boundaries in that situation but, ultimately, boundaries protect you and your brother. You can't help him at all if helping him wounds you. You know what they say, put your own oxygen mask first before you assist others because if you can't breathe, you're of no help to anyone.

You could try saying something like this: "I appreciate that you need help right now, but I need to take care of myself. I can't help you our with money, but I can ______"

Or: "I know that you need help right now, but because I have helped you so much already, I'm putting my own self in harm's way. Please understand that I will help you, but not with money."

The point being that you recognize his need, but you also recognize your own needs and boundaries and respect them. It's okay to do that. You may have to stand strong, but it's worth it.

- Natasha Tracy
I read your comments, and it was like I was reading my son's own symptoms, always wanting money, we can never give him enough. angry all the time, cursing at us and anyone that does something he doesn't like, other outrageous things, I can't go into. He was diagnosed with bipolar and ADHD. He has been hospitalized three times, voluntary and involuntarily. Each time he gets bad, police and crisis get involved before anyone will except him for treatment. As a parent I see hospitals as a last resort, but if you are sick, and other non family and friends are affected by it, you soon will realize that something is wrong enough to admit yourself.
Leave a reply