Depression: Why Do People Keep Asking What Happened?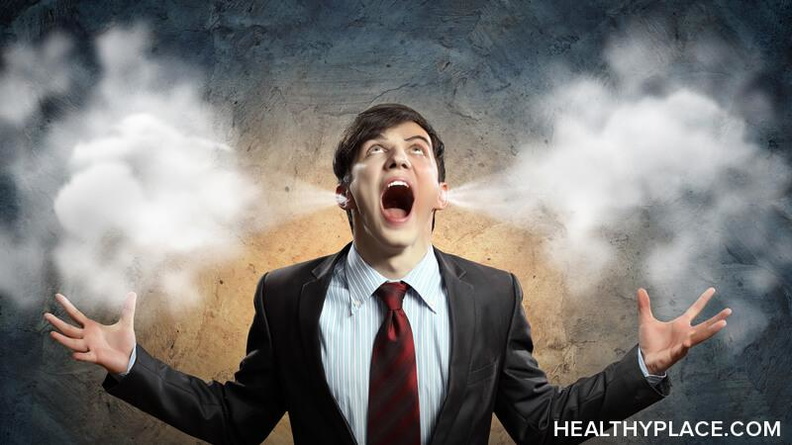 I have had this exchange a thousand times,
"I'm really depressed."
"Why, what happened?"
Have you been missing the plot?
Bipolars Get Depressed
Bipolar disorder is defined as the cycling of moods between a depression and a mania, or hypomania. It is not characterized by being cut off in traffic and then being depressed about it.
Depression Happens. Bipolar Disorder Doesn't Need a Reason.
I do understand the confusion. For a normal person, emotions have causes. I say something hurtful to you, and you might feel hurt. Someone hits your car and runs, you might feel mad. You break up with your other, you might feel sad. I get that. They taught us the feeling faces in elementary school.
The problem is that for most people, few emotions fall outside this cause and effect. It's true that people may not always be able to pinpoint the cause, but generally one exists. The only feelings falling outside of this paradigm are things like bad hair days.
Depression Is the Worst Hair Day of Your Life
So when I say to someone that nothing caused the depression, they have no frame of reference. Normal people don't wake up feeling suicidal. Normal people don't understand what it is to be crying for no other reason than it is 3:02pm. Or 4:07pm. Or 7:12am. People just can't comprehend what causes an 180 degree mood swing in a matter of moments. They don't believe it. They think it isn't possible. They think I'm sneakily hiding the reason. They seem to think I'm lying to them.
Rest assured; I am not.
Why Do You Have a Cold?
It's like getting a cold. You have no idea why you have a cold, or how you got it. But you have it. Suddenly. Without warning. You didn't do anything wrong. And now you're stuck using up all your tissues and searching the cupboards for chicken soup.
Depression is like that: you don't know why you have it, or how you got it. But you have it. Suddenly. Without warning. You didn't do anything wrong. And now you're stuck using up all your tissues and searching the freezer for Ben and Jerry's.
Bipolar Happened
No one asks you how you got the cold. They know it's an illness. I wish people would remember that so is depression. I don't know why I have it. It just appeared. There is no reason. Stop asking me what happened.
You can find Natasha Tracy on Facebook or @Natasha_Tracy on Twitter.
APA Reference
Tracy, N. (2010, June 16). Depression: Why Do People Keep Asking What Happened?, HealthyPlace. Retrieved on 2019, June 20 from https://www.healthyplace.com/blogs/breakingbipolar/2010/06/depression-why-do-people-keep-asking-what-happened
Author: Natasha Tracy
I know this is a very late response, but I thought it was a good question that deserves an answer.

First of all, it's completely up to you whether you want to disclose your struggles with depression or any other disorder. Some feel uncomfortable for personal reasons and others fear discrimination. But when your symptoms start effecting your job performance it's a good time to reconsider the position.

Mental illness is covered under the Americans with Disabilities Act (ADA), which affords you protection from discrimination and "reasonable accommodations." But these can't be enforced if an employer does not know you are clinically depressed.

I would suggest, after asking for a few minutes of their time and having an official documentation of your diagnosis, personalizing the following basic approach:
"Hi [Employer], I wanted to speak to you about my recent performance. I'm currently struggling with clinical depression (or you can be more vague), which I'm being treated for, and as I get better my performance will improve. However, I may require some accommodation while I recover. I'm still able to perform my duties, though I am having some difficulty with [insert issue(s) here]. It helps when [accommodations/environment/etc.]. If you have any questions or concerns about my diagnosis, please feel free to talk to me. If you see [specific scenario], you can [action]. I'm grateful to be a part of this team and wanted you to be aware of my circumstances so we can work together to keep things on track."

I would recommend speaking with HR or your union first if you think the conversation will be problematic, and to check in with your employer again in a few days to see where things stand.
Leave a reply