When Your Loved Ones Don't Believe in Mental Illness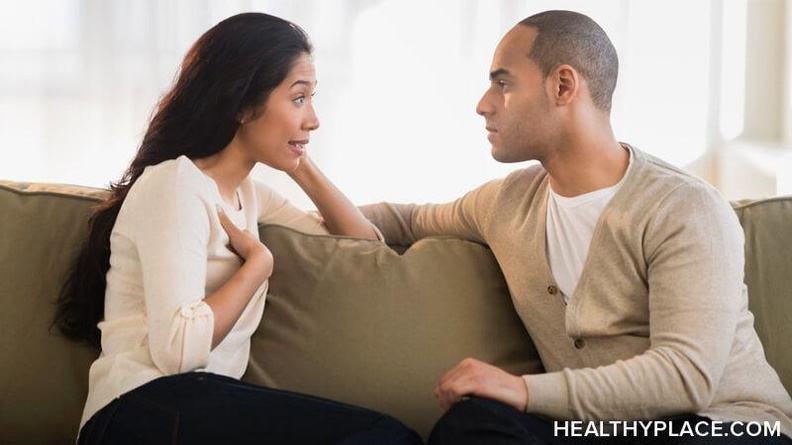 The holidays are here and one of the issues people face when spending time with family is that some loved ones don't believe in mental illness. This lack of belief often upsets people with mental illness tremendously and makes them even doubt themselves and their own experiences. This lack of belief can be very detrimental, indeed. But you needn't be so harshly affected when your loved ones don't believe in mental illness.
Why Don't Loved Ones Believe in Mental Illness?
Well, of course, the answer to this question is individual to the person, but some reasons are:
They have their own mental illness and don't want to face it (a very big one, in my opinion)
They don't want to believe you're sick because they love you
They're uneducated and ignorant about mental illness or mental illness treatment
They have a religion that teaches them not to believe in mental illness
They have had powerful, past experiences that form their current opinion
Their Lack of Belief in Mental Illness Isn't about You
In short, none of those things are your fault and none of them are about you. You did nothing wrong. You are just a person with a mental illness that is bumping up against someone that is unsupportive and just, plain wrong. I know it hurts when that person is a loved one, but they are no more right than a Scientologist or an antipsychiatrist. And, let's face it, most of us have areas of our lives that are not supported by loved ones for one reason or another (With Mental Illness In The Family, You Don't Get Lasagna).
Handling a Loved One's Lack of Belief in Mental Illness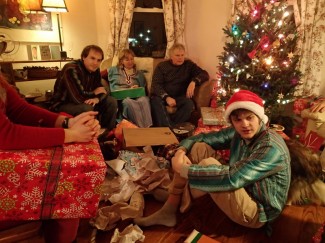 When you have to attend holiday functions, you likely can't simply avoid that family member who doesn't believe in mental illness, perhaps like you could the rest of the year, and this will likely put extra pressure on you. I wish I had a magical answer that would fix that, but I don't. What I will say, though, is that you need to fight the idea that the other person is spreading lest you internalize it, which, honestly, even the best of us run the risk of doing. So,
Try to remember that other people don't have to believe in science (or mental illness) for it to be real and accurate.
Your experience cannot be unlived or unremembered just because of someone else's denial. It's like someone who denies the holocaust (a real thing) – it happened and no amount of denial will ever change that.
While it may feel like this person is discounting you as a person, they likely don't see it that way. This is a difference of opinion and try to remember to frame it that way even if this difference of opinion is an extremely critical one in your own life.
Remember all the people who believe in you and know that your mental illness is real. These people are the ones that you need to surround yourself with, or at least check in with, over the holidays. Enlist that support network whenever you can.
Don't internalize someone else'slack of belief. What's going on in your life is real and you need to accept it and not let anyone take that away from you.
And here's something I can say, personally. I didn't used to believe in mental illness. I didn't. I thought depression was just weakness, and a lot of other uneducated things. But I came around. And others may come around, too, but it may take a long time and a lot of convincing.
Of course, convincing them of your mental illness is not your job. Like 12-step groups say, "What other people think of me is none of my business." Like I said, I know it may hurt, but you may have to make your peace with it and just say, loudly and proudly, that someone else's ignorance isn't going to ruin your holiday. Your experiences are yours and they are real. Period.
How Denying Mental Illness Hurts Your Loved Ones
A video you might want to share with your loved ones is this one I made on how harmful it is to deny a family member's mental illness.
Image provided by Jay's Thought Stream.
You can find Natasha Tracy on Facebook or Google+ or @Natasha_Tracy on Twitter or at Bipolar Burble, her blog.
APA Reference
Tracy, N. (2015, December 16). When Your Loved Ones Don't Believe in Mental Illness, HealthyPlace. Retrieved on 2019, September 18 from https://www.healthyplace.com/blogs/breakingbipolar/2015/12/when-your-loved-ones-dont-believe-in-mental-illness
Author: Natasha Tracy
You do need help. I'm sorry your dad is like that. You can't do it alone. Who else can you reach out too? Is there anyone who you trust?

Self harm is very serious and addictive. It's not a game it's not for attention. They are warning signs that you need support and help.

I'm sorry thing are so painful. I hope you find someone to help you.

I have found the emergency department at hospital very very helpful when I was desperate.
What country are you in?

Hospital is a safe place and people are trained to understand trauma and mental illness.

If your parents won't understand you need to by pass them.
Hi Isabella,

Thank you for reaching out here. I do not believe you are wasting anyone's time. Your mental health is important. Whether you have a diagnosable condition or just need more love and support from your family, it is important.

if your mom is not supportive, I recommend you see a school counselor. They may be able to help you or help you talk to your mom.

You can also call a helpline and talk to someone there. We have many listed here: https://www.healthyplace.com/other-info/resources/mental-health-hotline-numbers-and-referral-resources/

You do not have to be suicidal to call a helpline.

Do not think you are wasting anyone's time. You are important and so is your mental health.

- Natasha Tracy
Hi Ju,

It's hard for some parents to believe their children have mental illnesses. This is pretty normal. It's also normal to doubt yourself if you get that kind of reaction. But, please, listen to your psychiatrist as he or she is the expert in their field, not your parent. You may wish to take your parent to your appointment with you so that you parent can hear from the doctor exactly what is happening. That may help her digest it in a more useful way.

If you have another, more supportive, person in your life, don't be afraid to reach out to him or her. You need that support and you will find it, even if it isn't your mom right now.

- Natasha Tracy
Hey.

I saw your comment and I felt the same way for a while my mom was in denial about my mental illness and I started to believe that I had fabricated this idea that I was sick. I ended up talking to my doctor during my well checkup and she wanted to know more about my illness. She separated me from my mom and allowed me to talk without my mother's presence distracting me. She concluded that I needed therapy and talked to my mother for me and it cleared a lot up. I can really relate to you because I felt very trapped keeping it in. Try to tell an adult other than your mom or just find a positive way to vent your frustrations until you can talk to a doctor.
Leave a reply