Mental Illness And Other People's Opinions of You
HealthyPlace Mental Health Newsletter
Here's what's happening on the HealthyPlace site this week:
Mental Illness And Other People's Opinions of You
Mental health stigma is about people judging people living with a mental illness. If you have low self-esteem, you're feeling bad about about yourself and have a poor self-image, then obviously people's negative opinions of you would have a huge detrimental effect. You might not want to seek a proper mental health diagnosis or get the treatment you need. You might decide to hide your mental health problems and allow them to fester and build up inside you for fear of "what would happen if others find out."
This brings me to a Steve Maraboli quote I came across. Maybe it will resonate with you:
"How would your life be different if…You stopped allowing other people to dilute or poison your day with their words or opinions? Let today be the day…You stand strong in the truth of your beauty and journey through your day without attachment to the validation of others."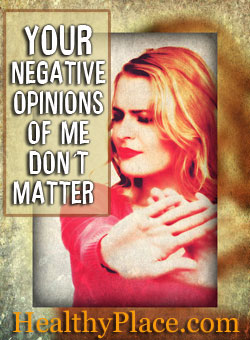 On one of our morning HealthyPlace Twitter chats, Connie shared this comment: "People who you value should care about your mental health. They should be supporting you, not denegrating you because you have a mental illness."
On the HealthyPlace Facebook page, our "Question of the Day" is: How do you handle others who judge you because you have a mental illness? We invite you to participate by commenting and sharing your feelings, experiences and knowledge.
Related Mental Illness Information
Help Spread Awareness of Mental Illness
Get Our Mental Health Blog Widget
Some 60 sites and blogs are helping spread awareness of mental illness. How about putting our mental health blogs widget on your website, blog or social page? The latest HealthyPlace blog headlines appear as soon as the articles are posted on our site. Just click "Get Widget" at the bottom of the widget, grab the embed code and paste it into your page. You'll also see embed links for Wordpress, Blogger, Linkedin and other social sites there.
As a bonus, put the blogs widget on your site or blog, email us (info AT healthyplace.com) with a page link where it appears, and we'll give a shoutout to your site, blog, or social site on our Facebook and Twitter pages.
------------------------------------------------------------------
Share our Stories
At the top and bottom of all our stories, you'll find social share buttons for Facebook, Google+, Twitter, Pinterest and other social sites. If you find a particular story, video, psychological test or other HealthyPlace feature helpful, there's a good chance others in need will too. Please share.
We also get many inquiries about our linking policy. If you have a website or blog, you can link to any page on the HealthyPlace website without asking us beforehand.
---
continue story below
---
Most Popular HealthyPlace Articles Shared by Facebook Fans
Here are the top 3 mental health articles HealthyPlace Facebook fans are recommending you read:
If you're not already, I hope you'll join us/like us on Facebook too. There are a lot of wonderful, supportive people there.
------------------------------------------------------------------
Mental Health Experiences
Share your thoughts/experiences with any mental health subject, or respond to other people's audio posts, by calling our toll-free number (1-888-883-8045).
You can listen to what other people are saying by clicking on the gray title bars inside the widgets located on the "Sharing Your Mental Health Experiences" homepage, the HealthyPlace homepage, and the HealthyPlace Support Network homepage.
If you have any questions, write us at: info AT healthyplace.com
------------------------------------------------------------------
From the HealthyPlace Mental Health Blogs
Your comments and observations are welcomed.
Feel free to share your thoughts and comments at the bottom of any blog post. And visit the mental health blogs homepage for the latest posts.
My Child Has Autism on HealthyPlace TV
Leah Kelley, author of the blog "30 Days of Autism," joins us to discuss parenting issues and educational challenges associated with raising a child with autism. Watch the interview.
That's it for now. If you know of anyone who can benefit from this newsletter or the HealthyPlace.com site, I hope you'll pass this onto them. You can also share the newsletter on any social network (like facebook, stumbleupon, or digg) you belong to by clicking the links below. For updates throughout the week:
APA Reference
Staff, H. (2012, October 30). Mental Illness And Other People's Opinions of You, HealthyPlace. Retrieved on 2023, September 29 from https://www.healthyplace.com/other-info/mental-health-newsletter/mental-illness-and-other-peoples-opinions-of-you
Last Updated: September 4, 2014