How Brain Dehydration Affects Your Mental Health
Here's what's happening on the HealthyPlace site this week:
---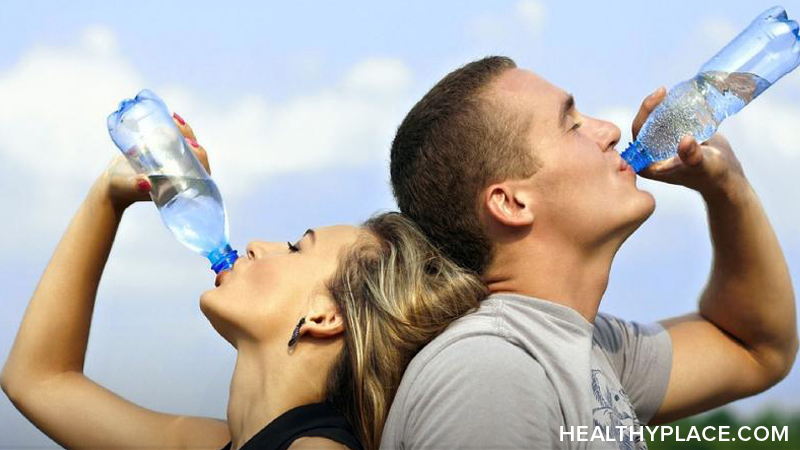 How Brain Dehydration Affects Your Mental Health
Summer is here, and with it, heat and the possibility of brain dehydration.
Hot temperatures cause us to sweat. When fluids seep out of our pores rather than circulating through our brain, we risk brain dehydration. Even mild brain dehydration has a negative impact on the brain and our mental health (Three Ways Hydration Can Affect Your Mental Health).
Water comprises a whopping 75% of the human brain (leaving only 25% for everything else, which is pretty mind-boggling). Clearly, the brain requires water to operate well. When our brain is dehydrated, we risk mental health difficulties like these:
Hydrate Your Brain for a Mental Health Boost
It's true: you can reduce these life-limiting issues and boost your overall mental health simply by drinking water. The recommended amount varies based on age, weight, climate, and activity level.
General guidelines apply to everyone. Drink at least 8 oz of water when you wake up in the morning, and drink it regularly throughout the day. Also, stick to water. Soda, caffeinated, and sugary beverages contribute to mental health problems.
To stay well and enjoy the summer months and every season of the year, it's crucial to drink plenty of water to keep your brain healthy and happy.
Related Articles Dealing with Hydration and Mental Health
Your Thoughts
Today's Question: Summer's here! If you've experienced dehydration, specifically brain dehydration, how has that affected your mental health? We invite you to participate by sharing your thoughts, experiences, and knowledge on the HealthyPlace Facebook page.
From the HealthyPlace Mental Health Blogs
On all our blogs, your comments and observations are welcomed.
Feel free to share your thoughts and comments at the bottom of any blog post. And visit the mental health blogs homepage for the latest posts.
------------------------------------------------------------------
Most Popular HealthyPlace Articles Shared by Facebook Fans
Here are the top 3 mental health articles HealthyPlace Facebook fans are recommending you read:
If you're not already, I hope you'll join us/like us on Facebook too. There are a lot of wonderful, supportive people there.
------------------------------------------------------------------
Mental Health Quote
"Don't feel guilty for doing what's best for you."
Read more abuse quotes.
------------------------------------------------------------------
That's it for now. If you know of anyone who can benefit from this newsletter or the HealthyPlace.com site, I hope you'll pass this onto them. You can also share the newsletter on any social network (like facebook or stumbleupon) you belong to by clicking the links below. For updates throughout the week, follow HealthyPlace on Twitter or become a fan of HealthyPlace on Facebook. Also, check out HealthyPlace on Instagram, YouTube and Pinterest, where you can share your mental health pins on our Share Your Mental Health Experiences board.
APA Reference
Peterson, T. (2019, June 10). How Brain Dehydration Affects Your Mental Health, HealthyPlace. Retrieved on 2023, December 5 from https://www.healthyplace.com/other-info/mental-health-newsletter/how-brain-dehydration-affects-your-mental-health
Last Updated: June 11, 2019