Is It Collecting or Hoarding? How to Spot Hoarding Disorder
Here's what's happening on the HealthyPlace site this week:
---
Is It Collecting or Hoarding? How to Spot Hoarding Disorder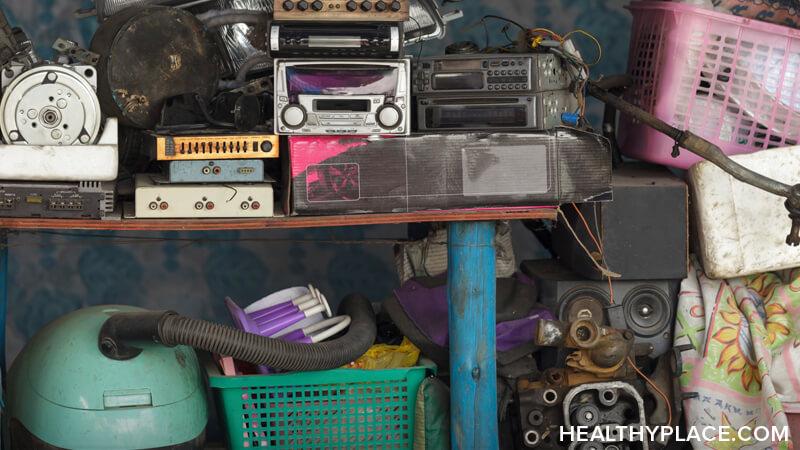 An abundance of television shows and movies about people who accumulate and attempt to live among a lot of material possessions has led many people to worry that they or someone they care about may be hoarding. Here's a look at what the Diagnostic and Statistical Manual of Mental Disorders, Fifth Edition (DSM-5) has to say about hoarding disorder.
Collecting vs. Hoarding
Collecting involves intentionally gathering items that are enjoyable or pleasing. Even large collections don't point to hoarding if the person doesn't have difficulty discarding other items. Someone else may think that the collection is nothing but annoying clutter that takes up too much space, but this doesn't make the collector a hoarder.
Hoarding disorder is a type of obsessive-compulsive disorder and is a mental illness. True hoarding involves:
Extreme difficulty discarding possessions, even items that are of no value to the person
The objects clutter living spaces to the point that movement is restricted (and any clear space is created by others rather than the person hoarding)
Possible excessive acquisition—buying, stealing, or otherwise acquiring items neither needed nor even wanted
A significant disruption to someone's life, interfering in relationships, work, and even health and safety
If you or a loved one's life has been significantly restricted because of an inability to discard items, know that help is available for hoarding. Contact your doctor or a therapist to start the process.
Source: American Psychiatric Association. (2013). Diagnostic and Statistical Manual of Mental Disorders. Arlington, VA: American Psychiatric Association Publishing.
Related Articles Dealing with Hoarding Disorder
------------------------------------------------------------------
On the HealthyPlace Facebook Live this Thursday: Michelle was a sex addict with an alcohol addiction. She was raped, kidnapped and more because of her addictions. "My rock bottom was a morning when I woke up bottomless on a beach with no memory of what happened." Michelle is sober now and ready to tell her story of pain, then redemption. Join us and ask your questions or share your story on our Facebook Live, this Thursday, September 3, at 4pm ET/3pm CT.
Trauma therapist, Dr. Heidi Green, will be there too. She'll be discussing the traumas that come along with sexual addiction.
(Concerned that you may be a sex addict? Take our sexual addiction test for further insight.)
------------------------------------------------------------------
From the HealthyPlace Mental Health Blogs
On all our blogs, your comments and observations are welcomed.
Feel free to share your thoughts and comments at the bottom of any blog post. And visit the mental health blogs homepage for the latest posts.
------------------------------------------------------------------
Most Popular HealthyPlace Articles Shared by Facebook Fans
Here are the top 3 mental health articles HealthyPlace Facebook fans are recommending you read:
If you're not already, I hope you'll join us/like us on Facebook too. There are a lot of wonderful, supportive people there.
------------------------------------------------------------------
Mental Health Quote
"Don't let life discourage you; everyone who got where he is had to begin where he was."
Read more positive affirmations for when life feels too hard.
------------------------------------------------------------------
That's it for now. If you know of anyone who can benefit from this newsletter or the HealthyPlace.com site, I hope you'll pass this onto them. You can also share the newsletter on any social network (like facebook or stumbleupon) you belong to by clicking the links below. For updates throughout the week, follow HealthyPlace on Twitter or become a fan of HealthyPlace on Facebook. Also, check out HealthyPlace on Instagram and YouTube.
APA Reference
Peterson, T. (2020, September 2). Is It Collecting or Hoarding? How to Spot Hoarding Disorder, HealthyPlace. Retrieved on 2023, December 3 from https://www.healthyplace.com/other-info/mental-health-newsletter/is-it-collecting-or-hoarding-how-to-spot-hoarding-disorder
Last Updated: September 2, 2020