Four Ways to Journal for Your Mental Health
Here's what's happening on the HealthyPlace site this week:
---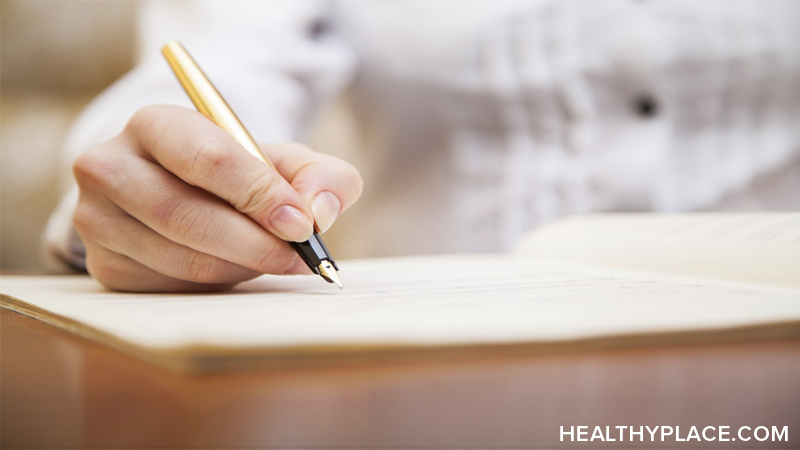 Four Ways to Journal for Your Mental Health
Journaling is a powerful tool to help you take charge of your mental health and overcome problems that seem insurmountable. Many therapists recommend journaling as part of the healing journey, but you don't have to be in therapy to benefit.
How to Journal for Your Mental Health
The idea of journaling, though, can be intimidating. What do you do with all these blank pages staring at you? Happily, you can do anything. There is no wrong way to journal. This is a sampling of ways you can journal to boost your mental health:
Create lists. "My top five worst emotions (or thoughts) today," for example.
Free write. Write what pops into your mind without worrying about logical flow.
Make a collage. Find pictures that represent who you are, what you're dealing with, or visions and goals for your life.
Doodle. Let yourself be lost in the act of doodling without overthinking. It's a way to hone mindfulness.
Journal in any way that is meaningful to you. No matter how you do it, an important guideline is to avoid leaving your journal in the negative. End with a statement of what you're learning from struggles, something you're grateful for, or an action step you'll take to overcome the struggle. Doing this moves your journaling experience to a new level, one of action and owning your mental health.
Related Articles Dealing with Journaling
Your Thoughts
Today's Question: If you journal, do you have a ritual for journaling, or do you prefer to journal without a structured routine? We invite you to participate by sharing your thoughts, experiences, and knowledge on the HealthyPlace Facebook page and on the HealthyPlace Google+ page.
From the HealthyPlace Mental Health Blogs
On all our blogs, your comments and observations are welcomed.
Feel free to share your thoughts and comments at the bottom of any blog post. And visit the mental health blogs homepage for the latest posts.
------------------------------------------------------------------
From HealthyPlace YouTube Channel
I'm Hannah. I Have Bipolar 2
A Bipolar Cure: Do You Think About It?
People ask me often, "If you could be cured of bipolar disorder, would you?" and my immediate answer is always "No." This is the mind I have been given and part of who I am, which is something I have accepted, but it is not easy for everyone. Research indicates that there is no known cure for bipolar disorder, however many individuals living with bipolar disorder still seek to find one. (Watch Hannah)
------------------------------------------------------------------
Most Popular HealthyPlace Articles Shared by Facebook Fans
Here are the top 3 mental health articles HealthyPlace Facebook fans are recommending you read:
If you're not already, I hope you'll join us/like us on Facebook too. There are a lot of wonderful, supportive people there.
------------------------------------------------------------------
Mental Health Quote
"What's broken can be mended what hurts can be healed and no matter how dark it gets, the sun is going to rise again."
Read more mental health quotes.
------------------------------------------------------------------
That's it for now. If you know of anyone who can benefit from this newsletter or the HealthyPlace.com site, I hope you'll pass this onto them. You can also share the newsletter on any social network (like facebook, stumbleupon, or google+) you belong to by clicking the links below. For updates throughout the week, circle HealthyPlace on Google+, follow HealthyPlace on Twitter or become a fan of HealthyPlace on Facebook. Also, check out HealthyPlace on Pinterest and share your mental health pins on our Share Your Mental Health Experiences board.
APA Reference
Peterson, T. (2018, June 25). Four Ways to Journal for Your Mental Health, HealthyPlace. Retrieved on 2023, December 8 from https://www.healthyplace.com/other-info/mental-health-newsletter/four-ways-to-journal-for-your-mental-health
Last Updated: May 15, 2020