Berating and Ridiculing A Person Wounds Their Soul
HealthyPlace Mental Health Newsletter
Here's what's happening on the HealthyPlace site this week:
Why Words Make A Difference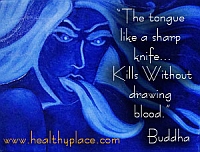 Some people, children and adults, can be so cruel -- some without realizing the impact their words will have.
I'm watching a video of auditions on the show "Britain's Got Talent." There's a 17 year old boy and his 16 year old female singing partner standing on the stage. The girl is doing all the talking, when Simon Cowell says to the boy: "you don't talk very much." And then they cut away to the back story.
The boy, who is obese, shares that when he was growing up, everybody ridiculed him for being fat...to the point where he just crawled into a shell. It's obvious that he's suffered terribly from that experience. It's affected who he is and how he feels about himself.
That's the sad part. We are reminded of the lasting impact of cruelty; especially when it occurs in childhood. The beautiful part is hearing what the girl has to say. When I heard her words and the conviction behind them, it reminded me that there are a lot of good people in the world.
After watching the video, feel free to add your thoughts and comments about this story on our Facebook page.
Related Stories
------------------------------------------------------------------
Share our Stories
At the top and bottom of all our stories, you'll find social share buttons for Facebook, Google+, Twitter and other social sites. If you find a particular story, video, psychological test or other HealthyPlace feature helpful, there's a good chance others in need will too. Please share.
We also get many inquiries about our linking policy. If you have a website or blog, you can link to any page on the HealthyPlace website without asking us beforehand.
---
continue story below
---
Most Popular HealthyPlace Articles Shared by Facebook Fans
Here are the top 3 mental health articles HealthyPlace Facebook fans are recommending you read:
If you're not already, I hope you'll join us/like us on Facebook too. There are a lot of wonderful, supportive people there.
------------------------------------------------------------------
Mental Health Experiences
Share your thoughts/experiences with any mental health subject, or respond to other people's audio posts, by calling our toll-free number (1-888-883-8045).
You can listen to what other people are saying by clicking on the gray title bars inside the widgets located on the "Sharing Your Mental Health Experiences" homepage, the HealthyPlace homepage, and the HealthyPlace Support Network homepage.
If you have any questions, write us at: info AT healthyplace.com
------------------------------------------------------------------
From HealthyPlace Mental Health Blogs
Your comments and observations are welcomed.
Feel free to share your thoughts and comments at the bottom of any blog post. And visit the mental health blogs homepage for the latest posts.
Suicide in My Family on HealthyPlace TV
Heather McCready is a talented folk singer, song writer, and mental health advocate with a history of suicide in her family. Diagnosed with bipolar disorder and having gone through several severe depressions, Heather is doing everything she can to keep suicidal thoughts and ideations from going any further. Watch Suicide in My Family.
Hiring Military Vets with Combat PTSD
There's a push underway by American corporations to reach out and hire military veterans returning from the Middle East. HealthyPlace Medical Director and author of "I Always Sit With My Back To The Wall," Dr. Harry Croft, says there are issues these vets may be facing that corporate managers aren't familiar with but will need to accommodate. Watch this video on hiring military veterans with combat PTSD. There's also information that will be helpful to vets in the workplace.
Coaching Restraint To The Rule Enforcing Child
Does this sound familiar? There are kids who not only follow the rules to a "T," but they're also constantly enforcing those rules on siblings, friends and classmates. That behavior ends up ruining relationships.
The Parenting Coach, Dr. Steven Richfield, has some ideas on how you can help your rule enforcing child.
Latest Mental Health News
These stories and more are featured on our mental health news page:
Psychologist Alerted Penn State's Police to Sandusky in 1998, NBC Says
The Righteous Mind
Why People Remember Negative Events More Than Positive Ones
Heroic Fantasies: Why We Want to Save People and Be Saved
Whoops! The Biggest Mistake of My Career
Females On Parole And Mental Illness Risk
Stroke Risk Increased in Asian Schizophrenia Patients
That's it for now. If you know of anyone who can benefit from this newsletter or the HealthyPlace.com site, I hope you'll pass this onto them. You can also share the newsletter on any social network (like facebook, stumbleupon, or digg) you belong to by clicking the links below. For updates throughout the week, circle HealthyPlace on Google+, follow HealthyPlace on Twitter or become a fan of HealthyPlace on Facebook.
Thank you,
Deborah
Community Partner Team
HealthyPlace.com - America's Mental Health Channel
"When you're at HealthyPlace.com, you're never alone."
http://www.healthyplace.com
APA Reference
gkoplin (2012, March 29). Berating and Ridiculing A Person Wounds Their Soul, HealthyPlace. Retrieved on 2023, December 9 from https://www.healthyplace.com/other-info/mental-health-newsletter/berating-and-ridiculing-a-person-wounds-their-soul
Last Updated: September 4, 2014