Bipolar Medication Will Take Away My Creativity: True or False?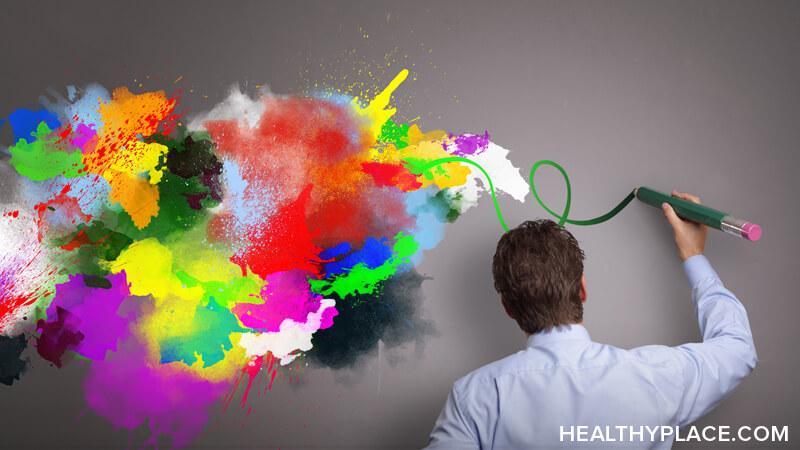 Bipolar medications and their effect on creativity. It's a controversial subject to the point where sometimes people with bipolar disorder quit their medications; maintaining they have caused them to lose their creativity. I believe this is a significant concern for many people living with bipolar disorder.
Upon being newly diagnosed with bipolar II, I saw many people online complaining that they were no longer creative after taking bipolar medication. The extreme side-effects of bipolar medication alone, such as weight gain and sedation, made me question whether or not bipolar treatment was worth it. The possible loss of my creativity…well, frankly, it scared the crap out of me. I was concerned it would affect my work in a creative career field and thus worsen my depression.
Will Bipolar Medication Make Me Less Creative?
I cannot give a research-based answer to this question. I can tell you from my personal experience with bipolar medications that finding the right routine of medication enhanced my creative skills.
When I started the process of bipolar medication, I was very clear with doctors about this concern but was told that a lot of my creativity could be part of hypomania. However, I realized this was false; being that I utilized my creative side during periods of depression, hypomania and when I was stable. Writing and creating different projects are a significant part of my bipolar disorder coping skills as well. It took me a while to find the right routine of medications that would allow me to maintain my creative side while living a stable life, but it also placed more responsibility on me.
Finding Bipolar Medication That Allowed Me to Be Creative
The sedative side-effect of the bipolar medication is what made it impossible for me to thrive creatively. I was sleeping for more than 12 hours a day. I felt worthless, and like I could not contribute anything to society. I decided that enough was enough and I had to address the problem head-on with doctors. I went to my psychiatrist and worked for months trying to find the right routine of bipolar II medications that would allow me to thrive as an individual with bipolar disorder while utilizing my creative side to build a professional career. It took months to a year, but I finally found a treatment plan that worked.
Before treatment, I was unable to focus and put forth my creative ideas. I would get halfway through a project and then quit due to frustration. Today, I can complete projects that I am working on and maintain my career as a writer and creator.
When you live with bipolar disorder and are in the process of seeking treatment, you must have open communication with your doctors. I still endure many side effects of medication but it is not as severe, and I prioritize my creativity as being something I do not want to sacrifice. I have to make adjustments every once in a while, which is part of managing my treatment living with bipolar II disorder. In my experience, it is false that bipolar medication will take away your creative side but it requires work in finding the right treatment regimen to maintain your creativity.
APA Reference
Blum, H. (2018, June 19). Bipolar Medication Will Take Away My Creativity: True or False?, HealthyPlace. Retrieved on 2019, August 24 from https://www.healthyplace.com/living-with-bipolar-blog/2018/6/bipolar-medication-will-take-away-my-creativity-true-or-false
Author: Hannah Blum
I suffer from GAD combined with chronic depression and aside from an ongoling cognitive bases psycotherapy I'm also medicated with benzodiacepins and pregabalin as well as an antidepressant. I used to be very creative in various ways (painting, writing, etc, just for myself and now I just can't seem to find the motivation. Could it be the medication?
Even psychiatric medication has got many side effects, it is crucial help to satisfying psychiatric treatment of mental disorders. The same is value for bipolar medication, which ones incorporates intrigues and unpredictable side effects. Bipolar medication is long time and changeable depending of course and phase of this double form of mood disorder. Therefore, it ought to respect thorougly the recommendations of respective clinical psychiatrist during dynamic and changeful medication of bipolar mood disorder. Summary, each side effect of bipolar medication isn't the reason to give up psychiatric bipolar medication. On contrary, bipolar medication is substantial part of complex and multifarious psychiatric treatment. of bipolar mood disorder.
Leave a reply