Learning To Trust Yourself When You Live With Mental Illness
HealthyPlace Mental Health Newsletter
Here's what's happening on the HealthyPlace site this week: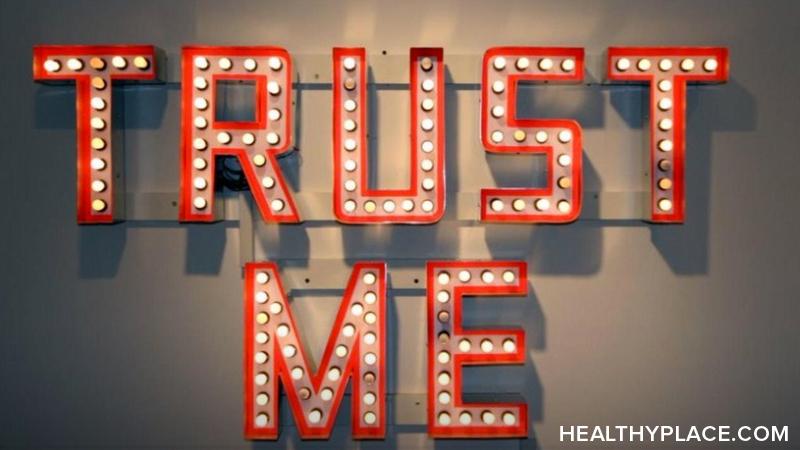 Learning To Trust Yourself When You Live With Mental Illness
Mental illness wreaks havoc with thoughts, emotions, and behavior. In doing so, mental illness makes it hard for people to trust what's going on inside of them.
In many types of mental illness and personality disorders, thoughts race relentlessly, often with self-doubt and harsh self-criticism (Mental Illness Can Overstimulate Your Brain). Feelings join the tumultuous ride, and commonly they're out of proportion to thoughts and events, either too intense or almost nothing. Are our racing thoughts believable? What about our feelings? Can we trust them enough to act on them? Can we trust our own judgement and intuition? (Bipolar Disorder - Can You Trust What You Feel?) These unrelenting thoughts and feelings can be exhausting.
Learning to trust yourself—your thoughts and your feelings and the correctness of your behaviors—is an important step in becoming mentally healthy and experiencing wellbeing.
Learn to pause, to notice thoughts and feelings without judgement.
Just be. Don't follow the racing thoughts and wild emotions. Wait to act.
Consider what you'd like to do or think or feel, and do it with confidence.
When doubts creep in, pause again, and then replace those doubts with truths.

Learning to trust yourself when you live with mental illness is a process. It's a process that moves ever forward and systematically quells self-doubt.
Related Articles Dealing with Trusting Yourself with Mental Illness
Your Thoughts
Today's Question: Today's Question: How do you handle self-doubt when it keeps you from trusting yourself?  We invite you to participate by commenting and sharing your feelings, experiences and knowledge on the HealthyPlace Facebook page and on the HealthyPlace Google+ page.
---
---
Share our Stories
At the top and bottom of all our stories, you'll find social share buttons for Facebook, Google+, Twitter, Pinterest and other social sites. If you find a particular story, video, psychological test or other HealthyPlace feature helpful, there's a good chance others in need will too. Please share.
We also get many inquiries about our linking policy. If you have a website or blog, you can link to any page on the HealthyPlace website without asking us beforehand.
Most Popular HealthyPlace Articles Shared by Facebook Fans
Here are the top 3 mental health articles HealthyPlace Facebook fans are recommending you read:
If you're not already, I hope you'll join us/like us on Facebook too. There are a lot of wonderful, supportive people there.
------------------------------------------------------------------
From the HealthyPlace Mental Health Blogs
On all our blogs, your comments and observations are welcomed.
Feel free to share your thoughts and comments at the bottom of any blog post. And visit the mental health blogs homepage for the latest posts.
------------------------------------------------------------------
Stand Up for Mental Health
Thousands Have Joined the Stand Up for Mental Health Campaign
But we still need you. Let others know there's no shame in having depression, anxiety, bipolar disorder, trichotillomania, OCD, ADHD, schizophrenia or any other mental illness.
Join the Stand Up for Mental Health campaign. Put a button on your website or blog (buttons for family members, parents, mental health professionals and organizations too). We also have covers for Facebook, Twitter and Google+.
------------------------------------------------------------------
Latest Mental Health News
These stories and more are featured on our mental health news page:
Chronic Stress Creates A Triple Whammy That Makes Losing Weight Practically Impossible
Research Confirms Racial Inequities In Mental Health Treatments
Transgender Veterans Diagnosed With Significantly More Mental And Medical Health Disorders
Low Oxygen Levels Soon After Birth May Raise Risk For Learning And Behavioral Disorders
Reducing Sugar In Sweetened Drinks By 40% Could Prevent 1.5 Million Cases Of Overweight And Obesity
Study Finds Cerebrovascular Disease To Be Major Determinant Of Psychosis In Patients With Alzheimer's
Older Age At Menopause Was Associated With A Lower Risk Of Depression For Women In Later Life
That's it for now. If you know of anyone who can benefit from this newsletter or the HealthyPlace.com site, I hope you'll pass this onto them. You can also share the newsletter on any social network (like facebook, stumbleupon, or digg) you belong to by clicking the links below. For updates throughout the week:
APA Reference
Peterson, T. (2016, January 20). Learning To Trust Yourself When You Live With Mental Illness, HealthyPlace. Retrieved on 2023, November 28 from https://www.healthyplace.com/other-info/mental-health-newsletter/learning-to-trust-yourself-when-you-live-with-mental-illness
Last Updated: January 20, 2016