For Loved Ones, After a Suicide Attempt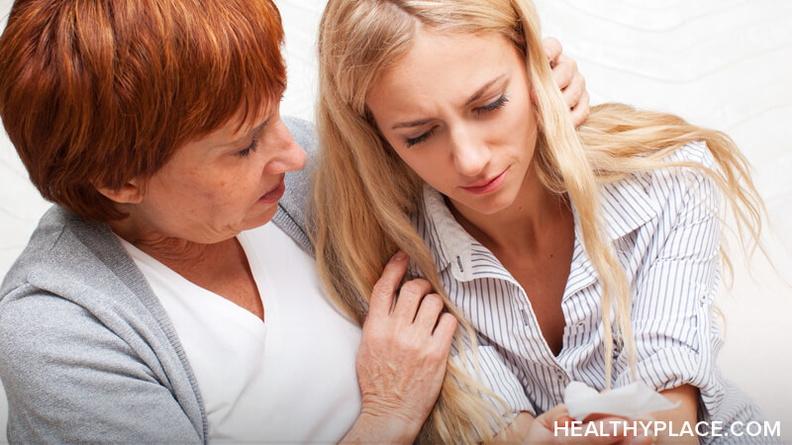 Recently, a man I have come to respect and care about attempted suicide. I am grateful he is still here to tell the tale. His suicide note was online and his pain was so evident it tore at my soul.
I was tremendously relieved to hear his friends had rescued him in time to save him. But I was then left with the problem as to what to say to this man. The last thing in the world I wanted to do was make the situation any more difficult for him.
What do you do when someone you care about just attempted suicide?
Suicide is About Pain
To be clear, people who attempt suicide aren't doing it for fun, they aren't playing at death nor are they looking for death. People who attempt suicide are trying to escape a life of (literally) unbearable pain. Suicide isn't about death, it's about pain.
The Shame and Guilt of Suicide
And most people who have attempted suicide feel extremely bad about what they have done. They're ashamed they committed the act and feel guilty they have put those around them through it. Waking up after a suicide attempt is no picnic.
What to Say to Someone Who Has Attempted Suicide
So, understanding the person is already feeling bad about attempting suicide, there is no reason to make this person feel worse. You need to be supportive. You don't need to support their action, but you need to support the person. They are hurting. All they want is to know you still care about them.
What Never to Say to a Person Who Has Attempted Suicide
The worst thing you can say to someone is about how selfish they are and how much they hurt you. These people already know that. These people are already beating themselves up. The last thing they need is to feel beaten up by you too. The more they feel rejected, the more likely they are to feel alone and to try to commit suicide again. What better reason is there to leave the planet than being in agony and finding out everyone suddenly hates you?
Stay With the Person, Remind Them Who They Are
This man I know who attempted suicide isn't "the man who attempted suicide," he's a man who is brave, bold, generous and friendly. He is a man who gives to his community and a man that I respect. He is not a "suicide attempt." A suicide attempt is only a symptom of his disease. It is not who he is. I know this. And now is the time to remind him. Because, unfortunately, he may have forgotten.
People need to feel included and loved for who they are. Yes, they may need company around them to make sure they do not hurt themselves further, but they also need it to feel human again. They feel horrible about what they did. They need to know people still love them and it will be OK.
But What about My Feelings?
You, as the loved one, have every right to feel worried, hurt, betrayed and many, many other things. I would never deny you those feelings. But right after a suicide attempt is not the moment to pick to express those. Call another friend and vent and cry if you need to. Get your own support. Make sure you are OK. But it's not the moment to enter into a deep conversation with someone who has just faced death. Wait until they are stronger. And then you can both talk openly about the act's effects and your feelings. It's OK to talk about those things, but you have to pick your moment.
But above all try to remember, this person is the same person they were before they attempted suicide. They just fell victim to a very serious symptom of their disease. No more, no less.
You can find Natasha Tracy on Facebook or GooglePlus or @Natasha_Tracy on Twitter or at the Bipolar Burble, her blog.
APA Reference
Tracy, N. (2011, July 11). For Loved Ones, After a Suicide Attempt, HealthyPlace. Retrieved on 2019, September 23 from https://www.healthyplace.com/blogs/breakingbipolar/2011/07/for-loved-ones-after-a-suicide-attempt
Author: Natasha Tracy
Thank you for sharing. All too often we are a society of "me-first". If we got out of that mindset, we would understand and empathize. Imagine how much kinder this world would be?
Lori, you are so true. My story is a parent felt to be a burden and was in immense physical pain and felt she was hurting her family by existing. Now, we just try to support her as best as possible and never judge. Thank you for your words. They mean a lot and hit close to home.
Wow......after my suicide attempt all my wife did was text my mom who is hundreds of miles away. That was it my little sister found me in the ER. Then the ER kicks me out and my wife dumps me......alone......in our house.....after giving me a we aren't husband and wife anymore letter. She took my kids my retirement and just moved on.....like I was dead....has a full biz of my credit and retirement. I am disabled no law help. So many comments of understanding.....all I got from my wife was....the section of what not to say.
Hi Joshua, I am so sorry you had to face this. You are not alone. It's so tough to understand what the other person is thinking. But most important I hope you are doing well. Hugs from a stranger who cares.
Leave a reply