Dissociative Identity Disorder Video: My Diagnosis
Yesterday I talked about the Dissociative Identity Disorder diagnosis and the vital role clinicians play in making that diagnosis. One of the reasons it's important to talk to a therapist if you think you may have DID is that dissociation by nature impedes awareness. Most people can't see the spot between their shoulder blades without a mirror. Similarly, most severely dissociative people aren't able to clearly recognize the symptoms of DID and the extent of their problem without the help of a skilled clinician. In fact, the diagnosis often comes as a shock. Today I'd like to share with you a typical diagnosis story - my own.
[caption id="attachment_659" align="aligncenter" width="420" caption="Photo by Esparta"]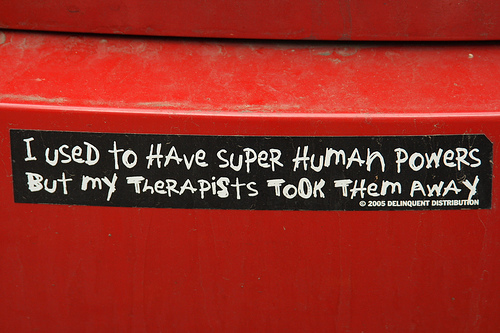 [/caption]
A Dissociative Identity Disorder Diagnosis Doesn't Change Who You Are
Receiving the diagnosis of Dissociative Identity Disorder is often so confusing and provokes such internal pandemonium that newly diagnosed people struggle with identity confusion like never before. They feel like a different person because of the diagnosis. But as Julie W. says in Multiple Personality Disorder from the Inside Out:
You, as a system, are not different. You, as a group, have lived, survived and functioned for virtually your whole life. This diagnosis makes you feel differently about yourself, but you haven't changed. You may choose to change your lifestyle/habits/friends, etc. but your life won't change of its own volition. You are what you have always been.
I had an exceedingly difficult time in the first few years after diagnosis. Watch the following video to hear more about how the Dissociative Identity Disorder diagnosis affected me.
Follow me on Twitter!
APA Reference
Gray, H. (2010, October 8). Dissociative Identity Disorder Video: My Diagnosis, HealthyPlace. Retrieved on 2019, September 23 from https://www.healthyplace.com/blogs/dissociativeliving/2010/10/dissociative-identity-disorder-video-my-diagnosis
Author: Holly Gray