Verbal Abuse and Child Custody in Family Court
What Role Does Verbal Abuse Play in Child Custody?
Verbal abuse and child custody remain mutually exclusive in today's family court decisions. While verbal abuse breaks hearts and minds instead of bones (effects of verbal abuse), our family court system rarely considers verbal abuse when determining child custody. Unsettling as it is, family court may never consider verbal abuse and child custody needs concurrently for one reason: The First Amendment to the Constitution of the United States.

The First Amendment states:
Congress shall make no law respecting an establishment of religion, or prohibiting the free exercise thereof; or abridging the freedom of speech, or of the press; or the right of the people peaceably to assemble, and to petition the Government for a redress of grievances.
When thinking about child custody and verbal abuse, you may read the First Amendment and say, "Free speech doesn't give someone the right to verbally abuse anyone," and you are correct. However, the amendment's free speech clause makes it very difficult to prosecute anyone for what he or she says at home or in public. After all, if the government can limit what words we use in personal conversations, then it must first limit the words we use in public, in the press, and in the media. Not gonna happen.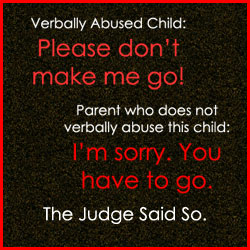 This means that verbal abuse will most likely never become a reason to charge someone for domestic violence, which means that verbal abuse may never be a legal reason to deny custody of a child to a verbally abusive parent. I do not want verbal abuse to become illegal. I don't want people to use verbal abuse, but if we allow the court (the government), to dictate what we say at home or in public, hurtful or not, then we allow a great danger that threatens our civil liberty.
Affecting Change in Verbal Abuse and Child Custody Decisions
Change must occur at the source to protect children from verbal abuse. It is the non-offending parent's duty to end the abuse at home, but as we all know, the non-offending parent is often not their usual strong self by the time he or she realizes verbal abuse and child custody is an issue. Therefore, it is also the public's duty to report verbal abuse of children because, regardless of verbal abuse's standing under the law, verbal abuse is the foundation of all domestic violence. If you hear a parent verbally abusing their child, physical abuse inevitably follows in time.
Both public and private sector organizations take verbal abuse very seriously, but they can only use the presence of verbal abuse to make predictions of physical harm, and then use those predictions and the proof of emotional and mental damage verbal abuse causes to counsel abuse victims (and perhaps the offender). But the court cannot make judgments based on what might happen. It can only judge based on what did happen.
The court must see evidence of physical harm to some degree, and that requires concurrent or prior court cases proving guilt of domestic violence of the verbally abusive parent. If the department of social services is involved, their finding of physical abuse can help the children in custody fights, too. But still, verbal abuse and child custody needs is a non-issue in family court. Allegations of or proof of verbal abuse does not guarantee safety for the children (or the parent attempting to garner justice for their children).
Morally, we know that verbal abuse and child custody needs should come together to influence family court judges' decisions. However, the judges must abide by the law to determine custody. Verbal abuse is not against the law, so it cannot legally influence child custody decisions. The real solution to this problem is not in changing the law, but in changing how seriously society views verbal abuse so that we, the public and the adult abused family members, can recognize signs of abuse and make changes to end the abuse sooner.
That is how we save our children. The court cannot do it for us.
*Both women and men could be abusers or victims, so do not take my pronoun choices as an implication that one gender abuses and the other is victimized.
APA Reference
Holly, K. (2015, March 19). Verbal Abuse and Child Custody in Family Court, HealthyPlace. Retrieved on 2019, September 22 from https://www.healthyplace.com/blogs/verbalabuseinrelationships/2015/03/verbal-abuse-and-child-custody-in-todays-family-court
Author: Kellie Jo Holly