Self-Harm and the Semicolon Project: Your Story is Not Over Yet
During one of my nightly adventures on Pinterest, I came across a tattoo that instantly grabbed my attention. Being a writer, and someone who has some tattoos, the semicolon on this person's wrist made me want to seek out more information about it. As I looked further into the reason behind it, I came across the Semicolon Project that had been started in April of last year.
The Semicolon Project was created for those who were going through struggles with self-harm, depression and suicide who could have stopped moving forward, but didn't.
The reason the semicolon was used as the symbol of the movement was because in a sentence, it is the punctuation mark that separates two different ideas. A period can replace a semicolon, but people use a semicolon because they do not want to end that thought.
Therefore this represents what the Semicolon Project strives for: not stopping when you can keep moving on.
Never Stop Telling Your Story - Even if it Includes Self-Harm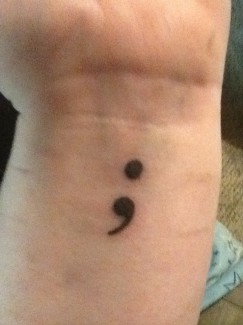 Many people know of the To Write Love on Her Arms movement, but this project seemed more like something I'd be a part of. I've always been drawn to unique ideas and by making the semicolon the main focus of the project, it made me realize how it really can be used in our everyday lives.
The punctuation mark represents moving forward when you could have stopped. It shows us that there is always more to the story and more to tell. During our struggles with self-harm, we at times feel like there is no hope and no use fighting the urges to hurt ourselves. We may feel brought down by the stressors surrounding us and cutting or burning may seem like the only coping skill left.
This movement is about pushing past those difficult feelings and finding a safe way to move forward because there is more to our stories than self-harm. For those lost in the struggle, you cannot let self-harm define you. You have to define yourself in positive, supportive ways that will help you push past the urges and towards the help that is out there.
The Anti-Self-Harm Semicolon Project Continues This Year
The Semicolon Project continues this year on April 14, 2014. Similar to the To Write Love On Her Arms movement, you simply draw a semicolon on your wrist. By having this symbol in perfect view, you will tell yourself to walk past the razors and scissors that may flood your sight and thoughts.
I will most likely post something when the day comes closer. I find this movement to be very unique because of the symbolism used. Maybe it's just the writer in me or my past struggle with self-harm, but the Semicolon Project seems like the perfect way to give an extra push to those who need it.
And we all could use a little push in the right direction.
You can also find Jennifer Aline Graham on Google+, Facebook, Twitter and her website is here. Find out more about Noon through Amazon.com.
APA Reference
Graham, J. (2014, March 28). Self-Harm and the Semicolon Project: Your Story is Not Over Yet, HealthyPlace. Retrieved on 2019, September 22 from https://www.healthyplace.com/blogs/speakingoutaboutselfinjury/2014/03/self-harm-semicolon-project
Author: Jennifer Aline Graham
There's always going to be some one or others to help. Ask about. But the hardest thing you'll ever do is seek n ask for help. But it is there.
I'm so sorry that you are going through that. It's been so long since you posted this and I'm just now reading these articles. I never knew about this until now. How are you doing now?
Leave a reply