Self-Harm and Self-Acceptance: Yes, This is About "Frozen"
Some may see this blog as the corniest one I have created yet. However, after finally watching the popular Disney movie, Frozen, I felt the need to put these thoughts out there for others to read and relate to.
I typically analyze every movie I watch and search for hidden symbolism. I've done this ever since I took a scriptwriting class in college and, being a writer, I enjoy seeking out positive messages in books and in films.
Even with my four-year-old nephew telling me what was going to happen seconds before something would, I realized how deep Frozen really was and how it was related to the idea of self-acceptance.
Accept Your Struggles with Self-Harm and Move Forward
Self-harmers tend to feel alone and as if no one truly understands why they do what they do. Everyone self-harms for different reasons and since self-harm really is an addiction, it's hard to explain the reasons behind the actions. This goes for any kind of mental illness because the brain can be a terrifying place when going through a struggle.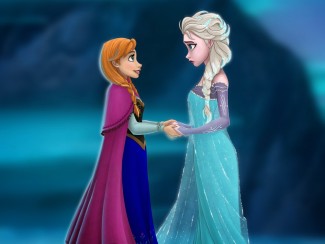 One of the characters in Frozen has a power that she struggles with and instead of accepting her struggle, she hides it and pushes everyone she loves away. It takes her time to understand this power and once she accepts it, she uses her struggle to better herself with the support of others.
When watching the film, I instantly related self-harm to the confusing power that had overcome the character. Instead of seeking help, we tend to push others away and fear moving forward because it has become so engrained into our everyday behaviors. Like the character in the movie, we need to seek help from family and friends when it comes to an issue we are struggling with.
When we find comfort in help from others, we can find comfort within ourselves to embrace the struggle and move forward.
Look Between the Lines
Even though some people may think I look too deeply into simple children's movies, many people have also embraced the messages this movie has brought. I know that some parent's are sick of their children singing the songs and memorizing the lines, but remember that even if they don't understand the message, the message is still there.
Whether it be in books or movies or TV shows, there are messages that can relate to the struggle you are going through. Sometimes it takes a little effort and imagination to find that connection, but it is there.
You can also find Jennifer Aline Graham on Google+, Facebook, Twitter and her website is here. Find out more about Noon through Amazon.com.
APA Reference
Aline, J. (2014, March 31). Self-Harm and Self-Acceptance: Yes, This is About "Frozen", HealthyPlace. Retrieved on 2023, September 25 from https://www.healthyplace.com/blogs/speakingoutaboutselfinjury/2014/03/self-harm-and-self-acceptance-yes-this-is-about-frozen
Author: Jennifer Aline Graham
Lyrics like Shake If Off By Taylor Swift or Let It Go as in the movie Frozen are a great example of the power of music to transform the mind and emotions. Music (or anything else to do with the arts for that matter such as art, movies, theatre, books, etc) can be used as a medium to enhance well being and soothe the soul
I like the idea of being in children's world, not only to understand them and guide them, else to help them , while they still littles, to avoid more harm in them later in their lives,
Our children's are, and should be the priority, to have a better future.
Janeth.
I love how you talked about Frozen. I could relate to the movie because of my substance abuse recovery.
I've sort of taken the song, "Let it Go!" from Frozen as my theme song! I recently moved to a new, beautiful, mountainous area and have cast off my old life just like Elsa casts off her cloak while singing that song. Whenever I need a little pep talk, I play "Let it Go!" Still haven't seen the movie but I've purchased it. Waiting to see it with a friend.
Everything said made a great deal of sense.
But, think on this, what if you added a little information?
I am not saying your content isn't good, however what if you
added something that makes people desire more?
I mean Self-Harm and Self-Acceptance: Yes, This if About "Frozen" | Speaking Out About
Self-Injury is a little vanilla. You should peek at Yahoo's front page and note how they write
article headlines to grab viewers to open the links.
You might try adding a video or a related pic or two to grab readers excited about everything've
written. In my opinion, it could bring your blog a little
livelier.
Thanks a lot. I appreciate it!
I like the valuable information you provide in your articles.
I'll bookmark your weblog and check again here
regularly. I am quite certain I'll learn many new stuff right here!
Good luck for the next!
Leave a reply