Dealing with Weight Gain in Recovery from Depression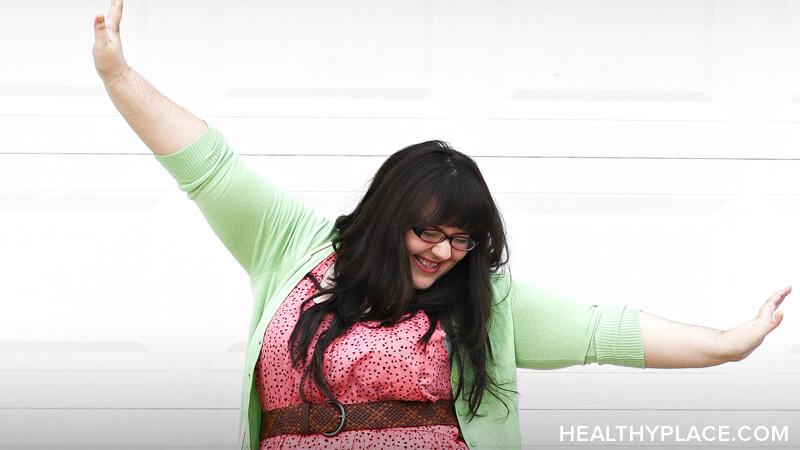 I am learning that weight gain in my recovery from depression and anxiety acts as a trigger for those disorders. Last November, I had a baby and I gained a lot of weight while I was pregnant. I knew I wouldn't return to my old size right away, but I assumed it would happen after a few months.
But here we are, more than six months later, and I'm still the same weight I was while nine months pregnant (I think; I don't weigh myself but my old clothes definitely do not fit). I am choosing to embrace my new plus-size body, but it is not always easy, especially when I have such a predisposition toward depression, anxiety, and self-loathing.
Can Weight Gain in Recovery Trigger Mental Illness Symptoms?
In my experience, yes, weight gain in recovery can absolutely affect your mental illness, even if you don't have any kind of eating disorder. For the last decade, I've had a really great relationship with food. I eat when I'm hungry, I try to eat fruits and veggies several times a week, and I don't get upset when I indulge in something sweet. Before that, when I was in high school, I definitely had some dysfunctional thoughts about food and about my body, but I never had an eating disorder, luckily.
What I'm dealing with now is not an eating disorder, it's just lots of shame-filled thoughts about my body, and, unfortunately, that's triggering my depression and anxiety. I think this is because my experience with having both depression and anxiety is characterized by a lot of shame, and weight gain is also often associated with shame because our society is obsessed with thinness (especially in women). 
Find out more about how I'm coping with this triggering shame of weight gain in recovery and accepting my new plus-size body at the same time in the video below. If you've had a similar experience, I'd love to hear from you. Share your thoughts and we'll start a conversation in the comments.
APA Reference
Griffith, M. (2020, June 16). Dealing with Weight Gain in Recovery from Depression, HealthyPlace. Retrieved on 2023, December 11 from https://www.healthyplace.com/blogs/recoveringfrommentalillness/2020/6/dealing-with-weight-gain-in-recovery-from-depression
Author: Megan Griffith
I would just like to thank you for this article and video. I've gained a lot of weight because of my medication and lately I've been really mean to myself about it. When I try to talk to my husband about it, he just calls me a "weirdo" or says things like "Your feminist sisters are weeping!" This is, I guess, supposed to be encouraging and I do appreciate it, but it shuts the conversation down. But I'm so glad I found your article, you made me feel so much better! I'm actually the writer for Creative Schizophrenia here on HealthyPlace and on May 28 I published "My Medication for Schizoaffective Disorder Makes Me Fat," if you want to check it out. Anyway, thank you, thank you, thank you for this article!
Aahhh, hello fellow HP writer! I'm sorry your meds have made you gain weight, and I'm sorry your husband is trying to be supportive but is kinda shutting down the conversation. I've found myself being mean to myself about my weight too, and I'm trying for body neutrality (where my body is just a body, not good or bad) with some plus size positivity thrown in!
Leave a reply