Powerful Ways to Share Your Mental Health Story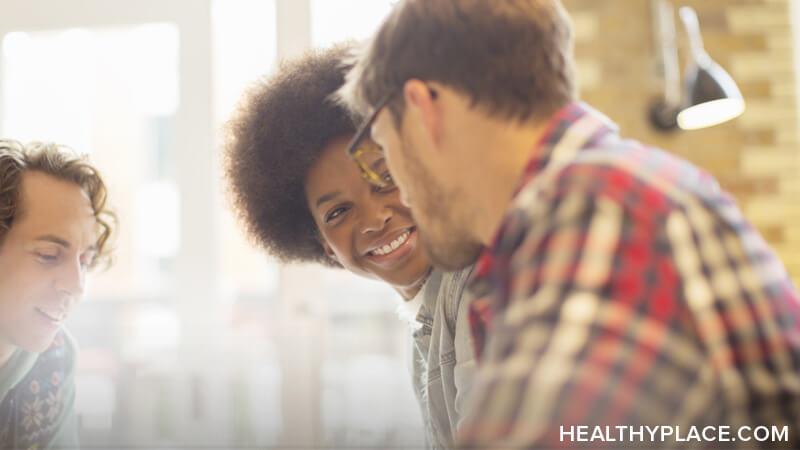 When you share your mental health story, you create something powerful. My mental illness is fuel for my creative work. It's something to draw and write about. My mental health story has also given me the chance to help others as a peer supporter and volunteer. As mental health consumers, what we experience is very real and raw. On some level, most people are curious and can empathize, so you can share your mental health story and create something powerful.
Share Your Mental Health Story in Creative Work
I was just in our basement looking at old drawings and paintings – even class projects – and they are all heavily influenced by my struggle with schizoaffective disorder. I've learned that sharing my story through creative work can have a strong effect on others.
When I finally entered treatment in 2004, I discovered my love for art as well as its healing abilities. I was telling my story every day through drawing and painting. When I started showing my art, I saw that people would react to my work and story. I thought this is the one way I can turn something negative into something positive.
There's no shortage of studies linking mental illness and creativity and I really think it's something we can use to our advantage. Sharing our art, design, music, theater, and writing can be great ways to tell our stories and give everyone an honest look into the reality of mental illness.
Using Your Mental Health Story to Help Others
I spent the last three years working as a peer support specialist for a large mental health agency. I met lots of different people and learned a lot from their stories. I hope they benefited from hearing mine as well. I think it's great that there's an actual occupation for consumers that are willing to share their story and are passionate about recovery.
There are also plenty of chances to help others with your story by volunteering. I have been in a few speakers' bureaus over the years, and I can see the effect on the audience when they listen intently and ask questions. It's great to hear a mental health story from the consumer's own mouth.
Maybe you're not big on public speaking. You can just be open to the people around you. For example, your openness may influence the children in your family to not be afraid to discuss mental health when they're older.
Keeping Yourself Motivated by Sharing Your Mental Health Story
When I share my story through my creative work or speaking, I am reminded of where I've been – and more importantly – of where I am now. I'm proud of how far I've come and it's important to me to keep moving forward. Sharing my mental health story keeps me motivated.
Our honest and real stories of mental illness are a powerful tool in advocacy, fighting stigma, and even in our own recovery. We are all different and have different comfort levels in sharing our mental health stories, but I believe there is significance in each and every one. Our stories can be powerful no matter how we decide to tell them.
APA Reference
Rahm, M. (2018, March 21). Powerful Ways to Share Your Mental Health Story, HealthyPlace. Retrieved on 2023, December 11 from https://www.healthyplace.com/blogs/recoveringfrommentalillness/2018/03/powerful-ways-to-use-your-mental-health-story
Author: Megan Rahm
Yep so my mental illness is a bit of unbeleiveable story or a live story you can say.
I m 15 now since I was 14 I gained a great boost up in my intellegence I survived the life very easily and studied very well in that intellegence but as the time passed I started thinking that I have got something very precios in my mind which others dont have .But I have a fear of losing that so Later after that time passed that fear was immensely increased . I always used to think that I have lost it .At the end I lost . I cannot think in the way I used to think .so I done all things that I used to do at that time .so at last losing it I commited to go in the way I am and now my thinking process has been advanced again and I have the same problem which I was facing at that time .And no one is understanding my situation around myself so please help.to get out of this thing I am writing in the hope that I would get a better suggestion , advice ,or anything that cpuld help me to tacle this.
Leave a reply