Getting Organized Helps Ease My Anxiety Symptoms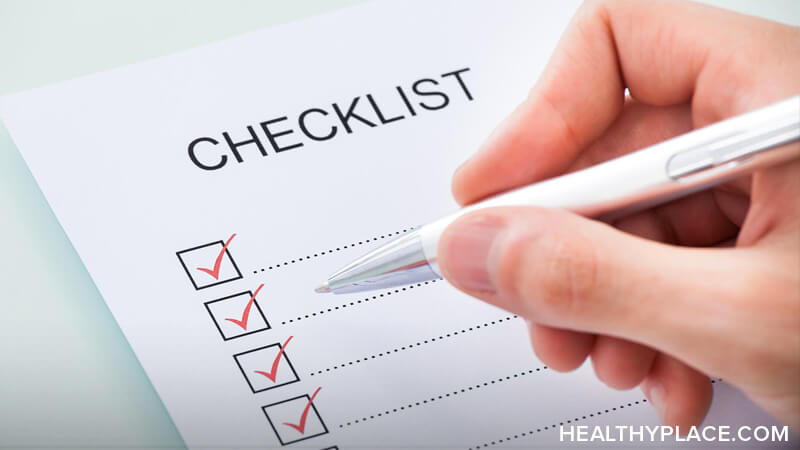 Getting organized is one of the best coping techniques I use to ease my anxiety. I was diagnosed with schizoaffective disorder in my early 20s, and I also struggle with anxiety. Anxiety can be crippling sometimes – to the point that I don't want to leave the house and I avoid activities. I certainly don't have a solution, but I've found one simple trick that relaxes me a bit – getting organized eases anxiety.

Tips on Getting Organized for Anxiety Sufferers
Messes feel chaotic to me. When my house is clean and my workspace organized, I can breathe easier. Creating lists, writing things down, and staying on top of my appointments makes me feel more prepared for whatever the day throws my way. Here are a few organization activities that have eased my anxiety.
1. Keep a planner to stay organized.
Getting organized with a planner really works for me. I have a planner that I carry with me everywhere. This is why I like larger purses. I prefer a weekly planner with each day having a column with times. I always carry it with me because I find it's best to write down appointments as I make them. I'll forget if I say I'm going to write them down later. I also jot down the things I need to do throughout the day. I try to work hard and stay busy, and when my day is planned out, I feel less overwhelmed and anxious.
2. Plan for tomorrow morning the night before.
I'm really not a morning person but it doesn't matter. I have to get up anyway. I have a hard time getting out of bed and usually hit the snooze button on my alarm several times. I find it stressful to be rushing around in the morning in fear of being late. Lately, I have been preparing for the morning the night before and I found that it really helps. I pick out my outfit and I lay my planner open to the next day right by my alarm clock. This organization helps my anxiety.
3. Keep your home organized and clutter-free.
When my house looks chaotic, it also feels chaotic. This can really increase anxiety. Home organization is a common stressor for many people. I need help with this one sometimes. I have a toddler running around and there are toys everywhere. I've noticed when my house is clean, I feel a lot more relaxed. It helps to have a designated spot for all of your things and to put them back when you are done using them. I have started using plastic totes to store my daughter's toys in the living room, and it feels nice to have the floor clear. My husband and I recently purchased shelves for our basement. We spend time in our basement playing games and watching TV, so now it feels a little more inviting.
4. Make lists.
This might seem a little nerdy, but this type of organization really helps my anxiety. I designed a shopping list in Adobe Illustrator according to the different sections of the grocery store. I print it out and hang it on the wall in the kitchen. As soon as we finish or run out of something, we add it to the list. I print out a new one after each shopping trip. I feel anxious when I grocery shop. It feels chaotic, especially if it's crowded. Creating a list has really helped me relax.
Making lists doesn't just have to be for grocery shopping. When I'm working on a project I often use lists to prioritize tasks or to break tasks into smaller steps. This can really make projects feel less overwhelming and can ease your anxiety if your working on a deadline.
Anxiety and Getting Organized
Those are some things that have helped me stay organized and have helped ease my anxiety. I'm always looking for ways to improve. Does organization reduce your anxiety? Do you have any organization tips to share? Please add them in the comments; I would love to hear them.
APA Reference
Rahm, M. (2018, March 7). Getting Organized Helps Ease My Anxiety Symptoms, HealthyPlace. Retrieved on 2023, December 3 from https://www.healthyplace.com/blogs/recoveringfrommentalillness/2018/03/organization-tips-to-ease-anxiety
Author: Megan Rahm
Do you have the adobe illustrator grocery section template available? I think I need that in my life ..I hate going down aisles that literally have lightbulbs and tape lol
Do you have info with Panic Attack Sufferers- Thanks!
Leave a reply