Pursuing Dreams and Setting Goals with a Mental Illness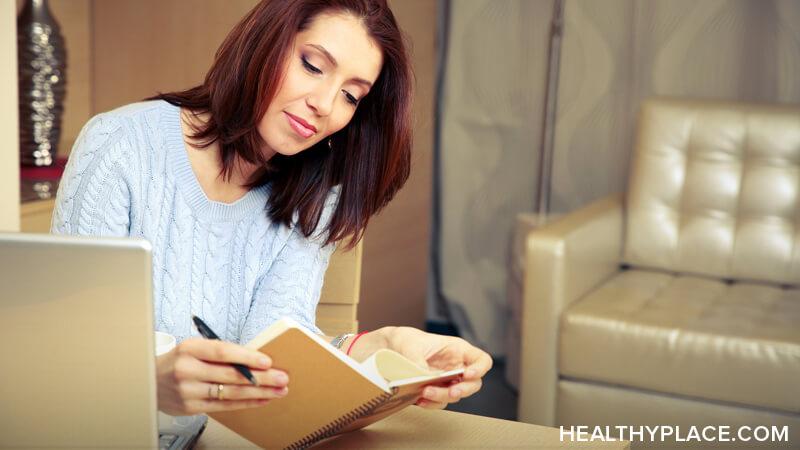 Setting goals is a great way to move your life forward whether you have a mental illness or not. Doctors diagnosed me with bulimia and schizoaffective disorder about 10 years ago, but mental illnesses haven't stopped me from wanting my own successful business. It is easy to get off track when you're struggling with symptoms of a mental illness, but I've remained as persistent as possible. Here's how I set goals with a mental illness.
Don't downgrade your dreams to match your reality. –Stuart Scott
I have these words hanging on my office wall to remind me that even though my family has struggled, it's still important to work hard to realize our dreams. I'd like to share the methods I am using to work toward my goal of owning a successful business even with a mental illness. Hopefully, you will find them helpful, too.
Setting Goals with a Mental Illness
Here are some ideas I suggest you consider to reach your goals with mental illness.
Write Down Your Goals
I have a notebook where I write down my goals. This always makes my goals seem more permanent, like I've made a commitment by putting it on paper. I've also written down my goals by developing mission and vision statements for my business.
Break Goals into Smaller Steps
I have also written down annual, monthly, and even daily goals. When you break it into smaller steps, your goal isn't as overwhelming and you can see your progress better. I love making lists and checking off the tasks as I go.
Seek Guidance for Reaching Your Goals
It's so helpful to ask for help from people who've been there. I have a mentor from a local business organization. My local library has also been an amazing resource and online training is great as well. Most of the training I have completed I found on YouTube. Maybe a past instructor from school could also be helpful. Don't forget online communities and forums related to your goal.
Stay Organized
I find that when things are easy to find and you plan ahead, your day runs a lot more smoothly. It can be overwhelming if things are chaotic and out of place. I feel more anxious when I am disorganized. Planners and calendars are very helpful and I try to keep my workspace clean.
Track Your Progress
For the past year, I have been keeping a daily record of sales and hours worked. When you track your progress, it's amazing to look back and see how far you've come. You'll most likely feel pride and a sense of accomplishment.
Ask for Help
I often ask my family for their help. My parents babysit our daughter when we meet with my mentor. My husband always provides great feedback and ideas. It can be extremely helpful to let your support group in on your goals, even if it's just to cheer you on.
Goal-Setting with Mental Illness Gives Life Purpose
I have not yet accomplished my goal with mental illness, but I am well on my way and working very hard. I hope you have found these methods helpful. Setting and working toward goals can give you a sense of purpose and make life more meaningful.
Do you have any helpful tips about setting goals with mental illness? I would love to read them in the comments below.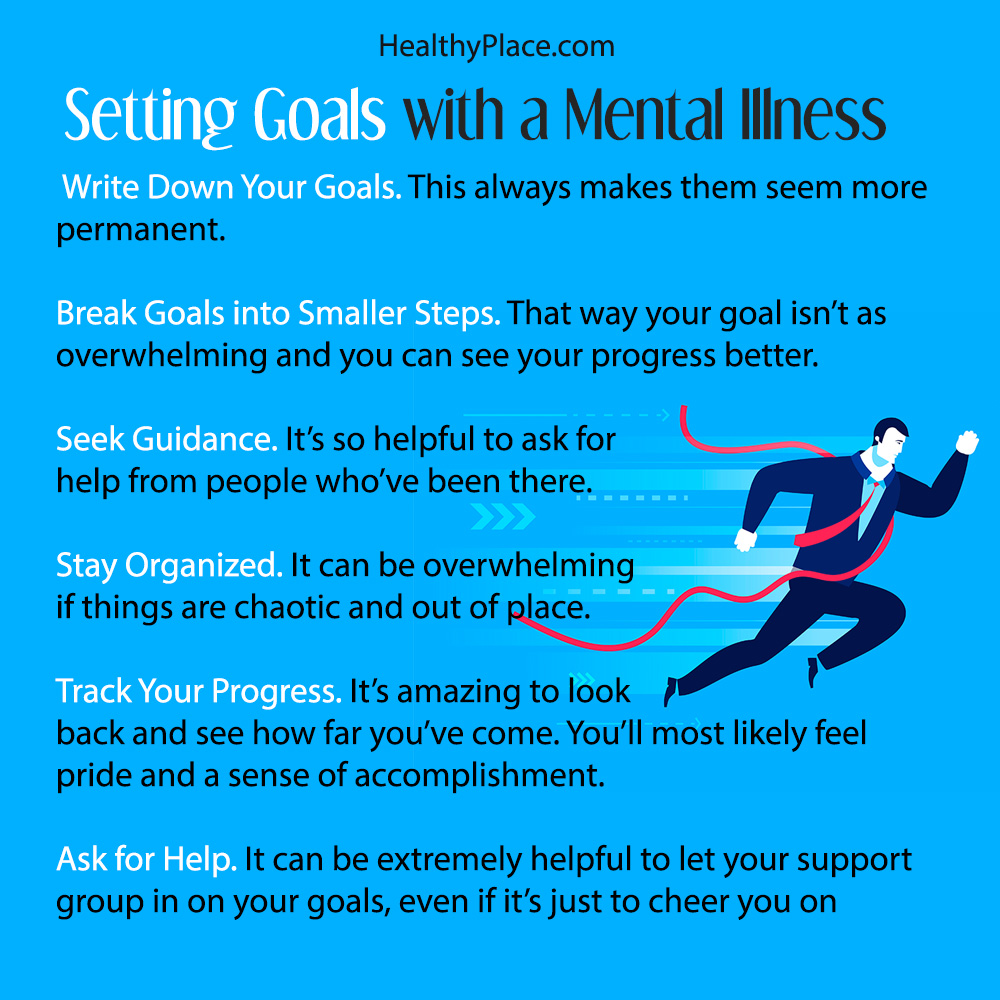 APA Reference
Rahm, M. (2017, September 6). Pursuing Dreams and Setting Goals with a Mental Illness, HealthyPlace. Retrieved on 2021, April 17 from https://www.healthyplace.com/blogs/recoveringfrommentalillness/2017/09/setting-goals-and-pursuing-dreams-with-a-mental-illness
Author: Megan Rahm
Thank you so much for inspiring me . That your article comes up with google search is awesome.
I am using your suggestions this year.
Dear Meghan, thank you for this article. I'm so happy to hear that you are well on your way to achieving your goals/goal. It was great how you listed what helped you get this far and how.
Me? I'm 41 and I have faced many difficult experiences with bipolar 1 disorder. I rarely got fired from jobs but they were always so hard and mania-triggering that I ended up losing them.
These past four years have been very, VERY hard for me. I faced depressions so low that I tried hard to do lethal damage four times. And the mania was interspersed inside those times. I feel rather unstable after all of that, but I am experiencing a med change right now that is indeed making me feel stable.
I'm not married and decided I couldn't have children because of my illness' severity, and I think it was the best decision though I have some feelings of loss over the operation that sterilised me. Anyway, I desire a mate for life, also; I want to be married someday.
This leads me to tell you my career interest: it's working with bridal gowns! I also desire to become a full-fledged wedding dress specialist or seamstress. I want to work at a salon as a consultant, but I have not been ready for that sales-type job, mentally.
Thus, after reading your article, I am inspired to take the route of seamstress career even though it will be a much longer process than taking the sales route. I have to learn how to see, for one thing. I know very little but not nothing! I worked as a seamstress volunteer in our local live action theater costume shop and learned how to use a serger!
Thank you so much for your inspiration, Meghan. I was ready to give up on my dream of any kind of achievement until I read your article. Now, keep on keeping on, and the best of all wishes for your health, wellness and happiness!!
Sincerely,
Ellen Whitney Mott
Megan your article was excellent I have paranoid schizophrenia and I struggle with apathy I think your goalsetting techniques are very good and they will help me thank you for your article and keep on Keeping on Terry
I don't my son is going through this now I would love to hear more
Leave a reply