Drug Abuse vs. Drug Experimentation: There Is a Difference
There is a difference between drug abuse and drug experimentation. When I was in the state hospital, I was questioned extensively about my use of substances. I admitted to using marijuana twice, both times for medical reasons. So according to my file, I abuse marijuana (Using Marijuana to Manage Mental Health Symptoms). I argued that there's a big difference between drug experimentation and drug abuse. In experimentation, one can take it or leave it. Drug abuse occurs when the person has to have the substance in question despite negative consequences. Drug experimentation does not always equal drug abuse. In this video, I discuss the difference.
Drug Abuse and Drug Experimentation Standards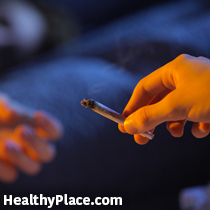 We need a better standard than all use of illegal substances is abuse. Doing marijuana twice over a six-year period is hardly a drug problem by any stretch of the imagination and it's foolish to say it is. We need to ignore the legality when determining drug abuse and look at conduct--what will the person do for the substance? Is the substance more important than anything else including food and shelter? Is the person willing to risk it all for the substance? If yes, it's abuse. If no, it's experimentation.
What do you think? Is there a difference between drug experimentation and drug abuse? Leave your thoughts in the comments.
You can also find Becky Oberg on Google+, Facebook and Twitter and Linkedin.
APA Reference
Oberg, B. (2016, December 14). Drug Abuse vs. Drug Experimentation: There Is a Difference, HealthyPlace. Retrieved on 2023, December 9 from https://www.healthyplace.com/blogs/recoveringfrommentalillness/2016/12/drug-experimentation-vs-drug-abuse-there-is-a-difference
Author: Becky Oberg
I have a 27-year-old who is addicted to steroid inhalers. She uses them about 8-10 times a day. Any suggestions would be appreciated.
I've heard of this, actually. Have you tried contacting the doctor who prescribed the inhalers for a referral to a mental health professional?
Leave a reply