Mental Health Issues and Donald Trump
There are many mental health issues that come up thanks to Donald Trump. The past week has been cruel to me. I've been called everything from a snowflake to a crybaby to (my favorite) Satanic because I don't support Donald Trump - or Hillary Clinton, for that matter (Don't Stigmatize Emotional Reactions to the US Election). I've been told to get out of America even though I'm a veteran, part Native American, and the descendant of a Revolutionary War veteran. Both the winners and losers in this election have displayed the worst in terms of their conduct. But my concerns about Trump boil down to a five-year-old girl: my niece, Addie. This is what I want my niece to know about mental health issues and Donald Trump.
Donald Trump and Mental Health: Mental Health Rights
You have rights, both Constitutional and human. Here are your human mental health rights in a nutshell.
No one, not even the President of the United States, has the right to touch your body without your consent. Your body belongs to you and you alone. Your body is yours to keep and yours to give away. Own your body and protect it (Establish Healthy Boundaries in Three Simple Steps).
You have the right to your feelings, even when this gets you made fun of or called names like "snowflake" or "crybaby." Name-callers have their own issues--don't let them project them onto you. A feeling is valid because it is part of who you are. Your emotions are your emotions, and you have as much right to feel the way you feel as you do to your body. Like your body, your emotions are yours and yours alone, and no one has the right to take them from you.
You have the right to recovery from mental illness. We've made mental health recovery difficult in this country, especially with healthcare coverage threatened. For example, I have a hormonal disorder that affects my mental health, and I may lose my treatment--birth control--coverage because of someone else's religious beliefs. However, there are people out there who will fight for your right to recover from mental illness, regardless of whether or not your mental illness has a physical cause. There are compassionate healthcare workers out there who work on a sliding scale who can help you and work with you on payment. There is no shame in asking for help, regardless of the people who try to make fun of you for doing so.
You have the right not to have your disabilities mocked. Trump's victory has emboldened the bigots who tell jokes about people like me or even people with physical birth defects. This is never okay, regardless of how popular it is.
Mental Health and Donald Trump: My Hope for Mental Health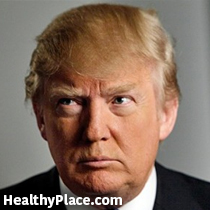 I believe that we are making lightning strides in the field of mental health and I hope it stays that way. Brave people are publicly identifying as having a mental illness, and that's breaking down the stigma attached to the disease. I believe that we will both find a cure for mental illness and that people will see it as a brain disorder within my lifetime.
My hope is that you will be one of those people who challenges the stigma of mental illness. My hope is that you will fight to ensure all people with mental illness have a chance at recovery, regardless of their ability to pay, access to transportation, or support or lack thereof of the community. My hope is that you will advocate for treatment and a cure so that someday a mental illness is no more disabling than a cold. My hope is that you will be understanding to people like me who, through no fault of their own, have this disease.
You can also find Becky Oberg on Google+, Facebook and Twitter and Linkedin. Her ebook, Comforting Tamar, is available on Amazon.
APA Reference
Oberg, B. (2016, November 14). Mental Health Issues and Donald Trump, HealthyPlace. Retrieved on 2019, September 20 from https://www.healthyplace.com/blogs/recoveringfrommentalillness/2016/11/what-i-want-my-niece-to-know-under-donald-trump
Author: Becky Oberg