Medical Marijuana Treatment of Posttraumatic Stress Disorder
Should medical marijuana be legal for the treatment of posttraumatic stress disorder (PTSD)? I recently got a petition from a veteran with PTSD. After developing the disorder as a result of military service, he was prescribed several psychiatric medications. None of the "dozens" worked, and he eventually attempted to overdose. Desperate, he turned to medical marijuana--and found it helped. Is it time to allow medical marijuana as a treatment for PTSD?According to the National Organization for the Reformation of Marijuana Laws (NORML), 23 states have laws legalizing medical marijuana. In many of these states, Veterans Affairs (VA) reports, it is legal to use marijuana for PTSD. Which leads to a question: Is it time to legalize medical marijuana for the treatment of PTSD?
Discussing Medical Marijuana Treatment for Posttraumatic Stress Disorder
The email I received included a link to a petition asking the government to lift the ban on VA doctors discussing marijuana therapy with their patients. The petitioner wrote:
I'm proof that medical marijuana works and so are many other veterans who use it to treat their PTSD. Shouldn't we at least be allowed to talk with our doctors about this? . . . We're not asking for much. We just think that at a minimum, veterans who served our country should be able to discuss medical marijuana with our doctors.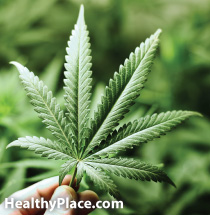 Even though I, personally, do not use medical marijuana to treat my PTSD, I agree. A veteran's healthcare should be between the veteran and the doctor. A doctor should be allowed to discuss medical marijuana with patients.
According to NORML,
On September 7, 2000, U.S. District Judge William Alsup ruled in Conant v. McCaffrey that federal authorities may not sanction doctors who recommend marijuana to patients.
This should apply equally to all doctors.
It's time for science, not politicians, to dictate what a doctor can and can not discuss with the patient.
It's Time to Redefine "Marijuana Addict"
I have used medical marijuana twice and can vouch that it works. I have not used it since and have no desire to. However, one psychiatrist wrote in my file that I abused marijuana based on my admission that I'd used it twice. "All drug use is abuse because it's illegal," I was told.
I disagree. There is a difference between misuse and abuse. Misuse is using a drug for purposes other than intended or using a drug illegally. Abuse is addiction, and the medical definition of marijuana addiction is clear: an addict's life revolves around getting, using, and recovering from the substance.
It's time to redefine "marijuana addict" with a medical, not political, definition.
What Does the Science Say?
A study in the Journal of Clinical Psychopharmacology on the use of synthetic marijuana reads:
Results indicated significant improvement in PTSD-associated insomnia, nightmares, PTSD symptoms, and Global Assessment of Functioning and subjective improvement in chronic pain. Medications associated with greater risk for adverse effects or abuse than nabilone were often able to be discontinued with the initiation of nabilone, most often antipsychotics and sedative/hypnotics. There was no evidence of abuse within this high-risk population or reduction of efficacy when nabilone was given in powder form with water rather than as a capsule. This study supports the promise of nabilone as a safe, effective treatment for concurrent disorders in seriously mentally ill correctional populations.
A study by Clinical Drug Investigation comes to a similar conclusion, reading:
The intervention caused a statistically significant improvement in global symptom severity, sleep quality, frequency of nightmares, and PTSD hyperarousal symptoms.
A study in the Journal of Psychoactive Drugs concluded:
Cannabis is associated with reductions in PTSD symptoms in some patients, and prospective, placebo-controlled study is needed to determine efficacy of cannabis and its constituents in treating PTSD.
It's time to let science, not clergymen with night sticks, lead the way. It's time to lift the gag order on medical marijuana, time to redefine how we view marijuana addiction, and time to allow research into whether or not medical marijuana should be used in the treatment of PTSD.
You can also find Becky Oberg on Google+, Facebook and Twitter and Linkedin.
APA Reference
Oberg, B. (2015, May 25). Medical Marijuana Treatment of Posttraumatic Stress Disorder, HealthyPlace. Retrieved on 2023, November 29 from https://www.healthyplace.com/blogs/recoveringfrommentalillness/2015/05/should-medical-marijuana-be-allowed-to-treat-posttraumatic-stress-disorder
Author: Becky Oberg
CBD oil is amazing! PTSD is not a simple case. PTSD Patients can benefit from CBD and cannabis.
There are thousands of stories where CBD Oil and cannabis has helped PTSD sufferers. Its an incredible natural substance that is available. Find our products online at www.thegoodearth.global
That's right.Go brain dead and pass out to sleep. That is great natural therapy of the addiction of cannabis compared to the mind/body pollution of psychotropic meds. Definitely the lesser of two evils. There are more holistic methods that take trial and error with sobriety.
Leave a reply