Dancing With Death: Our Toxic Relationship With Suicide
The past week has been quite an emotional one for many, especially many in the mental health community. The death of beloved actor Robin Williams by suicide on August 11, has shaken our community to the core.
Why? What is it about Williams and his manner of death that touched so many of us? Many of us understand depression. We get being suicidal. We understand what it's like when our kids or grandkids ask us to play and we must say, "No, I'm sorry honey. I just don't feel up to it right now."
That terrible mix of guilt and fear, blended with the self-loathing because we feel like we have no energy, yet refuse to stop beating ourselves up over the very depression that is making us feel that way.
Suicide is Like a Dance Partner
Many do the macabre dance with suicide that Williams no doubt was very familiar with. We see her sitting alone, just waiting for someone to ask her to dance. She is oddly homely but at the same time beautiful, and we feel drawn to her.
We gulp and swallow and our hearts beat quickly as we gather up the courage to invite her onto the dance floor. She warmly accepts. Somehow we find ourselves talking to her like we'd known each other for years.
We feel so comfortable with her, we begin to tell her about our illness and how it makes things difficult for us.
She gives us a knowing look and her face turns sympathetic. She whispers soothingly into our ear. "I know what would make things better for you." We look at her with a puzzled look. "The dead feel nothing," she exclaims mysteriously. And so goes the ongoing flirtation with death, but more than death, the back and forth conversation with death's representative. The arguing. The obsessing. The planning. The shrinking away. The hiding. The returning to start the cycle all over again.
Our Relationship With Suicide is a Toxic One
It's one of those relationships. Toxic. No good. Unhealthy. And yet, we can't get enough. She is trying to kill us and we love her so. Why do we love her? She promises us an escape from our perpetual suffering. We believe her when she tells us death is the answer to our torment. She provides us with an odd comfort in the midst of our misery.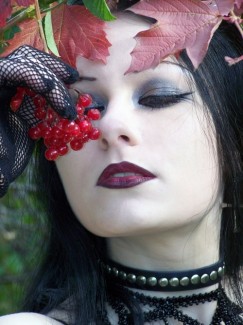 Like all abusers, she can be so charming. "Your suffering will end," she tells us. "You won't have to feel the pain anymore." And even though we know down deep that she doesn't have our best interests at heart, her message of instant relief is so appealing, we somehow suspend reality in order to accept her reasoning.
And she is frighteningly patient. She waits as we go back and forth, turning away from her and ignoring her for long periods of time, yet seemingly always returning again to her dark counsel.
What are we to do? Like the abuser in the toxic relationship, she must be removed from our sphere of existence completely, and it must be done immediately.
And, also like the one we've left in the old relationship, we will be tempted to return to her, to let her return to us. But we must remind ourselves of what we know to be true: suicide does not deserve to occupy space in our minds, because she only wants to do us harm by causing us to harm ourselves. She is a liar, even if she is a most enchanting one.
APA Reference
Ehrmantrout, M. (2014, August 20). Dancing With Death: Our Toxic Relationship With Suicide, HealthyPlace. Retrieved on 2019, August 18 from https://www.healthyplace.com/blogs/recoveringfrommentalillness/2014/08/dancing-with-death-our-toxic-relationship-with-suicide
Author: Mike Ehrmantrout
Haha Melissa, you made my day! I'm so glad the analogy/metaphors helped to make it just a bit more understandable on a deeper level than just an intellectual one. I wish you the best!
Yeah, as I said in the piece, his death really has struck a major chord in our community. It's almost like we had a "mass triggering" (made that up). But really, with the situation you described in your abusive situation, hopefully that came across what I was trying to say there. I wish you the very best. Remember, if you are having suicidal thoughts, please reach out to someone.
Leave a reply