Celebrating The Holidays When You're Struggling With Depression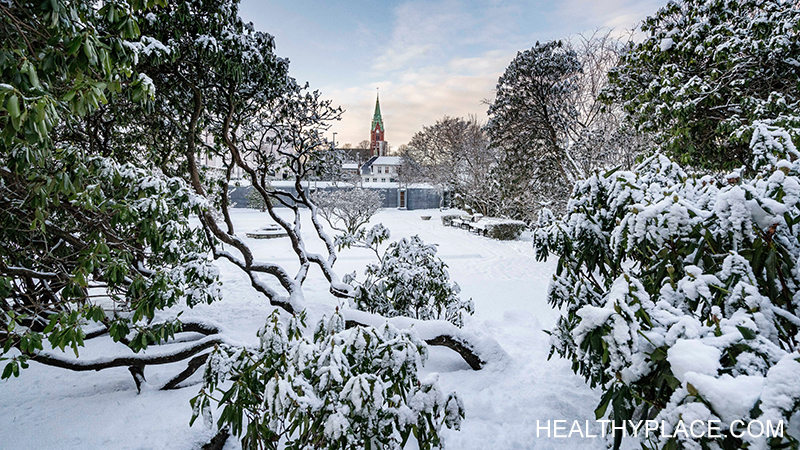 Do you remember when we were kids? Before life smacked us upside the head and screamed for us to wake-up? Before we realized life wasn't easy--once our innocence was gone. I remember how excited I was, five or six years old, sitting under the Christmas tree and shaking my presents. I would take my gifts and separate them from my two siblings. They would do the same. We all had our piles; each wrapped with ribbons and sometimes a bow.
One year, we woke up in the middle of the night and carefully peeled back the sides of each gift, distressed once realizing my mother had wrapped them three times. Christmas Eve was always special. We were given one gift to open but never the one we wanted. One containing soft pajamas that my mother told us to wear to bed. Santa Clause wouldn't slide down our small chimney if we did not. And so we did, giggling, up late. It was lovely.
And then I grew up. Like we all do. And then I grew up a little more and was a teenager who wore black eye liner and had to pretend I did not care about presents and food and family. And then I grew up again, now twenty-seven, and wishing I could find the purity I had as a child.
Celebrating Christmas When You're Not Feeling Stable
If you have read my recent post, you might recall about 700 words on how much my life sort of sucks right now; how I'm struggling with mental illness. Blah blah blah. But it's not just me. In my life, Christmas is difficult for a few reasons and these are shared among others:
Christmas is defined by "joy" (yay!) We are surrounded by many people who are excited! After all, this is one of the few times in the year we can see our family and friends and celebrate. But if you're not feeling great, the joy surrounding the holiday amplifies the depression we are feeling. The damn Christmas music is irritating too.
Holidays are a break in our regular routine. Our work schedule is compromised; sleep patterns might be affected.
If you struggle with any sort of disordered eating patterns, the food surrounding the holidays can be stressful. I have recovered from the eating disorders I lived with for many years, but like addiction it still lingers. A plate of cookies shoved in my face frightens me. I wonder how many calories gravy has.
Alcohol! Many people with mental illness have also struggled with addiction. Myself included. It's hard being surrounded by alcohol. It's really hard.
Financial concerns. Christmas isn't exactly a freebie of a holiday.
The list goes and, to be honest, I really want to lock myself in my house with my pets tonight on Christmas Eve, but isolating yourself makes depression worse. If you are struggling with depression during this time of the year, just do what you can do. You don't have to paste a permanent smile on your face, but give it a shot, it can't hurt. Try the cookies too.
PS Happy Holidays! (I am not being entirely sarcastic. I promise. Just a little.)
APA Reference
Jeanne, N. (2012, December 24). Celebrating The Holidays When You're Struggling With Depression, HealthyPlace. Retrieved on 2023, December 3 from https://www.healthyplace.com/blogs/recoveringfrommentalillness/2012/12/celebrating-the-holidays-youre-struggling-with-depression
Author: Natalie Jeanne Champagne
hi like jcstoffer just say, but i going to try my best to be more happy, but it is a realy hard thing to do, i try and i have a smal christmas celebrating to, just my best friend, my all in my life, my Mom, her sister and husband, thats it, this is my first christmas i think i can be more happy or i hope to smile ,,
i think this is a realy hard time for me and you, and many more , i´m not good at writh about my feelings and like this,,
and i realy think all that you writh is good,,, thank
Natalie
i realy wish you all the best, and hope you are oki today,,
Anna
That was a good article. I will be isolating for this Christmas but to see your struggles and be able to make it through is a sign of hope. And sometimes hopeis all I have and that's if I have that. Thank you around this season I could use your great articles.
Leave a reply