Women, Hormones, and Mental Illness
I sort of wanted to title this post, "Hormonal Changes Women Experience Throughout the Month Impact our Mental Illness"--AKA PMS. Now, I could not do this for a couple of reasons: That's a bit wordy and first and foremost I want men to read it too. Men can get kind of icky about these things, but keep reading because as you probably already know, the women in your life go a little crazy sometimes. And, I believe, women struggle with their mental illness to a higher degree based on hormonal fluctuations.
The Impact of Hormones on Mental Illness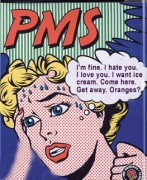 First, I want to point out that I am not excluding men, men have hormones too, but women have monthly cycles and these cycles can determine our mood and our state of mental health. When you live with a mental illness these changes can be disruptive and even debilitating.
I really (stress that) did not want to bring myself into this blog. I had the idea written down for at least a year. Sitting in my notebook while I thought about pursuing it every month. Ahem. I have said it before and here I go telling you again: I believe that in order to write these blogs my own experience is important. And so is yours. We need to be able to talk openly and relate to one another.
When I was younger, having been diagnosed with bipolar disorder at the age of twelve, I was hit with puberty around the age of fourteen. I was dealing with all of the hormonal changes as well as a mental illness that was not yet stabilized. It was madness. It was hard for my psychiatrist to determine what was normal hormonal behavior exhibited by teenagers and what were symptoms of mental illness.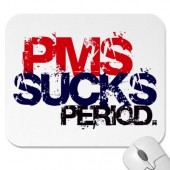 Twenty-seven years old now, things are better, but talking to my sisters and female friends I am certain I experience more negative psychological and physical symptoms. Many women who live with a mental illness will tell you the same thing--depending on the time of the month, they might tell you with a little edge to their voice.
Point in Case: Hormones impact our mental health.
How Do Women With a Mental Illness Exhibit Hormonal Changes?
I do not need to go into detail and I hope I still have some of you reading this. We often experience more severe negative changes and this can make our lives unmanageable.
Common symptoms:
>Depression. Unlike many women who feel 'blue' during this time some women with mental illness find life spins upside down. They might describe 'blue' as feeling 'black'
>Anxiety
>Insomnia or sleeping to much
>Changes in appetite
>A surplus of energy; a lack of energy
>Confusion
The list is extensive and mimics untreated mental illness. Unfortunately, many women who take medication cannot take the pill form of birth control--the first rate treatment for severe hormonal symptoms-- because it interacts with their medication or causes mood swings. This includes myself.
Practicing Self-Care When Hormonal Changes Occur
Working around hormonal symptoms, monthly changes in mood and our physicality, can lesson mental illness symptoms and because of this, it's important to plan ahead. After all, we will experience these changes until we cross over and enter menopause which, according to my mother, is a heck of a lot harder.
>Track your cycle: write down when mood changes occur, when they are worse and when you feel best during the month. Record these results and talk to your psychiatrist. If a woman struggles to a high degree it is often recommended she move a certain medication up two weeks of the month. Remember that we do have options if we are willing to explore them.
>Eat properly and exercise. Exercising releases endorphins that increase dopamine--our brains "happy drug". Eat some damn chocolate if you want! Chocolate makes me happy. I am certain of this.
>Talk to other women. Whether we live with a mental illness or not we all experience changes in mood.
Finally...put a sign on your bedroom door: "BAD TIME OF THE MONTH. WATCHING REALITY TV AND WRITING DEPRESSING POETRY. PLEASE LEAVE OR LEAVE CHOCOLATE OUTSIDE OF MY DOOR. THANKS."
Kidding about the last bit. Sort of.
It's important to understand that mood changes are normal in women and men but women, by our very chemistry, experience more, and when living with a mental illness we need to practice self-care when struggling.
Woman all experience symptoms differently and so too do we treat them in unique ways. Share your experiences. After all, if we can openly discuss mental illness we can discuss this!
APA Reference
Champagne, N. (2012, September 20). Women, Hormones, and Mental Illness, HealthyPlace. Retrieved on 2019, September 20 from https://www.healthyplace.com/blogs/recoveringfrommentalillness/2012/09/women-hormones-and-mental-illness
Author: Natalie Jeanne Champagne
Hi, Michele,
So glad you can relate (well, wish you could not!) but I know so many women struggle with this! It makes perfect sense...some months are better than others. I just check the calendar and can pin point when I feel bad compared to other months and it makes me feel a bit better---a little bit:) Hang in there! Women's bodies do amazing things but also things that mess with our emotions!
Thanks for the comment,
Natalie
"Total witch" haha. I agree. I think my partner may have hidden in the closet. It's great we can talk about this openly! Nothing to be ashamed of.
Thanks for your comment.
Sincerely,
Natalie
Leave a reply