One Size Does Not Fit All: Problems With Psychiatrists
This topic is close to my heart...or, rather, high on my level of irritation. Diagnosed with bipolar disorder at the age of twelve, I have seen my share of psychiatrists, psychologists, social workers---I am missing a few people, er, professionals. The list is extensive. Some of us are blessed to be working with a wonderful mental health team right of the bat.
Diagnosed with a mental illness? This is your new psychiatrist, he or she will make you well, provided you put the work in! My experience has been quite the opposite--a bit more complicated.
Contradictions in Diagnosis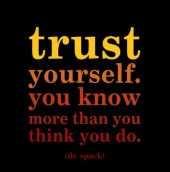 My first psychiatrist told my parents that they were not parenting me correctly. I had ADHD. That explained why I did not sleep for days and could not go to school. I walked out with a prescription for Ritalin. Ritalin often makes those with bipolar disorder manic. And I soon was. The first time I stayed in a psychiatric hospital I was twelve--almost thirteen.
My new psychiatrist, a lovely woman, confirmed that I had juvenile bipolar disorder. Throughout the next ten years, despite an accurate diagnosis, I veered between mania and depression, addiction and alcoholism.
It's hard to wrap up sixteen years in few words, but let me try: throughout my addiction I was taken on by four or five psychiatrists. Once one had had enough of me I was passed to the next. Admittedly, I was a difficult patient. Those with a dual-diagnosis usually are. Once sober, I was taken on by another psychiatrist. So, you might ask, what exactly is the problem here, how does this relate to my experience?
Feeling Like You Don't Have a 'Voice'

At some point all of us have sat in the chair across from our psychiatrist. We have stared at the notes he or she is writing and wondered what they are. We probably do not ask, or if we do, we are not really given an answer. Being a patient often feels like we do not have control over our treatment--particularly when we do not feel well.
The last time I saw my psychiatrist, last week, I knew something was wrong. I explained how I felt. My symptoms indicated relapse and having lived with this illness for so long, I knew that I needed help. I told her this and was met with some general comments about how I was fine, my feelings were normal, my behaviour not unusual. I told her that being unable to sleep or eat was not normal; days in bed are not normal.
We have had problems in the past--I have been told that I did Not Have Bipolar Disorder. Her reasoning? "Natalie, I have never seen you have a manic episode." I was stunned. Hurt. Confused. I replied: "That's because I take lithium and a secondary mood stabilizer." It took a frightening mixed episode for her to tell me, "Yes, you have bipolar disorder." No, Kidding! Thanks, Doc! I asked her to refer me to another psychiatrist and she told me: "Natalie, nobody will take you." I recognized that that was unethical and unprofessional. I wanted to feel like I was more than a patient--that I had a voice.
Take the Power into Your Own Hands
Many of us have a great working relationship with our mental health team, but if we do not, we need to voice our opinion. Just because we are patients does not mean we cannot make decisions. We need to feel comfortable and trust our psychiatrist in order to become well.
This time around I realized she was not right for me. And I was not right for her. It's like a pair of shoes: you need to walk in them for a while before you know they fit. And I knew she did not, for lack of a better term, fit.
Being Assertive

Our recovery is directly tied to our relationship with our psychiatrist. If something feels wrong, first express how you feel, often you can work together to make the relationship more effective. If not, it is your right, as a patient, to ask for a referral. Remember that you are an expert on your illness--you need a psychiatrist who listens to you and respects your opinion.
Sometimes, it takes a while to find the right fit. But once you do, recovery is easier. And you deserve someone who will listen to you.
APA Reference
Champagne, N. (2011, December 22). One Size Does Not Fit All: Problems With Psychiatrists, HealthyPlace. Retrieved on 2019, August 21 from https://www.healthyplace.com/blogs/recoveringfrommentalillness/2011/12/one-size-does-not-fit-all-problems-with-psychiatrists
Author: Natalie Jeanne Champagne
Hi, Pamela!
Glad you can relate. Well, not glad--it's difficult to go through psychiatrists. I am bipolar II as well and the depression lingers. I also cannot count the medications...it must be nearing 100's, or more. But I've found a combination that seems to work well, and you will too! Hang in there you are i large company!
Thanks for the comment,
Natalie
Leave a reply