A Daily Affirmation to Feel More Love and Bliss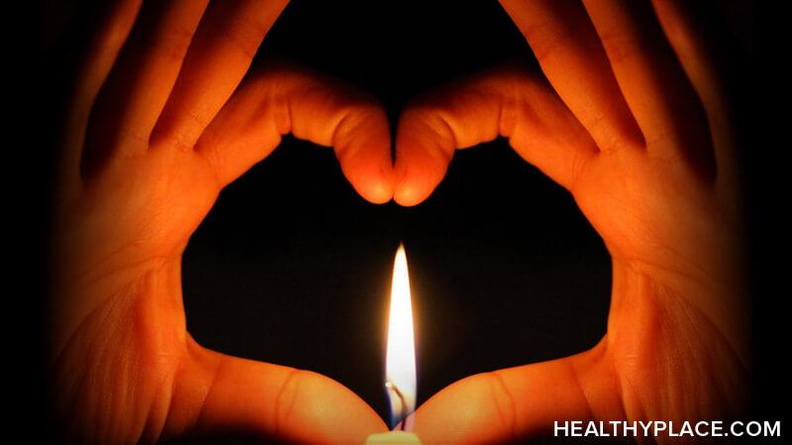 A daily affirmation regarding love and bliss can change the way you experience the world. Many of us who live with mental illness feel unlovable occasionally, if not constantly. That feeling can be caused by our own negative thought cycles or by actual events. Sometimes, a partner ends a relationship due to mental illness, which can be heartbreaking. Other times, a partner who doesn't understand our different needs may stay with us but become abusive or perhaps simply unsupportive. This lack of love and bliss takes a further toll on our mental health. 
However, a daily affirmation about love and bliss is a powerful way to intervene in the cycle of unlovable thoughts. Hang one in a place you'll see it every day. For me, a whiteboard in my bathroom medicine cabinet serves as a perfect place for daily affirmations. 
My Chosen Daily Affirmation for Love and Bliss
The love and bliss affirmation I looked at daily for several months was the following quote from an unknown source:
"Stay away from people who make you feel like you're hard to love."
This affirmation reminded me to choose wisely not only when it comes to my partners, but also when it comes to my friends. 
This daily affirmation acts as a guide to avoid choosing or staying with a partner who constantly speaks negatively about your mental illness, whether privately to you or in front of others. Rather, a partner's role should be to make you feel infinitely lovable. That type of unconditional love includes every part of you, even the parts you don't like about yourself. It includes loving your mental illness and everything that comes with it. 
Likewise, friends who say they can't deal with your mental illness or who aren't willing to offer the type of support you need can make you feel hard to love ("With Bipolar, You Always Know Who Your Friends Are"). If you have any friends who make you feel like they tolerate you or deal with you, they aren't providing love and bliss. Stay away from them, too, because the friends who deserve your time are those who make you feel inherently lovable.
Why this Daily Affirmation Increases Love and Bliss
Loving someone with a mental illness isn't for everyone. Not all potential partners will be able to support and interact with you in the ways that work best for your health. While that may sometimes be a difficult truth to face, especially if it means that your love for someone else isn't properly reciprocated, it's actually also an advantage. This additional criterion helps narrow down the pool of potential partners and ensures that the right partnership stands out. Keeping this affirmation handy can help you through a breakup that has made you feel like damaged goods. 
The more you learn to stay away from people who treat you like you're hard to love, the more clearly you'll be able to recognize actual unconditional love. Read and say this affirmation daily and watch your love and bliss increase. 
APA Reference
Meredith, M. (2019, January 13). A Daily Affirmation to Feel More Love and Bliss, HealthyPlace. Retrieved on 2023, December 3 from https://www.healthyplace.com/blogs/livingablissfullife/2019/1/a-daily-affirmation-to-feel-more-love-and-bliss
Author: Morgan Meredith
This is truly beautiful: Stay away from people who make you feel like you're hard to love.
Thank you for sharing this piece. I am a firm believer in the power of affirmations. We talk to ourselves more than anyone else so it's of the utmost importance to think about what we are telling ourselves.
We are all so worthy of love.
So true, Lizanne. And while that can be hard to remember even on good days, it can be that much more difficult when we're struggling with something.
We speak to ourselves in ways that would horrify our friends and family if we spoke to them in the same way!
Leave a reply