What Is Dissociation? Part 5: Identity Alteration
If you've ever seen a television crime show featuring a suspect with Dissociative Identity Disorder, you've seen a theatrical depiction of identity alteration, the fifth of the five main dissociative symptoms. A bewildered man suspected of murder is brought in for questioning. Eventually his manner, style of speech, and affect change dramatically and he says something like, "Sam didn't kill her. I did. I'm Joe." That switch in personality states is identity alteration at it's most extreme.
[caption id="attachment_597" align="aligncenter" width="336" caption="Photo by hunnnterrr"]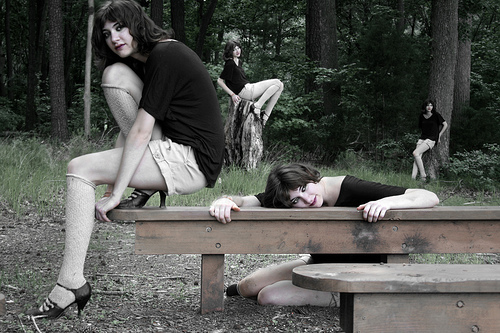 [/caption]
What Is Identity Alteration?
In their online Dissociation FAQs, the International Society for the Study of Trauma and Dissociation defines identity alteration as " ... the sense of being markedly different from another part of oneself." Like the other four main dissociative symptoms, mild identity alteration is common. Most people, for example:
Wear different "hats." A physician no doubt displays a degree of professionalism and emotional detachment with patients that would be inappropriate in her role as spouse or mother.
Become less inhibited under the influence of alcohol. Drunk at a party, a socially anxious person might freely express the bolder, more flamboyant aspects of their personality.
Behave differently in response to severe stress or overwhelming emotions. A 911 dispatcher, dealing with crisis situations everyday, consistently exhibits grace under pressure but may display a stunning lack of composure in the midst of their own personal crisis.
Mild identity alteration, as these examples show, is normal and not indicative of Dissociative Identity Disorder.
Identity Alteration And Dissociative Identity Disorder
People with Dissociative Identity Disorder experience severe identity alteration that wreaks havoc on relationships, jobs, and daily life. We switch from personality state to personality state, each with its own way of perceiving and interacting with the world.
This shifting between distinct personality states that control a person's thoughts, memory, behavior, and emotion is the hallmark of DID. The 'Ping-Pong' state of mind that we all experience when we're weighing pros and cons is a minor skirmish compared with the full-scale mental warfare experienced by someone with severe identity alteration. - The Stranger in the Mirror, Marlene Steinberg and Maxine Schnall
Identity alteration impacts my life in uncomfortable, destructive ways by:
Preventing me from getting help. Until recently, getting treatment was almost impossible. As soon as help was available, I either disappeared altogether or was physically unable to speak.
Alienating people. When my son was 5 years old, he ran to his room one day crying, "You're not my real mom!" Out of my mouth I heard someone mutter, "You have no idea, kid."
Setting me up for failure. I used to work in newspaper advertising. One day I went to work and discovered I had no idea what I was doing or why. I was fired several months later.
I often wonder if things I value will be gone or damaged soon by identity alteration or, more likely, some combination of the five main dissociative symptoms. I have hope, though, because Dissociative Identity Disorder no longer mystifies me. Navigating life with a mental illness you understand is easier than with one you don't.
Follow me on Twitter!
APA Reference
Gray, H. (2010, October 4). What Is Dissociation? Part 5: Identity Alteration, HealthyPlace. Retrieved on 2019, June 16 from https://www.healthyplace.com/blogs/dissociativeliving/2010/10/what-is-dissociation-part-5-identity-alteration
Author: Holly Gray