What Is Dissociation? Part 5: Identity Alteration
If you've ever seen a television crime show featuring a suspect with Dissociative Identity Disorder, you've seen a theatrical depiction of identity alteration, the fifth of the five main dissociative symptoms. A bewildered man suspected of murder is brought in for questioning. Eventually his manner, style of speech, and affect change dramatically and he says something like, "Sam didn't kill her. I did. I'm Joe." That switch in personality states is identity alteration at it's most extreme.
[caption id="attachment_597" align="aligncenter" width="336" caption="Photo by hunnnterrr"]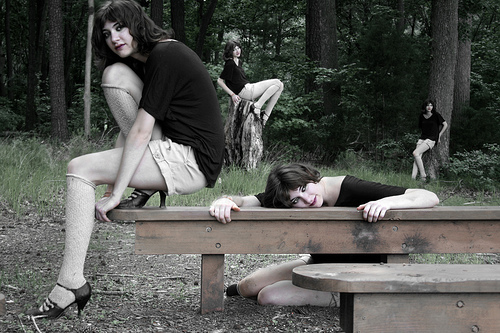 [/caption]
What Is Identity Alteration?
In their online Dissociation FAQs, the International Society for the Study of Trauma and Dissociation defines identity alteration as " ... the sense of being markedly different from another part of oneself." Like the other four main dissociative symptoms, mild identity alteration is common. Most people, for example:
Wear different "hats." A physician no doubt displays a degree of professionalism and emotional detachment with patients that would be inappropriate in her role as spouse or mother.
Become less inhibited under the influence of alcohol. Drunk at a party, a socially anxious person might freely express the bolder, more flamboyant aspects of their personality.
Behave differently in response to severe stress or overwhelming emotions. A 911 dispatcher, dealing with crisis situations everyday, consistently exhibits grace under pressure but may display a stunning lack of composure in the midst of their own personal crisis.
Mild identity alteration, as these examples show, is normal and not indicative of Dissociative Identity Disorder.
Identity Alteration And Dissociative Identity Disorder
People with Dissociative Identity Disorder experience severe identity alteration that wreaks havoc on relationships, jobs, and daily life. We switch from personality state to personality state, each with its own way of perceiving and interacting with the world.
This shifting between distinct personality states that control a person's thoughts, memory, behavior, and emotion is the hallmark of DID. The 'Ping-Pong' state of mind that we all experience when we're weighing pros and cons is a minor skirmish compared with the full-scale mental warfare experienced by someone with severe identity alteration. - The Stranger in the Mirror, Marlene Steinberg and Maxine Schnall
Identity alteration impacts my life in uncomfortable, destructive ways by:
Preventing me from getting help. Until recently, getting treatment was almost impossible. As soon as help was available, I either disappeared altogether or was physically unable to speak.
Alienating people. When my son was 5 years old, he ran to his room one day crying, "You're not my real mom!" Out of my mouth I heard someone mutter, "You have no idea, kid."
Setting me up for failure. I used to work in newspaper advertising. One day I went to work and discovered I had no idea what I was doing or why. I was fired several months later.
I often wonder if things I value will be gone or damaged soon by identity alteration or, more likely, some combination of the five main dissociative symptoms. I have hope, though, because Dissociative Identity Disorder no longer mystifies me. Navigating life with a mental illness you understand is easier than with one you don't.
Follow me on Twitter!
APA Reference
Gray, H. (2010, October 4). What Is Dissociation? Part 5: Identity Alteration, HealthyPlace. Retrieved on 2023, December 8 from https://www.healthyplace.com/blogs/dissociativeliving/2010/10/what-is-dissociation-part-5-identity-alteration
Author: Holly Gray
There have been times when I'll start doing things without being conscious of my actions, from simple things like talking, to more complex actions such as ordering take out & full-blown conversations. I'll come to a realization that I'm doing it after the fact. I also randomly run when I'm in deep thought. I'll be out of the door & half way down the block when I realize what I'm doing & look back at my bewildered family members. It's like sleep walking, but I'm in a half-sleep, an "awake-sleep," like a hypnotic state.
I also experience personality changes, like I'm multiple people in one body. (I believe it's bpd-related). I feel separate from my body as if one of my other personalities is speaking for me & I get angry at them because I want to be in control. It feels like being possessed. It's me, but not me. I think my brain has split into different sections that contain their own set of memories & personality, as opposed to being wholly connected into one unit. Does anyone relate to these two things?
I can disassociate at will, also, and I have purposely used it to avoid unhappy emotions from breakups (that I instigated) and even the recent and unexpected deaths of both my parents. I don't know if that has any relation to it, I always figured it was the coping mechanism that I knew from childhood. That, and denial, of course, my "old faithful"
Hi, I have a question that I am hesitant to ask. I suffered sexual abuse as a young child, and I remember some really aweful things, but about a year of my childhood is blank. Fast forward to 33yrs old, I was pregnant with baby #5, had not slept for almost 24 hours, and l was helping my husband get ready for work at 3am. I nodded off, and immediately I heard a very creepy and sick voice come from my mouth, speaking to my husband I assume, say "If not my sister then definitely yours..umm" I immediately came to and asked him if he heard that, and had l said it. He kind of nodded (looking totally freaked) and I could only think to say "wtf (actual words though) I don't have a sister!" He laughed, told me he was thinking the same thing, and to make sure I get enough sleep so that doesn't happen again. We didn't talk about it again for several days, and when we did we both agreed that it sounded nothing like me, but sounded like, really scary movie like. Like the kind that you'd have to get off the black market. Its been almost 4 yrs since that happened, and I thought that was the only appearance, but after reading about DID, I recall that during the same pregnancy, I would nod off any time I sat still, even to eat, and almost every time, I would feel myself moving, but could never "wake up" in time to stop it, but I would reach out and grab my drink and pour it into my own lap, and one time I slowly reached across the table and flicked (with my fingers) my sons orange juice towards myself and It spilled across the table and ran down into my lap. We all made jokes that the baby was doing it, and disregarded it since only me and my husband know about the "creepy guy" that I keep locked away, and we don't talk about it. I do not want to interact with it, I dont want it to get out, so I will not allow that "door" to be opened. It might weaken the seal on it, as I see it. But does that qualify as DID, or some type of freak incident?
I haven't been diagnosed with anything, or done any therapy, but I've noticed many aspects of DID seem to be things that I can relate to. I don't seem to have the amnesia part, and derealization doesn't happen to me very often, but I definitely experience depersonalization and general dissociation. I also have had what I think are some form of dissociative seizures. To elaborate, when I get particularly stressed, I start having strong muscle jerks in my back. If I'm sitting, my leg will just twitch a bit, but if I'm lying down I flop around like a fish on land that's being zapped with a tazer. I know that the twitching is not related to epilepsy, as I stay conscious the whole time, and I can significantly repress it if I don't want someone to see it.
Your description of these "alters" in DID sounds sort of like my experience, but sort of not. I don't forget things, and it always seems to be me performing whatever the action is, but sometimes my behavior catches me off guard, for example I'll generally be fairly withdrawn, but when I'm surrounded by strangers I'll occasionally be drastically more spontaneous and bold, even taking the spotlight when I normally hate being the center if attention (and this is all completely sober, I've never had alcohol or drugs of any sort). Once I was with a group of friends and they started playfully kicking a member of the group, just gentle rough housing really. I decided to join in, but for some reason (maybe I got carried away?) I kicked him full force, and after that I was quite startled, not only at the fact that I'd kick him for real in the first place, but also at the fact that some part of me enjoyed it. Frequently I'll say or do something that just seems "out of character" for me and almost immediately after I'll be very confused just wondering "why on earth did I do/say that?" I also relate to the hand on the mouth feeling you mentioned. If it's a difficult topic, or anything that stresses me out a lot, I find it extremely difficult to speak at all, or I find myself talking about anything but the topic I wanted to bring up. For example, I've noticed that if I had to do a speech for my English classes, the more I cared about the topic, and the more likely it was to elicit negative opinions from the other students (think bringing up a political issue when the class is mostly people on the opposing side to you), the harder it was for me to actually speak. I remember a speech I had to do where I had the whole thing memorized, I had been well prepared and my speech was well written, even my PowerPoint was well made, but when it was time to actually give the speech, I just couldn't do it. I got maybe halfway through the first paragraph and my voice just degraded into squeaking through tears.
Is it possible that these alters could manifest themselves sort of as imaginary friends? Not like hallucinations, it's not like I'm seeing things that aren't there. But like a recurring imaginary character that tries to comfort me in times of stress, or give me advice on important decisions. These imaginary characters always know they are imaginary, but even though I can't actually see them, it still sort of feels like they are in the room when they choose to show up. Sometimes more than one will appear, and they interact with each other like people would. Sometimes two will be very opposed with each other and argue things out, like if I'm trying to decide between buying a new dress or going on a cave tour, I'll usually have two imaginary friends arguing out the pros and cons of each choice. Sometimes I'll be so distracted by my imaginary conversations that I have a hard time paying attention to the real people around me. I'm not sure if that has anything in common with DID or not, but it would be interesting to know if anyone else has that sort of experience.
I've started therapy recently for problems with my daughters. They tell me I've done things I don't remember. They feel betrayed and lied to and I don't know what they are talking about cause I don't remember these things. I've had lots of trouble in my life with these types of situations. My therapist and I are working on finding the right diagnosis so I can be properly treated. I have a lot of the symptoms for d.i.d and we diffinently know I dissociate she just wants to make sure of the reasons why before is labels me. I'm really confused by this alter stuff. I've always had voices in my head and I don't remember my childhood but until recently I didn't know that wasn't normal. If I don't remember doing this stuff and lying to my daughters is it one of them? And why? Are they doing it as me? Everyone says it was me. I'm just trying to understand. Thanks
I too can relate to feeling like an insider has suddenly put their hand over my mouth and I can not talk about whatever it was I was going to talk about. I have found it very useful to dialogue with insiders about what is and isnt okay to say before trying to bring it up with a therapist.
Wow, this site is really insightful. I found it through Natasha because of her blog. And together with her incredibly relatable writing I stumbled upon your blog too. I actually started reading it because I sometimes dissociate as well. Not in the same way though. It's amazing how people here open up and talk freely about these topics. And somehow even though we all have very different stories and quirks, I feel all of us who are so 'unique' to the world just get each other. Thank you so much for sharing. I think you are an incredibly strong person to have come this far.
So how common is it for identities to have names. And to really be distinct people, like a 5yo and then a 30 yo?
- Natasha
I so connect with one of your comments here Holly. There have been many times I`ve gone into therapy sessions wanting to talk about some emotionally charged issues, and before I can get a word out, one of my inner family decide they don`t want me to talk about it. They start to come to the foreground, causing what`s around me to become really distant and hard to focus on, and I feel their presence as if they are truly standing right next to me ( or sometimes sitting behind my eyes). I usually start rubbing my forehead and squint my eyes trying to concentrate and stay in control, but can`t. The others don`t jump into the front seat however and talk themselves, because often they don`t want to be there at all. So I`m left sitting there as if someone is literally holding a hand over my mouth, not communicating at all and therapy just grinds to a halt. Either this, or the others just rock up as themselves and totally take the whole session talking about their stuff, and again nothing that I wanted to talk about gets done. It can at times really distress me, because sometimes it`s taken me months to get up enough guts to raise this sensitive topic, and because of identity alteration I may not get to it for ages, if at all.
Leave a reply