Schizoaffective Disorder Changed My Sense of Style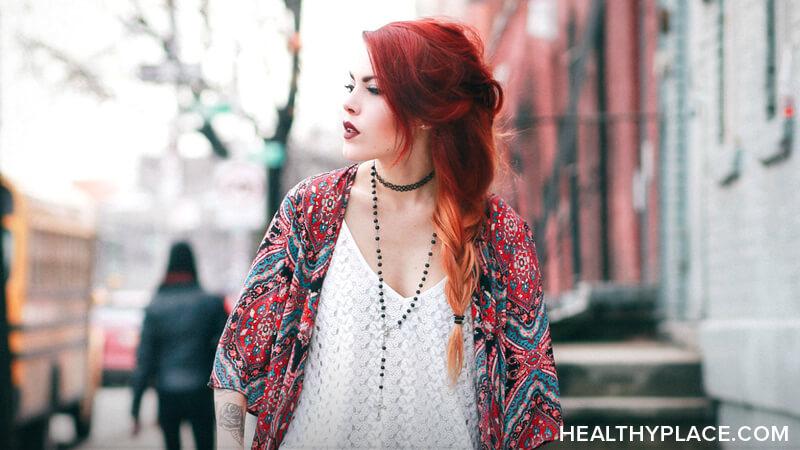 I was diagnosed as schizophrenic in 1999 after a psychotic episode at college. My first diagnosis of a serious mental illness markedly changed my sense of fashion, and the changes stuck even with a later reassessment that I was schizoaffective. I have a few ideas as to why.
Why My Style Changed After My Schizoaffective Psychotic Episode
Let me tell you about the way I dressed before my diagnosis of schizophrenia in 1999. I really marched to the beat of my own drummer, but with trendy results. In high school, some people even thought I made my own clothes. I didn't; but, inspired by the grunge aesthetic and some of my mom's hippie originals loaded with 1960s nostalgia, I wove together a personal style that sometimes even managed to bring the flower child to goth fashions.
But my psychotic episode forced me to come home from college and face a new life with a debilitating, chronic illness. I just didn't feel safe anymore, and I didn't feel fashionable after the medication I took put on lots of pounds. Most of all, I wanted to feel safe in any way that I could. I started dressing for comfort. I swapped my black lace and crushed velvet for corduroy, fleece, and hiking boots.
What made my new fashions feel even more protective was that my mom picked out a lot of them for me. Maybe she felt I wasn't safe either, so she babied me, though she encouraged my decisions and actions. I gladly let her in those spaces.
Another thing was that, for the first time in my life, I wanted to be normal. Well, at least part of me wanted to be normal. What I mean by "normal" is that I wanted to listen to the music that was playing at the drug store where I worked as a part-time job, I wanted to watch Ally McBeal, and I wanted to wear fleece pull-overs and hiking boots like so many people had started to do.
My Sense of Style Has Evolved with My Schizoaffective Disorder
I feel secure now. This sense of danger at every turn actually only lasted for the first few months of my illness. My fashion sense stayed what I started to call "utilitarian," though. With the rigorous academics of The School of the Art Institute of Chicago (SAIC), where I transferred from The Rhode Island School of Design (RISD) after my psychotic episode and being saddled with demanding schizoaffective disorder, I really only had time to dress for comfort.
Today, I express myself with jewelry. I love to wear funky, offbeat, artsy pieces from my parents, my husband Tom, my great aunt, and my grandmothers. I also wear t-shirts and pull-overs that advertise things I care about: everything from SAIC to the National Alliance on Mental Illness (NAMI). I am so far from normal; it's not even funny. But I love it. As my dear auntie who gave me the jewelry said, I've made a very nice life for myself, even if I have schizoaffective disorder and even if my sea glass necklace from this summer's trip to Door County, Wisconsin, covers up the "S" in my SAIC t-shirt.
APA Reference
Caudy, E. (2021, September 16). Schizoaffective Disorder Changed My Sense of Style, HealthyPlace. Retrieved on 2023, September 28 from https://www.healthyplace.com/blogs/creativeschizophrenia/2021/9/schizoaffective-disorder-changed-my-sense-of-style
Author: Elizabeth Caudy