Keeping Fit with Schizoaffective Disorder During COVID-19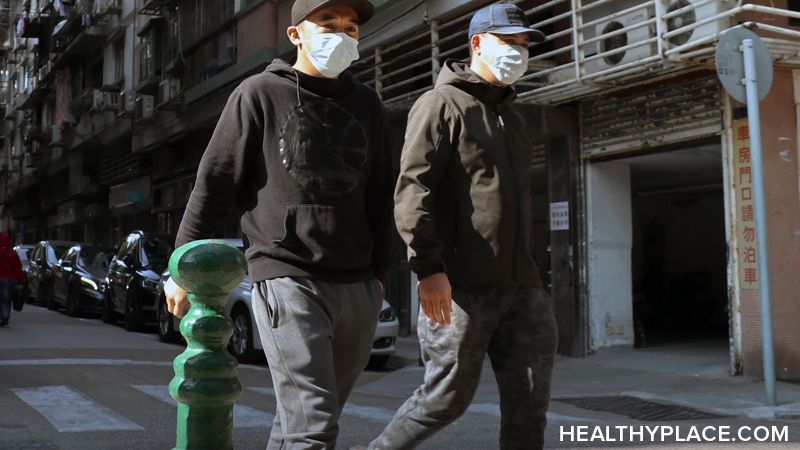 I've written recently that I was keeping fit, dieting and exercising, because of weight gain from the antipsychotic I take for my schizoaffective disorder. But that was before Illinois started to shelter-at-home due to COVID-19. Well, believe it or not, despite the pandemic and the self-quarantine, I'm still at it.
Staying Fit During a Pandemic with Schizoaffective Disorder
I am, for the most part, staying fit by avoiding sugar--as much as I can, given that sugar is in everything. I still eat fruit. During Easter, my mom parked in the alley near my apartment, and, wearing a mask, gave me an Easter basket filled with fresh berries and Cadbury Creme Eggs, which are my weakness. I let myself eat one every other day. In a similar way, she also brought my husband Tom and me homemade banana bread, which I devoured, saying that I didn't want it to go bad.
Other than that, I'm staying away from sweets. It helps that I recently read an article about how sugar is bad for bipolar moods (I have schizoaffective disorder, bipolar type).
Keeping Fit by Modifying My Exercise for the Times We're Living In
I'm also keeping fit by exercising. If it's nice out, I go for a 45-minute walk. I do my best to keep six feet away from other people, but sometimes this is difficult, if not impossible. Illinois has already made it mandatory to wear masks in public, indoor places, but starting May 1, we will be required to wear masks when outside in crowded areas where you can't social distance.
That puts me in a prickly situation since the beach walk I often take is very crowded at times, and I don't like wearing a mask when exercising because it constricts my breathing. I think I'll wear a scarf and pull it up over my face when I'm on any part of the walk where other people might be closing in. I don't know if it's my schizoaffective disorder or what, but I dislike seeing other people on walks now more than ever.
On days when I need to stay in, I take a ballet class on YouTube. Tom says it's a waste of YouTube to take the same class over and over, but I learn something new every time I take it. Still, my dream is to make up my own combinations and do my own ballet class to my music. I know I can do it, but my schizoaffective depression hinders my confidence.
I was climbing the stairs in my building for exercise--hitting 10 rounds of climbs up the two floors. But since stairways are sort of a public place, I don't feel right doing that anymore. I miss it, though.
I haven't lost any weight, but at least my weight has stabilized. I used to wear a size large, now I'm extra-large. I have clothes that fit me from the last time I was this heavy, and I hope to buy more once I can go out and buy clothes. Either way, I'm pretty impressed with myself for keeping fit even though there's a pandemic going on. I am also grateful not to be ill.
How are you keeping fit during the pandemic? Share your story in the comments.
APA Reference
Caudy, E. (2020, May 7). Keeping Fit with Schizoaffective Disorder During COVID-19, HealthyPlace. Retrieved on 2023, October 3 from https://www.healthyplace.com/blogs/creativeschizophrenia/2020/5/keeping-fit-with-schizoaffective-disorder-during-covid-19
Author: Elizabeth Caudy