Schizophrenia, Schizoaffective Disorder, and Valentine's Day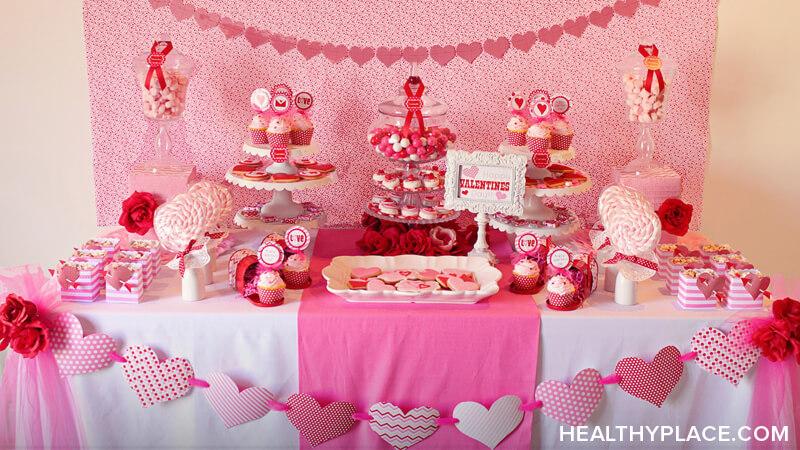 Valentine's Day is coming up. As both a schizoaffective and just as a regular person, I have a lot to say about Valentine's Day, but what I have to say might surprise you.
Pre-Schizoaffective Disorder, I Found Valentine's Day 'Annoying'
I got diagnosed with schizophrenia in 1998, then re-diagnosed with schizoaffective disorder, bipolar type in 2002. Before then (and during that time period), I never had a boyfriend on Valentine's Day.
My sophomore year of high school, when I was working on my high school yearbook, a boy who worked with us passed out anti-Valentine's Day t-shirts he had made himself, and I proudly wore mine all day at school. Teachers and custodians kept telling me to cover it up because it contained profanity. Then, in my junior year of high school, I took angsty selfies in black and white on Valentine's Day. In my senior year, I talked on the phone for a long time with a boy I had a crush on. That was the closest I came to being with someone special on Valentine's Day until I met my husband, Tom.
As a college student in 1998, before my first and only psychotic episode, I remember telling my therapist it "annoyed" me that I'd never had a boyfriend on Valentine's Day. She questioned my choice of words, but that was the only word I could come up with—annoyed.
Even with Schizoaffective Disorder, I Found Someone to Celebrate Valentine's Day with Forever
However, it didn't bother or annoy me as much after my psychotic episode. The first Valentine's Day after my episode—and the first after being diagnosed as schizophrenic—I was focused on my health and, therefore, not interested in guys.
Flash forward to my first date with Tom on February 1, 2007. Even though it was our first time meeting in person (we'd met online), he knew I had a serious mental illness, but this didn't phase him. My first real Valentine's Day date was two weeks later.
I remember that the first few Valentine's Days with Tom seemed like a big deal. For some reason, I also felt like I was somewhat betraying myself by celebrating Valentine's Day now that I finally had a partner. I was so used to hating the holiday. These days, I make a much bigger deal out of our wedding anniversary, September 13, 2008. If someone had told me that I would marry a wonderful man within 10 years of coming back to reality after my psychotic episode, I might not have been as scared.
APA Reference
Caudy, E. (2021, February 4). Schizophrenia, Schizoaffective Disorder, and Valentine's Day, HealthyPlace. Retrieved on 2023, November 29 from https://www.healthyplace.com/blogs/creativeschizophrenia/2021/2/schizophrenia-schizoaffective-disorder-and-valentines-day
Author: Elizabeth Caudy