Increasing Antipsychotic Medication Despite Weight Gain Risk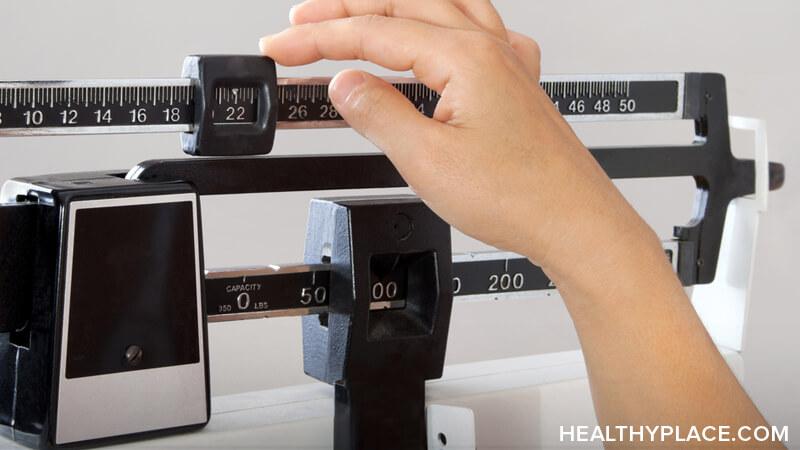 In September and then again in January, I increased my antipsychotic medication for schizoaffective disorder even though I knew it would probably cause weight gain. And, it did. But I am much better off now mentally than I was before I made the changes, so I don't want to decrease the schizoaffective medication just to lose weight.
A Necessary Increase in Antipsychotic Medication for Schizoaffective Disorder
I made the change in September while my husband Tom and I celebrated our 10th wedding anniversary on a trip to Door County. I was so anxious it was ruining the trip. So, I called my psychopharmacologist and left an urgent message. When she called back, we decided to increase my antipsychotic medication. This was near the beginning of the trip, and it did make my anxiety throughout the rest of the vacation much more tolerable.
I remember texting with my mom and my sister Laura during this trip. We all thought my peace of mind was worth gaining a few extra pounds.
Increasing Antipsychotic Medication for Schizoaffective Disorder--Again
My doctor and I decided to increase my antipsychotic medication again in January, this time because the voices I hear were getting really bad.
After the increase in the antipsychotic medication, the voices got more manageable than they ever have been. Ever. I credit a lot of this to cognitive behavioral therapy and my excellent therapist, but it started with the medication change. Recently, I heard voices when I was with Tom at the Art Institute of Chicago. Instead of leaving and running home as I used to do, we stayed at the museum and looked at different art exhibits and the voices went away while we were at the museum.
Plus, I bought an Art Institute of Chicago baseball cap at the gift shop when the voices were at their peak. No one besides Tom knew anything was up. I love that cap.
Weight Gain Caused by Increase in Antipsychotic Medication
Well, two weeks ago, I weighed myself, and I found the number on the scale to be unacceptable. So I've been doing all the usual things: cutting back on sugar, cutting back on carbohydrates, drinking lots of water, and walking more. I've found that if taking a long walk seems too daunting, I can walk around the block several times and still feel safe for a long period of walking. Also, I haven't regularly had sugared soda in years now, so that's not a big issue.
I'm more concerned about becoming pre-diabetic or type 2 diabetic than I am about how I look. Still, I don't want to decrease my antipsychotic because I'm thrilled with how manageable my schizoaffective voices have become. I'm trying to keep healthy mentally and physically, especially now that I've touched 40.
I have been experiencing increased anxiety since I cut back on sugar in particular, but there are other factors in my life that could be causing increased schizoaffective anxiety. In particular, the fact that summer weather is here could be a factor—for me, the increase in light causes added agitation. But I'm going to stick it out. I am long overdue in getting over my sugar addiction.
It's really hard to lose weight on these medications. If I lose weight, great. But I'd be happy with not gaining more weight. My ultimate goal is to be healthy in body and mind.
APA Reference
Caudy, E. (2019, June 13). Increasing Antipsychotic Medication Despite Weight Gain Risk, HealthyPlace. Retrieved on 2023, December 11 from https://www.healthyplace.com/blogs/creativeschizophrenia/2019/6/increasing-antipsychotic-medication-despite-weight-gain-risk
Author: Elizabeth Caudy