I Don't Go to Parties Because of Schizoaffective Disorder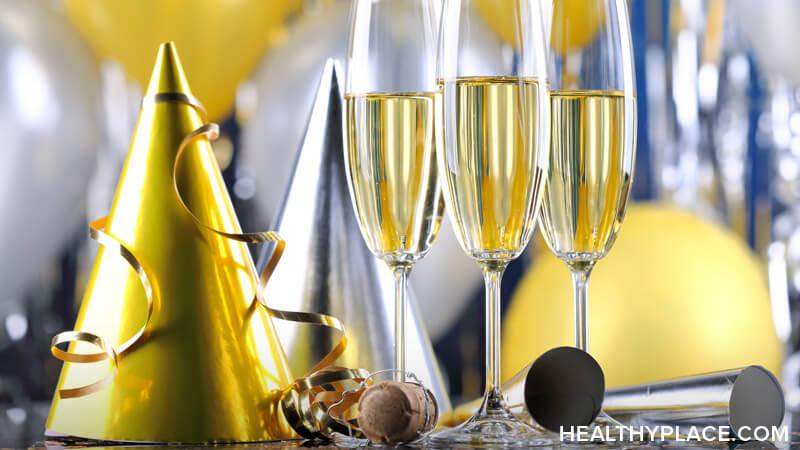 I don't go to parties, as I have confided before. This is especially hard to pull off during the holiday season. I used to party when I was younger, but now I have less of a tolerance for the noise and confusion. Here's why this schizoaffective avoids the holiday mayhem.
I Don't Go to Parties Because They're Not Fun for Me
Some people might ask, "But aren't parties fun?"
Hmm, let's see.
First of all, I don't drink and I don't like loud gatherings. I don't like drunk, loud people. And I especially don't like drunk, loud people asking me why I'm not drinking ("How to Respond to 'Why Aren't You Drinking?'"). I think that is such an obnoxious question, especially to ask a perfect stranger, and I used to get asked why I wasn't drinking all the time by perfect strangers. If you drink, and the next time you're at a party someone isn't drinking, please don't ask that person why he is sipping a soda.  It's none of your business.
For the record, part of the reason I don't drink is because of my medication for schizoaffective disorder. It doesn't sit well with alcohol. The other part is that when the tipsy, happy feeling wears off, I get really depressed.
But issues around drinking aren't the main reason I don't go to parties. The main reason parties are not fun for this schizoaffective is that I very easily become over-stimulated. If there are too many people having too many different, loud conversations—which is what parties are all about—I get very overwhelmed. Back when I used to try to go to parties, I would get there early and then leave when a certain amount of people had shown up. Now I just don't even go to parties.
How This Schizoaffective Avoids Going to Parties
I only associate with people who know I have schizoaffective disorder, and they understand that I can't make it to parties. One of my best friends recently became a father. He and his wife, also a good friend, invited me to a party to meet their baby. I think they knew I wouldn't be able to go—they just wanted me to feel included. I always appreciate an invite, even if I can't go. I texted them and asked them if, instead, they wanted to meet up with the baby for a quiet dinner after the holidays are over. They said that would be lovely.
So just because I don't go to parties doesn't mean I miss out on having friends. I don't have as many friends as I had in college, but who does? I don't mind missing out on parties, and neither does my husband. We're just not "party people." But we love to be together.
>
APA Reference
Caudy, E. (2018, December 20). I Don't Go to Parties Because of Schizoaffective Disorder, HealthyPlace. Retrieved on 2023, December 10 from https://www.healthyplace.com/blogs/creativeschizophrenia/2018/12/i-dont-go-to-parties-because-of-schizoaffective-disorder
Author: Elizabeth Caudy