When Your Body Isn't Yours Because of Bipolar Medication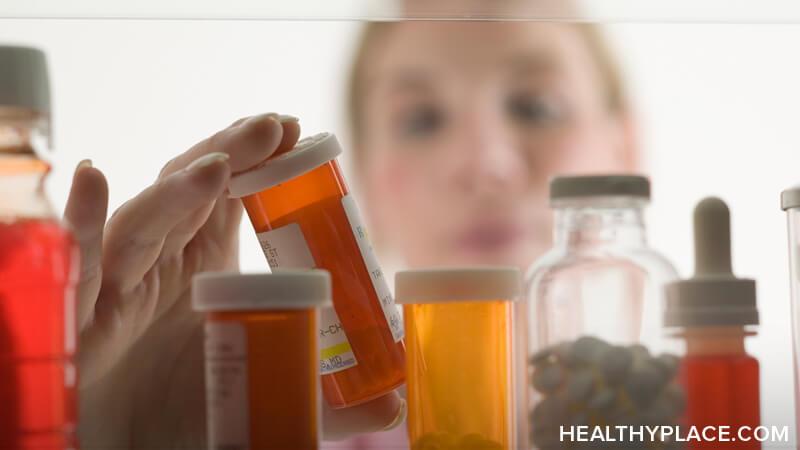 Sometimes it feels as if your body isn't yours because of bipolar medication. It feels like the medication takes over your very being. It feels like you no longer have a human body but, rather, a collection of drug-related effects. This particularly happens when you're getting on medications or tapering off medications, but really, bipolar medication can make you feel like your body is not your own at any time.
When Your Body Isn't Your Own
I would suggest that most of us have experienced times when our body isn't our own. When you break your leg, for example, you feel a lot more like a broken leg than you do feel like a complete, working, human body. The same thing happens when we get the flu. Suddenly our body seems to be owned by the germs and not us.
Untreated bipolar disorder can also make us feel like we don't own our body. It feels like the bipolar is controlling everything we do and are.
When It Feels Like Your Brain Isn't Your Own on Bipolar Medication
Of course, your brain can feel like it isn't your own on bipolar medication. This is why we take medication. We take medication so that a sick brain can be made better. This is what we want. However, even though we desire to be better, when you're used to a sick brain, altering it may make it feel like it isn't yours. Plus, for those on less-than-optimal bipolar medications, their brain really doesn't feel like their own thanks to all the undesirable psychological side effects.
When It Feels Like Your Body Isn't Your Own on Bipolar Medication
And to make matters worse, bipolar medications don't just affect you psychologically, but, of course, they affect you physiologically, too.
Right now I am a bundle of withdrawal effects thanks to an effort to get off a specific anticonvulsant. Many things are happening to me, but the worst is the lack of coordination and dizziness. Every time I get up I get dizzy. Sometimes when I get up I almost fall over. When I turn around, I grab the wall to steady myself. It feels like my body isn't mine. It feels like it has betrayed me. So many of the things people take for granted – like walking in a straight line – have abandoned me.
The bipolar medication (or, rather, getting off of bipolar medication) makes me feel like my body isn't mine, like I'm in the wrong body, like I'm in a compromised body.
In short, it sucks and I feel for anyone who feels like they are more bipolar medication side effects than they are themselves.
But My Body Is Mine – Regardless As to Bipolar Medication
But I know my body is mine. I know my flawed, human flesh truly is my own. I know these elbows are mine. I know my smile is still there. I know my eyes still twinkle. I know these awful effects are temporary. I know no matter how much bipolar medication makes me feel like my body isn't mine, makes me feel like my body has been sabotaged, I know it will not always be this way.
The flu doesn't steal your body forever and nor does bipolar disorder. But it can take time to find an equilibrium and feel like you have your body back.