Bipolar Disorder and Inner Restlessness -- What Is It; How to Cope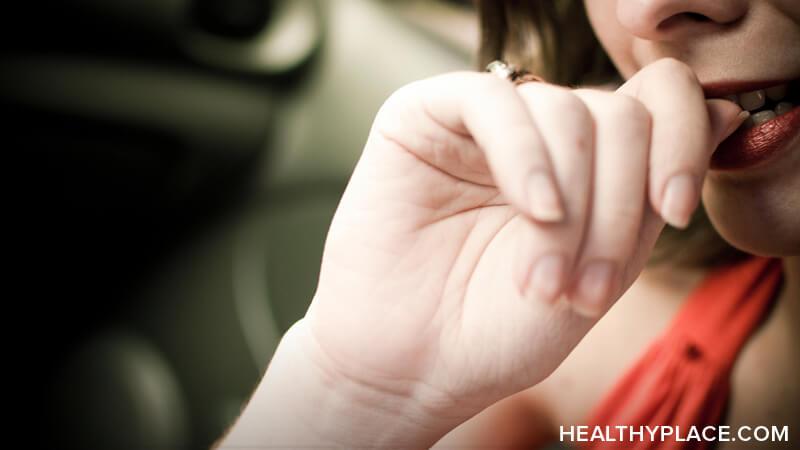 So often during the day I tell myself to, "Calm down," but this isn't because I'm buzzing around my apartment, it's because of my bipolar inner restlessness. Telling me to calm down would be natural if I was climbing the walls, but sitting still on my couch doesn't seem to be the time to do it. And yet, I do it all the time. It's very real and very necessary. Inner restlessness in bipolar disorder is real and it's necessary to know how to deal with it.
What Is Inner Restlessness in Bipolar Disorder?
"Inner restlessness" is what it sounds like, and yet it's hard for people to conceptualize it. It's like if your brain were bouncing off of your skull repeatedly. It's as if your cells were vibrating. It's as if there were an electrical current running through your insides that you just couldn't get rid of.
I guess the closest thing some people would experience is when they have too much caffeine, only instead of running around and doing things with all the extra energy, somehow, the body internalizes it.
Sometimes I feel such restlessness inside that I feel dizzy.
What Causes Bipolar Disorder Inner Restlessness?
"Inner restlessness" is, in fact, part of a bipolar disorder symptom. The actual symptom is known as psychomotor agitation (psychomotor agitation also involves muscle movements). Inner (and outer) restlessness in bipolar can also be a medication side effect. This means that you could be experiencing inner restlessness as a symptom of the disease or from a treatment of the disease. It's a little unfair.
(This is very much like saying that a migraine medication may cause headaches -- which is exactly what my migraine medication said last week.)
I can't say if things like severe stress or other psychological factors cause the same feeling, but it wouldn't surprise me if, in some cases, it does.
How to Cope with Bipolar Inner Restlessness
Like I said, I tend to tell myself to calm down. In fact, I don't just say this in my head, but I actually say it out loud. "Calm down." It's not like this magically turns off the restlessness, but it's a reminder that it's the bipolar inner restlessness that is, indeed, occurring and that I need to fight it in the ways that I can.
To cope with bipolar disorder inner restlessness, try:
Acknowledging the problem -- If something is going to torture me, the least I can do is admit that it is alive and doing that. Identifying and acknowledging the problem really is the first step to coping.
Breathing -- Yes, I know, you're doing it right now, but when the inner restlessness is really bad, you may be breathing a lot less and a lot less deeply. Take time to force yourself to take slow, deep breaths.
Yoga or stretching exercises -- Doing things slowly and pointedly can force the brain to slow down as you force the rest of your body to do the same.
Meditation --Not everyone meditates and not everyone wants to. But if you lie still with your eyes closed, take deep breaths, and focus your mind and brain on something you control (think about something simple and interesting to you), that can help, really. (As an example, sometimes I think of a piece of chalk slowly and cursively writing each letter of the alphabet.) Remember, meditation isn't what "masters" say it is, necessarily, it's what works for you. Don't call it meditation if that helps.
Giving yourself a break -- I find that if I just keep working and keep going and keep producing this does not help the situation. Requiring my brain to think quickly while working on top of the bipolar inner restlessness is not the best idea. Try taking a break and doing the above as calmly as you can.
Basically, I think that if you can purposefully slow down your physical body and thoughts, you can reduce inner restlessness to some degree. These coping skills for bipolar disorder inner restless are far from perfect, but they're something.
If you are experiencing notable inner restlessness, make sure to tell your doctor. As I said, it could be a medication side effect or a symptom that can be addressed through treatment or treatment changes.
APA Reference
Tracy, N. (2018, January 4). Bipolar Disorder and Inner Restlessness -- What Is It; How to Cope, HealthyPlace. Retrieved on 2020, May 27 from https://www.healthyplace.com/blogs/breakingbipolar/2018/01/bipolar-disorder-and-inner-restlessness-what-is-it-how-to-cope
Author: Natasha Tracy
Irritation and inner agitation is also present in major depression too.
I go through this everyday so.etimes i feel its going to drive me over the edge. Yhank you for sharing it helps ro know im not alone
My diagnosis is BiPolar II depression. I don't know if I'm restless but I have racing and obsessive thoughts at night. Is the restlessness more associated with BiPolar 1? I love your posts
Hi Sue,
Thank you :)
I have bipolar II as well, so I don't believe it is specific to bipolar type.
- Natasha Tracy
I struggle with this alot. For years I didn't know what it was and wasn't diagnosed properly. At least knowing what it is and acknowledging it helps deal with it knowing it isn't just you that feels this way.
Leave a reply