Medication Side Effects Suck, Why Take Bipolar Medications?
The idea that bipolar medication side effects suck is not a new idea. I am not the first person to mention this nugget. This is something every person with bipolar disorder who is on medication knows. In fact, when it comes to every medication, side effects suck. The reason why bipolar medications stand out for me is, of course, I take them, but not only that, they are medications that most of us have to take for the rest of our lives. When bipolar medication side effects suck, they suck for a very, very long time, so why take bipolar medications?
Initial Bipolar Medication Side Effects
Something important to understand is if you've just started bipolar medication and you're in the first couple of months, the side effects are going to be at their worst. You need to know that side effects often calm down over time (Fear of Taking Psychiatric Medication). You need to know that you shouldn't give up on medication just because of immediate side effects. Things do, most often, get better, to some degree.
Long-Term Bipolar Medication Side Effects that Suck
The sucky bipolar medication side effects that I'm talking about are the ones that are long-term.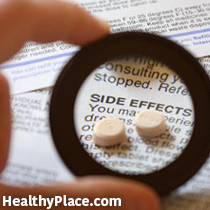 For example, last year I started a new medication that was touted as being "weight neutral." In other words, you're not supposed to gain weight on it. Well, if you saw me before the medication and now, you would see this just wasn't the case for me. I was an exception to the rule and gained weight even though that wasn't supposed to be a side effect.
Of course, there are also more common side effects. Right now I'm experiencing akathisia from a medication we added on to replace the medication that made me gain weight. (Akathisia is an inner and outer restlessness that typically causes distress because you can't stay still.) About one-in-five people on one of my medications experiences akathisia and, because of the combination I'm on, I now experience it, too.
And, of course, over the years I have experienced many other medication side effects including hair loss, dizziness, nausea, fatigue, being cold all the time, not being able to wake up in the morning, and, oh, so many others.
If Bipolar Medication Side Effects Suck, Why Take Bipolar Medications?
The thing that I try to remember is that while bipolar medication side effects do absolutely suck, they suck less than untreated bipolar disorder. The reason why I take bipolar medications in spite of the side effects is because they keep me alive. Sometimes this feels like a very small gain, but it's a pretty big one if you ask my loved ones.
I hate living with bipolar medications and I hate living with bipolar medication side effects. But they are the lesser of two evils (and yes, bipolar disorder certainly is evil).
And one thing I will say is that that newer medications are better than the older ones. Vastly imperfect, sure, but better, nonetheless. And new medications do come out every year and they may be able to handle your illness and any address side effects you're currently experiencing.
So to people who are currently struggling with bipolar medication side effects that suck, I say this: please don't forget why you started them in the first place. Please don't forget how unmanageable a life with untreated bipolar disorder is. Please don't forget your loved ones who may not be able to handle an untreated you. Please don't forget how you destroyed your credit or a marriage, or spent months in bed or became psychotic before you were treated. Please don't forget that small gains and still gains, nonetheless.
And one other thing: if you really feel that you can't withstand a particular side effect, make sure you're clear about that with your doctor. Some side effects can be handled with additional medication but that won't happen unless you're very clear with your doctor, as, in my opinion, doctors tend to write off side effects until you're pretty clear that's unacceptable.
When You Have Sucky Bipolar Medication Side Effects, Remember This
Work with your doctor, consider trying newer medications and remember the benefits. I am the first one to stand in line and complain about bipolar medication side effects but I'm also the first one in line to talk about their benefits.
You can find Natasha Tracy on Facebook or Google+ or @Natasha_Tracy on Twitter or at Bipolar Burble, her blog.
APA Reference
Tracy, N. (2016, July 15). Medication Side Effects Suck, Why Take Bipolar Medications?, HealthyPlace. Retrieved on 2019, June 17 from https://www.healthyplace.com/blogs/breakingbipolar/2016/07/medication-side-effects-suck-why-take-bipolar-medications
Author: Natasha Tracy